Return of the
Falco F.8L
by Stephan Wilkinson
This article appeared in the July 1985 issue of Connoisseur.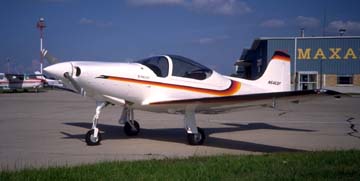 Alfred P. Scott, an owly young Virginian who might easily be mistaken for a software salesman, is actually the president of Sequoia Aircraft Corporation, the tiniest cog in America's mighty aerospace complex. Scott's sole product is a small, single-engine, two-seater wooden airplane, the Falco F.8L. If you want one, you have to build it yourself; Scott supplies only the complete kit with which to do so.
Scott has provided the government of Chile with one Falco kit as an experiment in self-reliance, but his prime market consists of some 150 monomaniacs. That is the approximate number of pilots who do not mind lavishing work on what is perhaps the most beautifully proportioned personal airplane in the world.
The Falco F.8L was designed in the mid-1950's by the Italian aeronautical wizard Stelio Frati, a man whose patrimony has doomed him to being called the Enzo Ferrari of Airplanes. Frati laid down the Falco entirely in wood, feeling that if God had meant man to fly metal airplanes, he'd have grown aluminum trees. Wood is in many ways far stronger per pound than metal, weathers well, doesn't rust, is simple to work with, and resists the cumulative stresses that weaken metals. Besides, wood smells good. Despite all this-and the plane's excellent flying characteristics-only 100 Falcos were made during the 1950's and 1960's, in several Italian factories, for wealthy European sportsmen. The production stopped entirely.
In 1977 Scott decided that it would be fun to acquire the rights to Frati's Falco blueprints for adventuresome crafts people in the United States. To Scott's surprise, Frati readily agreed. It was the last that Scott would ever see of his previous careers as a stockbroker and real-estate developer. Mesmerized by the Falco's design, he advanced from simply photocopying and selling the blueprints, at $400 a set, to totally redesigning and modernizing the Falco's systems and internal mechanisms and redrawing the plans.
Today Scott also manufactures (through subcontractors) and sells all the necessary metal bits that go into one ready-to-fly Falco-over 3,000 different bolts and brackets, hinges and pulleys, landing-gear legs and engine mounts. For approximately $50,000, which also gets you a 160-horsepower engine and the necessary instrumentation, the wealthy do-it-yourselfer can now buy through Sequoia Aircraft Corporation the plans and all the pieces. The 260-page instruction manual gives a clue to the job ahead: putting the Falco together takes an average of 2,500 hours of an enthusiast's time.