| | | |
| --- | --- | --- |
| | Charlie Yates | |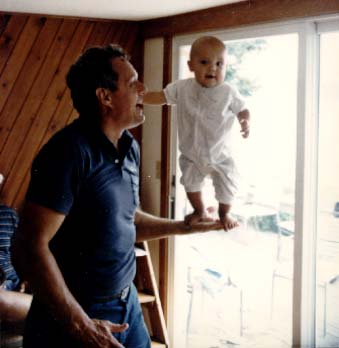 Charlie Yates balancing his grandson on his hand.
Few people have contributed as much to the world of the Falco as did Charlie Yates. When we first began offering plans for the Falco, I got a letter from him that he had owned and rebuilt a Falco in Europe and also had an old production Falco in his garage in New Jersey. At that time, Charlie and his brother Craig ran Yates Industries, a manufacturer of copper foil for printed circuits that was listed on the New York Stock Exchange. Charlie was also a New Jersey State Senator.
When I first received the Falco plans from Mr. Frati, there were a number of points of confusion, and Charlie was very generous in helping me understand the Falco. In the mid 1960's, Charlie had opened a plant in Luxembourg, and while there he joined the local flying club, which owned a Falco. The problem was that pilots kept landing it gear-up, so Charlie bought the plane from the flying club and moved it into the plant that they were building. He set up a small shop in the middle of the factory floor and worked on the Falco as he was supervising the plant construction. When the Falco was flying again, he flew it all over Europe and sold it when he came back to the U.S.
On his return to the U.S., Charlie got a call from a friend in Europe who told him about another Falco that had been landed gear-up and which was being sold as-is, where-is. Charlie bought the airplane sight-unseen and had it shipped back to New Jersey, were it sat, largely untouched, until we started selling the Falco. So, when I couldn't figure out how something worked on the Falco, I would get on the telephone with Charlie and he would explain how things fit together. Charlie was a chemical engineer, graduated magna cum laude from City College of New York, and he had an enormous curiousity about how things worked. One day he would be in Japan on business, the next day in the New Jersey State Senate, the next on the plane with the U.S. delegation to Tito's funeral in Yugoslavia, and the next evening he would be on the telephone with me for three hours explaining some nuance of Falco construction to me. I doubt I could have done it without his help.
While this was going on, the giant Square D company made an unsolicited offer for Yates Industries. The staid old company had a lot of cash and they were afraid that they would be bought by someone else for their cash, and thus the management would be replaced, so they did a defensive acquisition, that is, they spent their money on Yates Industries to avoid being bought by someone else. They paid a premium for the company, and when it was all over, Wall Street reacted with enthusiasm -- "Hey, look at that sharp bunch at Square D, who could pull off an acquisition without a hitch!" -- and Square D's stock went up on the news.
Yates Industries became a division of Square D, and in a few years Charlie was working in the Square D headquarters in Palatine IL in charge of a division. At one point I called him with a Falco question, and asked him how his career was going at Square D. "Vice Chairman," he said. Then I called back a couple of weeks later, and was told "Mr. Yates doesn't work here any more." I called his home and talked to his daughter Valerie. "He quit", she said, adding that he was out on his boat and that he was thinking about going back to school. Later, when I saw Charlie at Oshkosh, he said he asked the board to tell him when the 70-year-old chairman was going to retire, and when they didn't give him a date, he quit. "There are plenty of people who would love to have that job", said Charlie, but he didn't want to play second-fiddle.
So he went back to school, to M.I.T. and took courses in quantum mechanics. "Just curiousity", he said. This was a field that he never really understood and he just took the courses to satisfy his intellectual curiousity. He stayed on for a couple more years teaching at M.I.T., and then went to law school in Vermont. He split up with his wife during this time and remarried when he was in law school.
I'm sorry to report that Charlie Yates died in a crash in early October 2000, along with his wife and two children. At the time of the accident, they were on an instrument approach for landing at Martha's Vineyard in Charlie's MU2. The airplane hit the ground short of the runway and all on board died.
In the past few years, Charlie and his brother Craig have been running a bank in New Jersey, which they bought, and at the time of his death, Charlie had about fifteen business deals going, including the old Yates Industries plant which they had bought back. Charlie loved flying, and he bought a deHavilland Vampire, sold it and bought a T33, then traded that for another Vampire. He has a Cessna 182 for a while and recently bought an MU2.
What a prince he was. What a wonderful man, and what a rare pleasure it was to have known him and to have been a part of his life.
Alfred Scott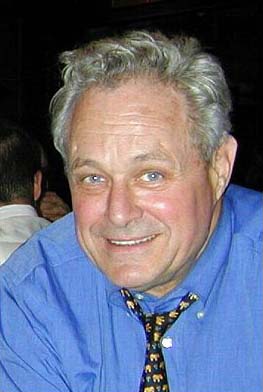 Charlie Yates
Photo sent in by grandson Garrett Yates, age 9

I enjoyed reading about my Grandpa. I miss him. I sent you one of my favorite pictures of Grandpa as an attachment. Thank you again.

Garrett
gyates@theworld.com

I miss him, too, Garrett. -- Alfred