| | | |
| --- | --- | --- |
| | Falcos Downunder 2005 | |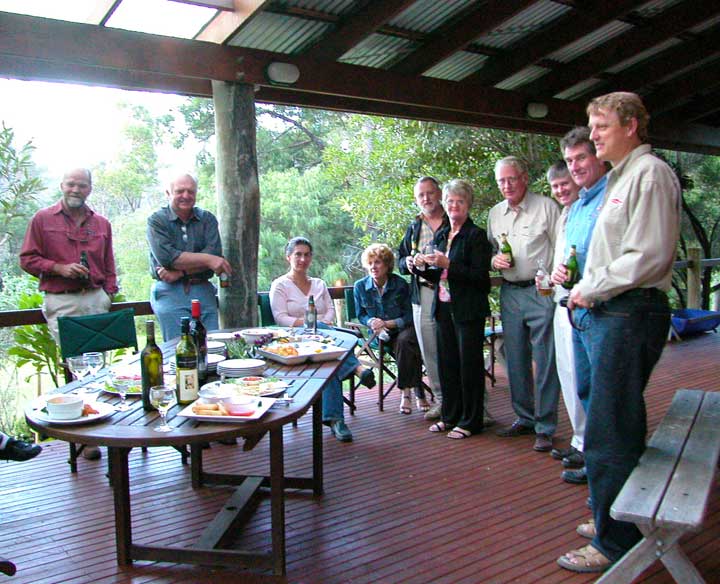 Australians with an excuse to drink beer
Air-to-air photography was the plan for the afternoon so it had been arranged for a local chap with a 206 to take the photographers, one of whom being Juliet Ferguson, while the three Falcos carried out a succession of formation passes. The 206 owner very kindly advised he would remove his door, since he felt that if he didn't, the Falcos might not be able to keep up! I was lucky enough to score a ride with Ian who flew in the slot, while Steven flew lead with Garry, and Drew flew wing with Rob.
The day was a little bumpy which made for some fairly high concentration levels on all concerned and after only about six orbits of the 206, the photographer felt sure he had got at least one photo! I think Juliet managed to get more shots. They certainly had their work cut out trying to snap three Falcos racing by in formation with not a lot of warning and all those bumps. I thought it was huge fun although the pilots complained of overwork and underpay. Even the girls, who had gone for a walk, got a kick out of the formation flying when we overflew them on the way back to the airport.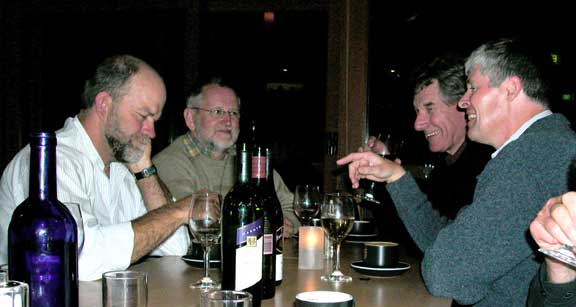 After arrival back at Merimbula, the aircraft were put to bed, and everyone went their own separate ways to get ready for dinner.
Five PM rolled around, and we all met up at Drew and Judy's house for a tour of their plant nursery business. Now I must confess to being absolutely ignorant when it comes to gardens and plants and things, but I found the whole deal very interesting. It's funny how things change significantly when they are done on a large scale. It seems growing plants is no exception. I also must say that I was surprised to see such a large, well organised set-up in the middle of the bush. All in all very educational and interesting.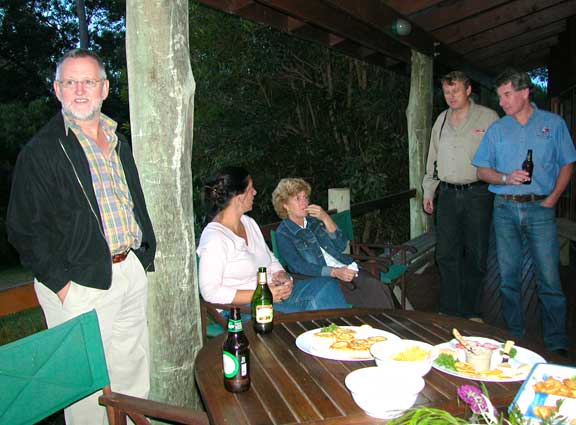 After the tour we all headed back to Drew and Judy's house for drinks and dinner. For a spot to live in they really have found a piece of paradise. The house is built from mud brick with redwood beams and slate floors in a very timeless design. It certainly fits very tastefully into its surroundings in the Australian Gum trees. I could certainly see myself being very comfortable there, although I'm sure Judy would have something to say about that.
Drew and Judy had arranged for professional caterers to cater the event, and they supplied a feast fit for a king. All involved had a very pleasant evening of good food, good company, good conversation and fun. Drew and Judy certainly went the extra mile and showed how good the Aussies are at hospitality by inviting us all into their home and destroying the peace.
The next morning day dawned a picture perfect day. Some of the girls went off horse riding and the rest met mid-morning at the airport meeting room to discuss the days activities over a cup of coffee.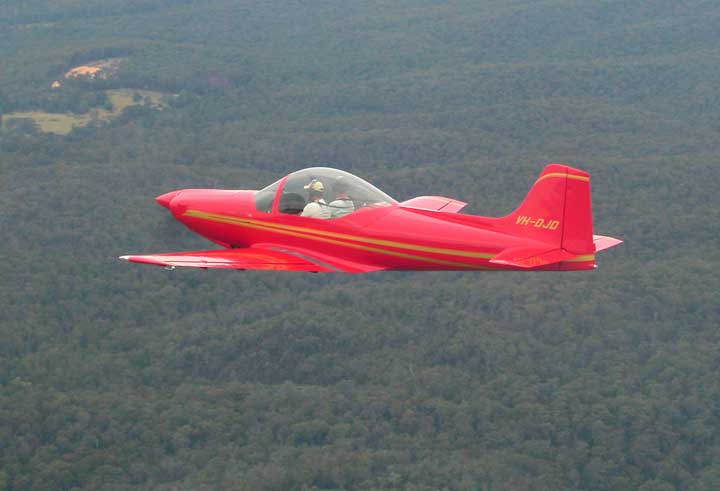 The girls got back around eleven, and all the planes were readied for the day's trip to Frog's Hollow.
"Frogs" is a country grass airfield about 10 min flying time away, where Drew and Judy fly to every Sunday to meet up with friends, talk planes and eat lunch. It has become such an institution that the local commuter airline crew fly out to Frog's Hollow—in a 206, not their Saab!—during a long turn around they have in Merimbula. Once again the local Aussies showed great hospitality in making us all feel very welcome and supplying us with a very tasty barbecue lunch.
Everyone enjoyed themselves and all too soon it was time to wave goodbye to Stephen and Annie Friend and then make our own way back to Merimbula. On the way back, there was a little more formation flying and some good photo opportunities, particularly when Drew and Rob formated on the Cherokee 6 that Vicki, Gary and I were passengers in.
For an end to the event the remaining team spent a pleasant evening in a local seafood restaurant with much time spent on where and when the next fly-in would be.
It was over all too soon, but I can say that I had the best time I have had in a while. Thanks to Drew and Judy for organising such a fun event. I can't wait until the next one.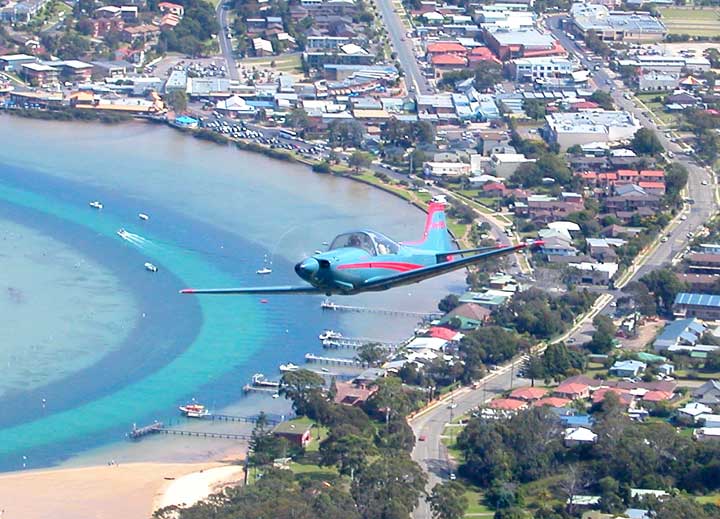 Bombing run