| | | |
| --- | --- | --- |
| | My Falco Story | |
Neither Gwyn or I are particularly tall so I opted for the raised Nustrini canopy which gives 38mm greater head room than the normal Nustrini, which is particularly low. I moulded the extended canopy skirt to match. I have countersunk all the screws and faired off all the metal strips securing the windscreen and canopy.
Taking the lead of others before me I have reduced the engine cowling air inlets by approx 50mm with apparently no effect on cooling.
Right from the beginning I had been considering which engine to fit. I was very interested in the diesel developments which I was watching over the years with interest. The only one that looked to be a strong possibility was the Nasa-Continental two-stroke engine. I saw the prototype at Oshkosh in 2000 mounted in the front of a twin engined C337. It sounded very promising, weight, size, 180-200 hp, but the development ended up shelved, I believe, with a number of technical problems.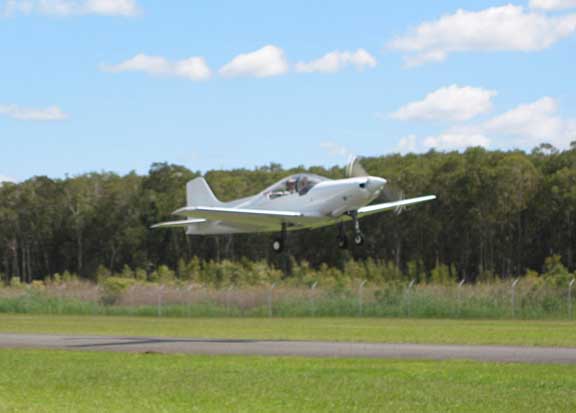 First flight

Drew Done as test pilot and Neil as 'flight engineer'.
I decided the Superior XP IO-360 was the best of both worlds being an improved copy of the well proven Lycoming IO-360 plus I have chosen to go with Dual Lightspeed electronic ignition and the larger Performance Airflow fuel and injection system. Because the electronic ignition relies on battery power, I decided to have a completely dual electrical system, two Odyssey batteries, mounted behind frame No. 6, two alternators and no vacuum system—all electric instrumentation. I fitted the standard Hartzell constant speed two-blade prop. What was the battery box I have made into a full-width locker for additional light weight luggage, covers or tie down gear.
The instrument panel I moulded out of fiberglass with the radio rack extended out approximately 25mm and angled towards the pilot about 15 degees which meant I could eliminate the recess in the forward fuel tank. Only intended as VFR my instrument panel consists of the two Dynon displays, the EFIS containing all the flight instrumentation and the EMS having all the engine and fuel instruments. As backups I have fitted a conventional AS and altimeter and vertical card compass. Avionics are two Australian-made X-Com760 VHF with built-in intercoms, a Garmin Mode C transponder and a Skymap IIIC GPS. I have also fitted an entertainment radio/CD player which feeds music through the intercom… very relaxing. On the far right hand side of the panel I had room left for a glove box—somewhere for Gwyn to keep her 'sunnies' and lipstick!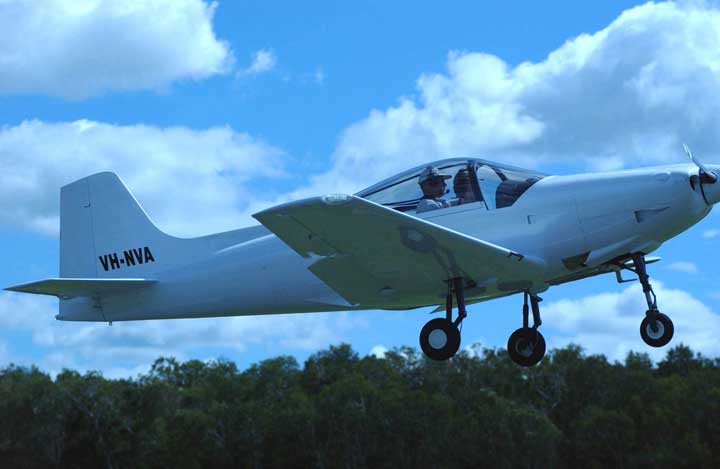 | | | |
| --- | --- | --- |
| | Drew and Neil break ground | |
By March this year, after final checks and inspections the C of A was issued and Falco VH-NVA was ready to fly. Initial engine runs and taxi tests went fine, instruments and radios all OK. Following the golden rule that the owner builder should not do the initial test flights, I contacted Drew Done who has now been flying his Falco for five years. Drew generously agreed he would do the test flights, and we arranged for Drew and Judy to fly up from Southern Australia for a few days. After weather delays VH-DJD, a fine example of a red Falco, arrived at our club airfield on the 29th of March.
Early next morning the weather was still unkind to us with low cloud and rain showers which was unusual for us at the sunny gold coast. However we proceeded with preparations for the first flight with last minute additions of temporary stall strips, draining of excess fuel to about half and removal of gear leg doors so we didn't have to worry about gear door speed limits on the initial flight. It was agreed that I would go on the initial flights in the right hand seat as flight engineer so Drew could concentrate on the flying, particularly being that my instrument presentation is very different from the traditional Falco panel.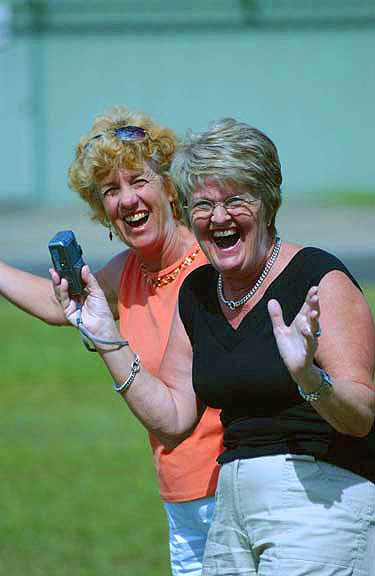 | | | |
| --- | --- | --- |
| | Judy Done and Gwyn react. | |
By early afternoon the weather had lifted, and we were ready to go—apart from a last-minute headset failure. So a few more high-speed taxi tests and a full power ground run up, and we were ready to go flying. At 2:00 pm VH-NVA rapidly accelerated and lifted off 01 Mason Field, Southport for the first time. The engine numbers and temperatures were all good, and we climbed above the field to the limit of the uncontrolled airspace of 3500 feet. The only flight problem that quickly showed up was it was a bit right-wing heavy. We left the gear down and checked out the initial stall which was as per the book at around 52 knots gear and flaps extended. Keen to fix the heavy wing we kept the first flight short and returned for a copy book landing and the welcoming committee of Gwyn, Judy and a number of our club members.
Temporary trim tabs were taped to the aileron and after a further thorough check out we were off for flight number two. We checked out the gear operation this time along with clean stalls, again much as the book says at approx 60 knots. A further small adjustment to the aileron trim tab and our third and final flight for the day. All in all we both agreed the initial test flights went without any major hitch and were very successful. Needless to say a little celebration at the club bar was in order.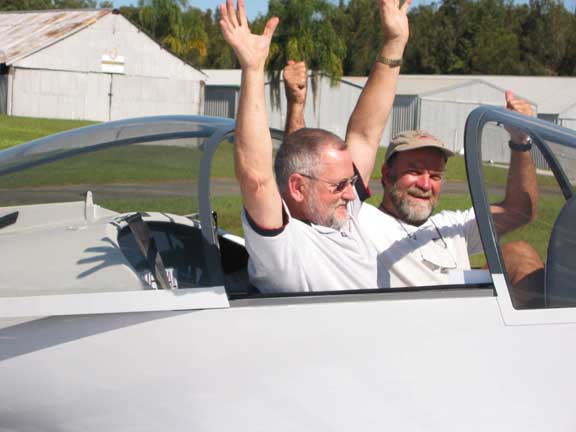 Success!

Neil and Drew Done
Drew and I intended to do some serious flying the next day with myself in the left-hand seat but the unseasonal weather would not go away. We had heavy rain with cloud down to the deck all day. The following day, Saturday, was out as well as I had a long term arrangement for the stripes to be painted on plus Drew and Judy needed to be on their way home. Although legally current I had not done a lot of flying for some time so we arranged for Gary Spicer, a very experienced check pilot and club member, to fly with me in the right hand seat until I felt comfortable handling the Falco.
Over the next week we did a number of short flights and circuits together while checking and calibrating instruments. No problems other than a faulty circuit breaker and a bit of fine-tuning of the trim tabs. I have now been flying on my own since Easter and as of the beginning of May have clocked up 15 hours. Under the conditions of the Experimental C of A there is a 40-hour test period to be conducted within a 50 NM radius of our base airfield and outside controlled air space before the full C of A is issued. Until then no passengers except a licensed pilot and only if required to assist with the test program. Hopefully I will be able to fly the hours off over the next two months as this time of the year we generally have plenty of clear blue skies.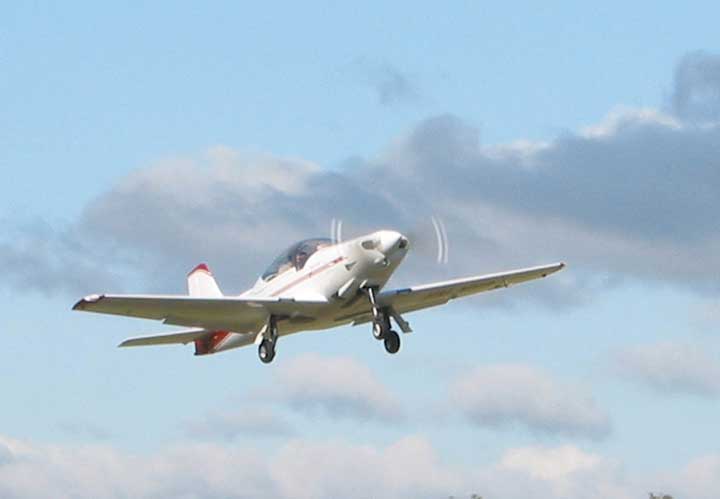 | | | |
| --- | --- | --- |
| | Neil's first flight as the pilot | |
I am pleased with the initial performance figures, acceleration and climb is excellent at around 1000 fpm at 120 KIAS and 1500 fpm at approximately 100 KIAS. This is not at MTOW but pilot only, half fuel and at 2500/25. Trimmed out level at low altitudes TAS is around 170 Kts and at 8000 feet TAS is about 180 Kts. Empty equipped weight is 1215 lbs. (551 kg.)
So, after a nine-year gestation period Falco S/N 1291 VH-NVA, the 83rd Sequoia Falco is flying. My special thanks goes to my wife Gwyn for the support and putting up with the many hours that I have spent in my second home: The Hangar. Also my appreciation for the information and advice from fellow Falcoholics over the years and in particular Drew Done's assistance with the initial test flights. Thank you to Alfred and Susan for their support and service over the nine years.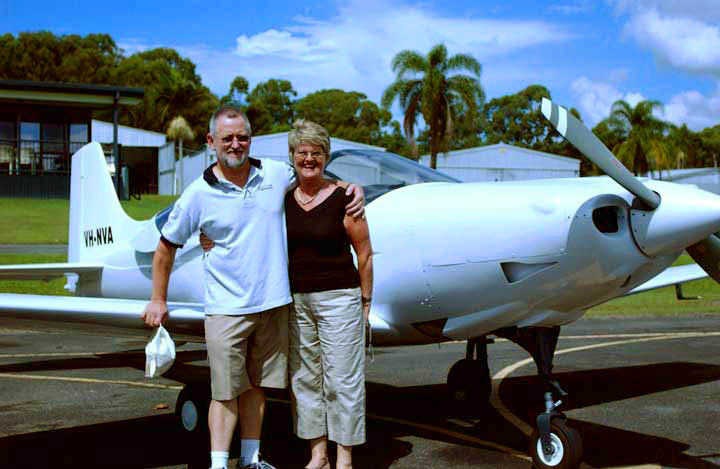 | | | |
| --- | --- | --- |
| | Neil and Gwyn after the first flight | |