| | | |
| --- | --- | --- |
| | George Barrett Unique | |
by Al Aitken
This article appeared in the March 2001 Falco Builders Letter.
Among Falco builders, and indeed among mortal men as well, is a rather unique, 79-year-old package of energy named George Barrett. I first met George and his lovely wife, Joy, at a gathering of Falco builders that has become known as the Great Oyster Fly-in. It was sometime around the year 1989, and Nancy and I were at Rosegill to experience for only our third time the unwritten, unspoken kinship that exists among folks who build Mr. Frati's wooden masterpiece called the Falco. Several builders were there, people of widely divergent backgrounds and interests who all shared a handful of common characteristics such as meticulousness, persistence, patience and generosity. Among them was George Barrett.
George was about 68 at the time and had just recently begun working on his Falco, as had I. Alfred Scott had introduced us, and after several hours of sharing thoughts on blueprints, parts and flying characteristics, George asked if I would fly the first flight on his Falco whenever he finished it. His wife Joy was standing next to him, her fight with Parkinson's disease not more than a few years old. I looked into her eyes and in spite of her trembling and obvious weakening, saw an exuberance, a thrill at the thought of her husband building his own airplane. It was a look I would see several more times in the coming years. Of course, I agreed to fly George's Falco and we have been good friends ever since.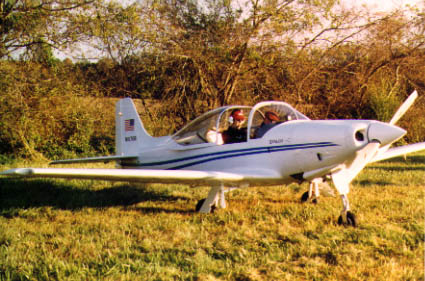 Five years and nearly the same number of Oyster Fly-ins later, I had the honor of flying George's Falco from the Gordonsville, Virginia airport. I had been to his home in Charlottesville on a few occasions and saw the meticulous craftsmanship he had used in creating it. It was a cool early morning in the fall of 1994 when George and I met at his hangar and began preparing his Falco for flight. Joy was with him, still battling her Parkinson's, looking noticeably weaker but always with that love-of-life glimmer in her eyes. She was very excited for George who was all business and whose quickness of step and level of energy belied his now nearly 73-year age. At one point during my lengthy preflight, I asked him to remove the panel behind the baggage shelf so that I could inspect inside the aft fuselage. I watched as George sprang from the wing, jogged over to his indescribably neat and organized hangar, fetched a screwdriver, the whereabouts of which he knew precisely, jogged back to the Falco and leaped back onto the wing. He was nearly 73.
The taxi tests and first flight went very well. As I taxied out for the first takeoff, I passed a small gathering of friends including Alfred, Joel and Carolyn Shankle and of course Joy, sitting in her lawn chair waving and beaming her now familiar look of excitement and pride. One of the greatest satisfactions of my life was to sit in George and Joy's Falco having taxied to a stop after the first flight and reach out to shake his hand and congratulate him for the fine job he had done.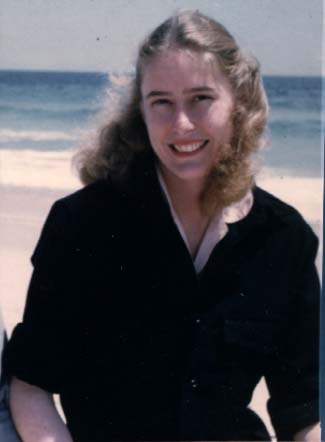 Joy Barrett
As the years since passed, Nancy and I have been blessed with the continued friendship of George and Joy Barrett. We were happy to know that in spite of Joy's losing battle with Parkinson's, she somehow found the energy to join her husband often as they flew together in their Falco. We last saw Joy late in February of this year. She was much weaker then but still had her sense of humor and of course that same look of life in her eyes. Weeks later, at a gathering of friends and family George Barrett held at his home in memory of Joy, I wandered into his porch and noticed a framed photograph of Joy sitting on his desk. As I walked toward it, I saw that it was a photograph of her when she was much younger and healthier and obviously very attractive. I realized what drew me nearer were her eyes, the same look of youth and life I had noticed so many times before. We will all miss her.
George is now 79, still full of energy and remains a good friend and one of the most unique individuals I have ever met.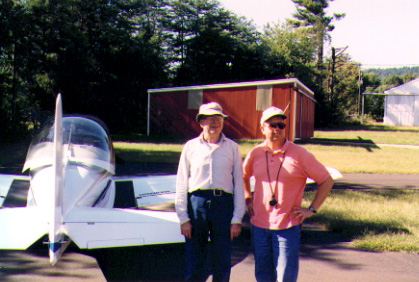 George Barrett and Al Aitken.