| | | |
| --- | --- | --- |
| | Cinco de Mayo Falco | |
by Bob Brantley
This article appeared in the June 2001 issue of the Falco Builders Letter.

Bob and the Falco arrive at the airport hangar.
Looking back to the late 80's when I started my Falco project, the light at the end of the tunnel was non-existent. All that I could see was page after page of drawings of things that needed to be built and assembled, spending time making jigs just to make and hold other parts. Then there were the radios, an engine, and finally the finish work and paint. Before starting the project, I had vowed not to have a finish date in mind and just make the building of the Falco a "hobby" and enjoy the process without much pressure. Building a Falco was not building to gain an airplane, as we had a Commanche 250 at the time, as much as it was the process of building one. In the back of my mind I did want to finish the Falco and be flying by the time I was 55 which is this coming November, so I'm about six months ahead of schedule.
This worked for me and I spent about nine months a year in building time over the past twelve and a half. Let's see, N988RP, 988 for the year I started, 1988, and RP for Robert Paul, Paul being my middle name. I thought about RJ, Robert and Janet, but there was something about saying Romeo and Juliet every time I used the radios. I guess it's a guy thing.
I have been asked, on more occasions than I can remember, why build something as complicated as a Falco? My reasoning was as follows, a proven design by a proven designer, made of wood which is a medium I like to work in, timeless looks and great performance. This summed up why I wanted to build and fly one and so I did.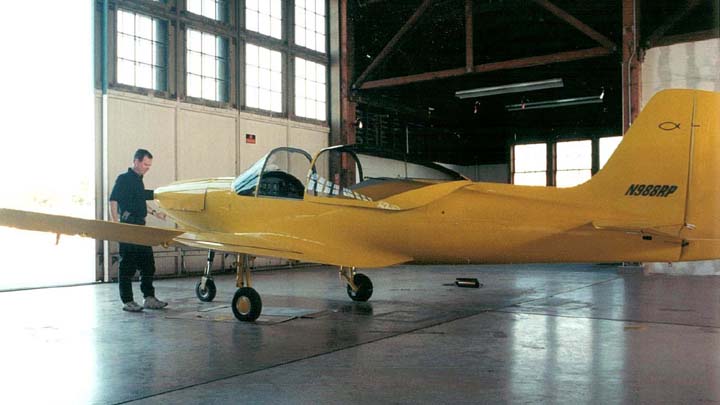 Pierre Wildman checks the Falco in the hangar.
The fruition of all of the work paid off when in April we were finally ready to fly. I had read Bill Russell's first flight article in the December 2000 issue of the FBL with the thought of being my own test pilot. That was my ego at work and the more I thought about it the more I became convinced that I was not qualified for the job. My insurance company, Avemco, agreed with me. During the building years I had always carried enough insurance coverage to replace the parts in case of fire or vandalism and if I wanted to convert the existing policy to a flight policy certain conditions must apply.
The first was that the test pilot must be current in "make and model" not type. Second I needed at least five hours of dual time signed off by a qualified CFI that was also current in make and model. As we found out, this was a tough condition to meet.
Over the last several years I had stayed in touch with Larry Black in Hollister, California, and had used his experience on a number of technical problems that I had needed help on. When I was ready for a test pilot I asked Larry for some suggestions. Larry said that I should call John Harns in Idaho to see if he would be available. He was available but because of the distance involved suggested that Larry, himself, would make a great test pilot. Well, I called Larry back and found out that he is no longer willing to be a test pilot.

Okay, I called Alfred to find out if he knew of anyone on the West Coast willing and qualified to be the test pilot, and he offered the name of Dan Dorr. I called Dan and he also declined, stating that he just had too few hours in a Falco to feel that he had the necessary qualifications. I was getting nowhere fast and felt that another twelve years would pass before we were airborne.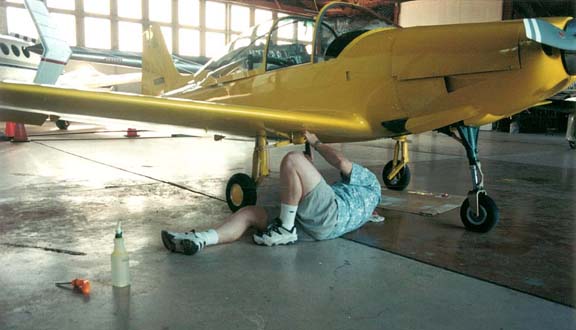 No Falco builder is immune from this activity.
Somewhere in all of these conversations Larry suggested Pierre Wildman. The name sounded vaguely familiarly, he was building a Falco, and he lived in California. We were making progress! I called and proposed the "opportunity" to Pierre. He was interested but needed some time to talk to his fiancée to see if she would object and to see if his schedule would permit some rearranging. Pierre is in the middle of a house remodel and was getting ready to move when I contacted him, along with being the proud new owner of a Vampire jet fighter. After a few days Pierre called back with some good news. His schedule would allow some time, a couple of Saturday's could be available and fiancée Robin gave her blessing. I'm in your debt, Robin!
Our first meeting was to be on May 12th but was moved up to May 5th. I was planning to do all of the high-speed taxi tests before Pierre arrived and then pass along the results of the tests. Because of the change of dates I did all of the taxi tests the Friday Pierre arrived. The taxi tests went pretty much as the test booklet described. I made a separate 4x6-index card for each of the six tests. This was easier than trying to find your place in the book, and it gave me room to make notes and enter the various taxi speeds.
The plan was for Pierre to fly from his home base in San Carlos, California, Pierre makes his home in Menlo Park. He would fly from there to Hollister, California to fly Larry Black's Falco. Pierre was not current in the Falco and Larry invited him over to fly with him for the required takeoffs and landings for the currency. I'm due to see Larry, in the course of flying off my required 25 hours, for lunch. My treat Larry! Then from Hollister Pierre flew down to Santa Barbara on Friday evening. Pierre arrived around seven p.m. and the first thing he wanted to do was see the Falco.
I found Pierre to be very confidant and competent in his ability and methodical in his approach to being a test pilot. He did things by the book, just the way it should be done. Both Janet and I were impressed and felt that we had found the right pilot for the job. After a rather late dinner, we went through the weight and balance, checking my medical and license endorsements and going through my logbook. We then planned what we would do for the first flight the following day. First thing Saturday morning Pierre wanted to give the plane a good inspection and that's where we started. He said that this was only the second time that he was the test pilot for the first flight of an aircraft. His first was when, at the age of eighteen, he tested an airplane that he and his father had restored. When the engine quit after takeoff, that flight ended abruptly with a quick turn back to the airport for a dead stick landing.
In order to minimize any distractions on Saturday morning, I only wanted to have my wife, Janet and my friend, Ken Davids, as spectators. Ken is an A&P and has helped me with some of the mechanical systems and has been great extra pair of hands on more than a few occasions. The one thing Pierre did not need was a crowd of onlookers clustered around. We would show the Falco off to the masses with an EAA hangar party somewhere down the line.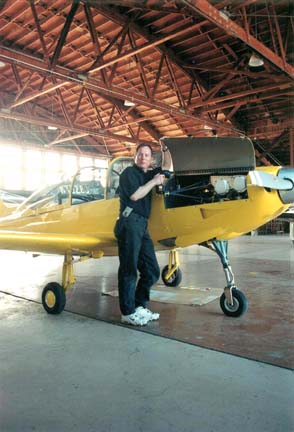 Pierre checks the engine.
The first thing Saturday morning Pierre wanted to do was a complete and thorough inspection of the Falco especially the engine installation. After removing all of the inspection covers, and with mirror and flashlight in hand, Pierre looked and prodded around as he inspected all of the Falco's systems. I had decided that if someone is willing to risk their life flying an airplane for the first time, the least you could do, as the builder, would be to put aside your personal feelings for any and all corrections that the test pilot might bring forth. If anything was questionable it should be fixed, changed or corrected.
One week before Pierre's arrival, my son-in-law and I had gone through the final check list in readiness for this day. Chuck is a mechanical engineer and had worked for Northrop on the B-2's. He had not seen much of the actual construction of the Falco but I knew that with his background and expertise he was a good choice for an airframe inspector. He would be looking at things with a new pair of eyes which should minimize any oversights.
I would urge you to follow this checklist without any deviations. Sequoia furnishes this to everyone in the final assembly of their Falco and it is also available on the Falco website. It is well thought out and covers every nut and bolt in the airframe. Chuck did find a couple of problems. One was the interference of the left aileron pushrod, at the front, that was binding at the edge of the oval cutout on the front face of the wing spar. The other was that I had crossed the right rudder cable over the left cable at the rear rudder cable pulley. The right must cross under the left to prevent any chafing of the cables.
Pierre only found one thing that needed to be changed. The vacuum pump exhaust hose was venting on the gascolator and, after re-positioning the hose and adding a tie-rap, we were ready to proceed. Going through the final checklist really paid off in the final preparation of the Falco for its first flight. When Pierre had finished his inspection to his satisfaction, there was nothing left to do but fly and so with some apprehension he donned his flight helmet and parachute. While Pierre was readying himself, we tried to calm down a bit with some picture taking.
I don't know if Pierre knew how afraid we were for him or not. We knew among ourselves that he was the most important aspect of this flight, and we wanted him back in one piece, Falco or not. A lot of prayers for his safety were made by us and others, not even known to him, on this Saturday as he taxied out to the active runway.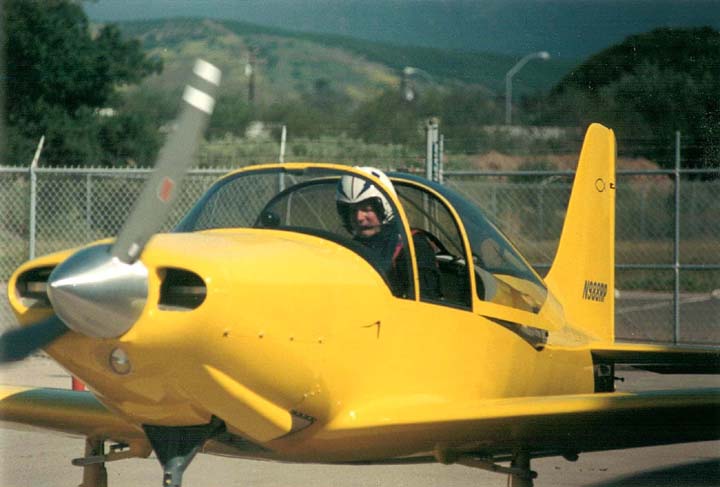 Pierre fires up the engine for the first flight.

Go back to Bob Brantley