| | | |
| --- | --- | --- |
| | Fred's Falco Finally Flies | |
This article appeared in the March 2003 issue of the Falco Builders Letter.
By Fred Doppelt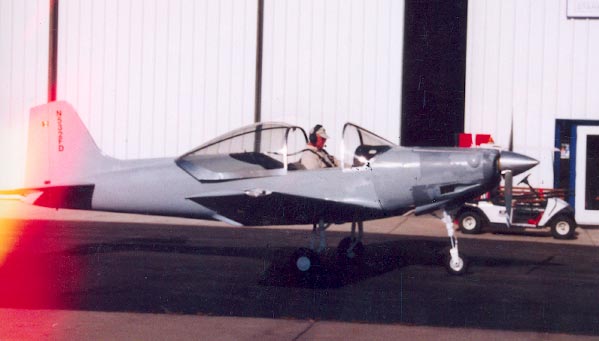 Startup and taxi tests.
[That's a film problem on the left]
I guess that every builder's first flight finally does happen. On 15 October 2002 after waiting for over four months for the FAA to send me the aircraft registration, the inspector finally arrived. In fact, I was at home when the call from the airport came. It took me 45 minutes to get there and when I did it had already happened and for the next two hours paperwork was what was the order of the day. What an anticlimax. I learned nothing from the inspection other than it cost $350 and that the paperwork was prodigious! Thank goodness for the Falco inspection list which had taken an A&E and me over two weeks to perform -- a truly great list, thank you Alfred Scott.
Of course, it took a few days to put the airplane back together again and assure it was in flyable order. Ruth and I have traveled to the aborted 12th annual Falco Fly-In with the expressed purpose of getting some Falco flying time and talking over with the pros the appropriateness of doing the first flight myself. Well, Galveston didn't happen, but Cecil Rives and Bill Russell were kind enough to roust out their two beautiful Falcos, give me some tips and flying time in Bill's gorgeous red aircraft. We specifically had a skull session on what to do on first flight and how much of the Falco Flight Test Cards to use.
That fly-in was especially worthwhile for me, not only for the flying time in Bill's machine, but for all the last minute technical advice they managed to cram into my shaking head. I must also say that each of the fly-ins have been critical to making the Falco, from our first at Eureka till this last one. John Harns, Dave MacMurray, Dave Nason, Larry Black, thank you all for your great patience and Falco flying opportunities.
Back in Durango I checked out in a 172 (biennial currency) and ran the flight test cards on the 172 as if it was the Falco. I must say a 172 is not much of an airplane at 10,000 ft -- that's the altitude required for the majority of the test requirements.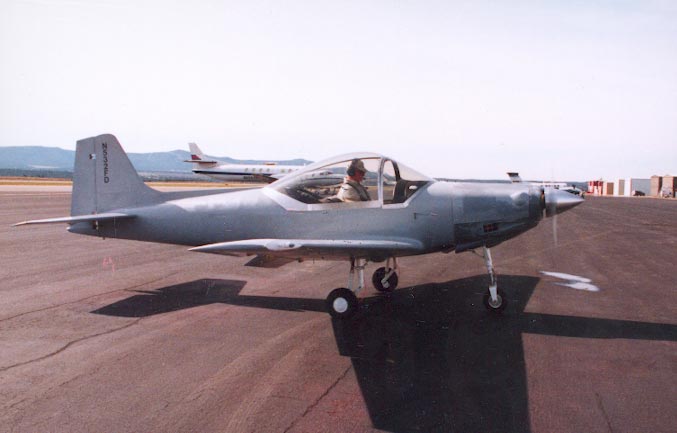 On 21 October 2002, Ruth and I got up early and drove to the airport. It was a perfect day, cool, sunny and calm. The plan was to do all the taxi tests, return and do an aircraft review and then decide about calling in someone to do the first flight. We pulled N532FD out of the hangar, did a careful preflight, and commented on when we would be able to fly to a paint shop (none at the Durango airport), I climbed in set up and started the engine (sounded and felt great). No one was in the air that time of the morning, so I announced my intentions and proceeded to do the three suggested brake lining break-in tests.
Then for the real stuff. I had the test cards in a large ring attachment with a red crayon set by it in a holder stuck to the instrument panel so I could easy check everything that was done, including the start-up check list, etc. The three directional control tests went easily, with superb nose-wheel steering and rudder control at the 20, 40 and 50 knot speeds. At 50 knots, it really felt like it wanted to fly so I slowed down quickly. I wrote up my comments and returned to the runway to begin the aileron control tests. These were very interesting, as holding the aircraft on the centerline while holding full left or full right aileron with neutral elevator was a neat exercise in nose-wheel steering, which incidentally is extremely sensitive and accomplished with the slightest of pedal pressure especially as you get up in speed.
The opposite wing began to rise at the suggested 20/30 knots. I really sweat this one out -- I knew that if the wings didn't rise at low speeds then I probably would have a control problem and I would abort the taxi runs, call the pros to discuss what to do and call in a test pilot. But everything was apparently in order and the five runway tests felt like I had a real airplane! The last called-for taxi test was elevator control, i.e. full aft stick, ailerons neutral and accelerate to 50 KIAS keeping from taking off while doing it. Gosh, I was all but airborne when I hit the 50 knot mark. Off the runway, I wrote my comments and began to return to the hangar. As I approached I noted that Ruth was surrounded by a very large crowd. We had told no one so that this could all be done without the pressure of onlookers, and here was the entire bloody airport crowd cheering on.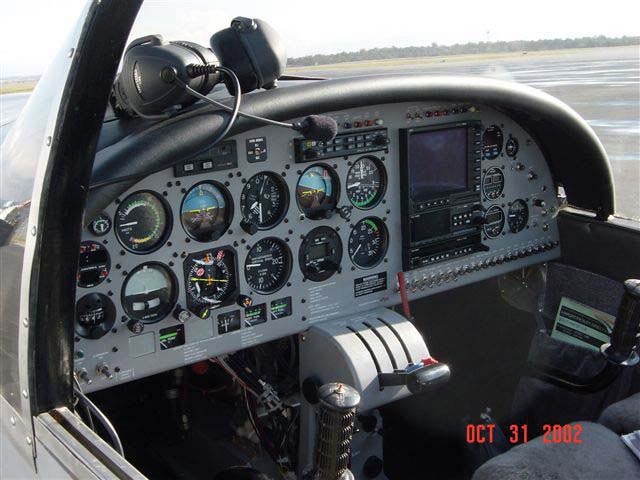 I turned to the next test card which was Flight Test, filled out the suggested data, went to the run-up area, punched the clock, put in 15 degrees of flaps, ran through the run-up checklist again and applied throttle smoothly to full and down the runway I went till 60 knots, checked 2700 rpm and 25 inches mp (Durango is nearly 6,500 ft), and took off. I kept 8-10 degrees up-attitude till 85 knots and 8000 ft, took in the flaps and continued climb to 10,000 ft checking all instruments, EGT, CHT, oil temp/pressure, etc. I did some gentle turns left and right on the way up and decided that I had a super Falco. Leveled at 10,000, I accelerated to 120 kts (gear down), did 30 degree turns and remained over the airport watching the instruments carefully to be sure everything stayed in the green. I was amazed as I began to feel comfortable at how easily it handled, very slight fingertip stick control, once trimmed for cruise 2500 rpm and full throttle 23 inches. After about 20 minutes of shear joy, I went to the descent and climb chart, recorded the manifold pressure required for 500 and 1000 ft descents and how it did the climbs at 100 kts (gear down and flaps up).
With no surprises up to this point, I went to the next flight card, Slow Flight. This called for 80 KIAS, gear down and 20 degrees flap, 15 degree turns, 500 and 1000 ft climbs and descents-no sweat at all. Level flight engine check and then the dreaded Approach to Stalls flight card. Having previously discussed this with Bill and Cecil, I was leery of doing a 30 degree full-throttle approach-to-stall on first flight. However the 12 called-for configurations all passed with little effort as buffet occurred nicely and full stall was avoided in each instance. I guess the stall strips were in the right place after all.
The Stalls flight card was a snap after the last one and clean stall from idle and full power, flaps up, straight ahead occurred and 60 knots on the nose and with 20 degrees of flaps at 55kts. So I had my 1.3 x 55 or 72 kts approach speed setting (good thing I had brought along my 12th annual Falco Fly-In calculator with me, thank you Cecil and Bill). So on to the Practice Landing Approaches card. I made the two approaches over the runway (at 8,500 ft) re-checked all engine instruments and with 20 degrees of flaps came around and did a beautiful landing.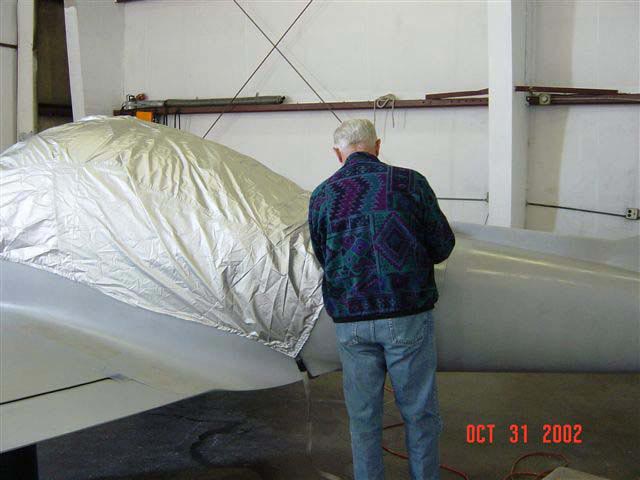 The crowd was still there, as was the red carpet and a big kiss and little balling out from Ruth for not returning for ground check after taxi tests were over. It took one hour and 20 minutes. I have to say that I felt good, the aircraft performed very well and to my surprise did not appear to need any trim tabs as she flew straight and level when asked to. Also the performance at 10,000 ft with gear down was better than I had dreamed it would be, no doubt due to the wonderful engine built by Barrett Performance Engines. They put in high compression pistons, flow balanced, ported, etc.
As Ruth was going to town to shop, after a complete aircraft check, it was airborne again to do the gear-up flight check. This went well, with no hitches, the entire flight test protocol was done again, as was three landings to full stop. Wow, what a speed demon with the gear up! This called for another 1 1/2 hours, at which time I called it a day, and what a day it was. I flew nearly two and one half hours that first day. As I write this some days later, I'm still all excited about having done it by myself!
All I can say is that after nearly 9,000 flight time hours in general aviation aircraft these nearly three hours were easily the most fun and memorable that I've ever had! I don't recommend first flight for all builders, and I was very concerned about doing mine, but I can say that the Falco Flight Test Cards are the best that I've ever seen and are truly up to Falco standards of excellence.
I've now got nearly 10 hours accumulated and just finished my high speed runs, up to 17,500 ft. Great new oxygen system by the mountain high folks that works wonderfully, and is hardly noticeable, a terrific improvement over the Nelson Oxymizer system I'd previously owned. At 17,500 ft, I showed an IAS of 116 knots with climb of 700 ft/min at 90 knots indicated still remaining (I couldn't get clearance to go higher). The GPS ground speed at that altitude was 172 knots on a two-way one-mile run, main gear doors and all hinge covers on and with 16 inches manifold pressure. It handled well at that altitude. I did power off stalls and 30 degree three-sixties, all easily done. What an airplane!