| | | |
| --- | --- | --- |
| | N1443D | |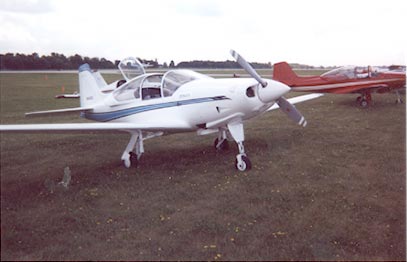 This was a wet Oshkosh year and on the night of the Falco Builder Dinner, Appleton had nine inches of rain, and 1-1/2" of rain fell at Oshkosh. There was a lot of water around his tent, but somehow, Al managed to survive it all.
Then the EAA show organizers approached him and asked him if he would like to join in the fly-by for homebuilts on Saturday. At first, Al was afraid he would screw up and land with the gear up or something, but they said to relax. So he said OK, filled out the paperwork and then did the flight briefing. Then on Saturday, he did the fly-by, and he did not screw up. "It turned out to be exceptionally thrilling."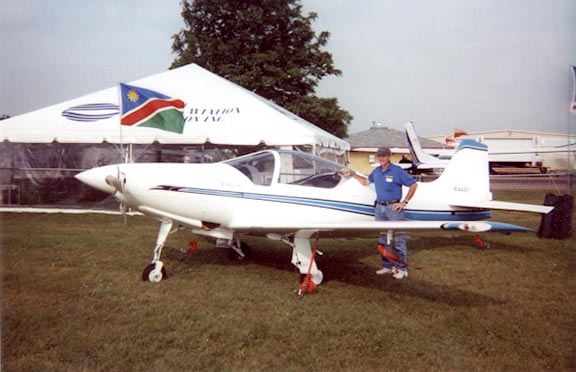 After the fly-by, he tied the airplane down and went to lunch. When he got back, there was an envelope on the windshield with a note suggesting it would be to his benefit to attend the awards ceremony on Sunday night. The wording is, of course, intentionally vague, but it's clear that he was going to win some sort of award.
Debbie Dubiak came up on Saturday with some friends, and on Sunday night Al and Debbie went to the awards ceremony in the Theater in the Woods. In all, something like 2000 to 2900 airplanes had been judged and there were 123 awards.
Most awards were plaques, and then they got to the Bronze Lindy's, a third-place award for various categories of kit-built, antiques, etc. As the last Bronze Lindy was announced, it was for Al Dubiak.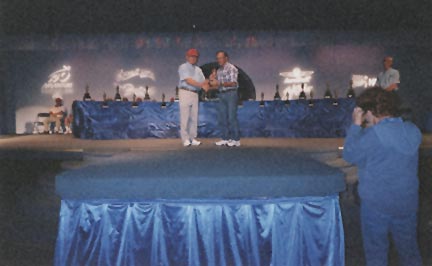 For a modest quiet man, this was a big moment. "I didn't go there to win an award." Which is, by itself significant, because normally to win any of the top awards, you have to polish every piece of the plane and have a good understanding of what the judges are looking for.
Some people who take their Falcos to Oshkosh are so overwhelmed by the crowds that they vow never to return, but Al said he was glad he went. He had a really good time, met a lot of people and 'I ate more brats than I care to again."
Most of the questions from people was that they were amazed that the Falco is made out of wood, and Al patiently explained it over and over and over. Nobody wanted to believe it.
But for a quiet guy who just flew up with his Falco at the last minute, it's perhaps a good example of Woody Allen's famous quote that 95% of life is just showing up. And all the exposure and recognition didn't hurt his feelings one little tiny bit.
"I'll never forget it."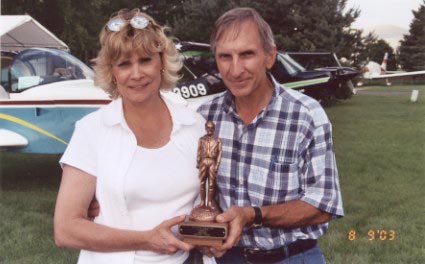 | | | |
| --- | --- | --- |
| | Debbie and Al Dubiak with their Bronze Lindy | |