| | | |
| --- | --- | --- |
| | N1443D | |
by Al Aitken
Falco builder Al Aitken is a graduate of the Patuxent River Navy Test Pilot School and is largely responsible for the Falco Flight Test Guide.
This article appeared in the March 2001 issue of the Falco Builders Letter.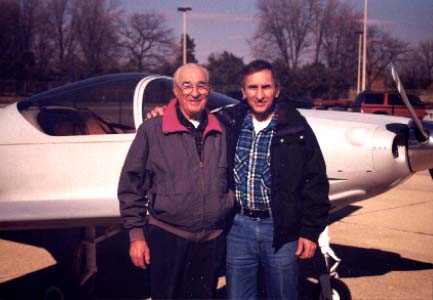 Steve and Al Dubiak with the 67th Sequoia Falco to fly.
Somewhere hidden among the thousands of names etched into the walls of Ellis Island can be found inscribed the names of a young Ukrainian couple whose destiny was to start a chain of events that would eventually result in the birth of a magnificent new Falco. They came to America sometime before 1914 and settled into central Wisconsin, became dairy farmers and carved out a new life for themselves and the twelve children they would soon begin having. Among their children was a young boy they named Steve Dubiak who was born in April of 1914. Growing up and working on his parents' farm, Steve developed a mechanical acumen that would eventually lead him from that farm and add the catalyst needed to continue this chain to the main event in this story.
Eventually Steve, having migrated to the Chicago area and working as a mechanic mostly on machinery, grew into a hard-working young man with mid-western values and an eye for things of mechanical beauty. He had an eye as well for the beauty of a young Polish girl named Ann and married her sometime before 1943 thus setting the final course in this chain of events.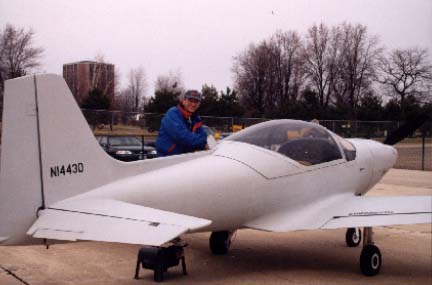 In 1943, Al Dubiak was born to Steve and Ann, and within days it seems, he was able to machine a flywheel driveshaft to within tolerances of less than one half of one thousandth of a millimeter. Indeed, Al had inherited his parents' mid-western values and his father's mechanical abilities and then some. Connoisseurs of mechanical beauty naturally gravitate toward aviation, for the beauty of flight and the gracefulness of curve found in the vehicles that produce it are unmistakable. This was the basis for Al Dubiak's aspiration to join the Air Force, an aspiration that passed unfulfilled due to his family's needs. And thus began Al's attraction to private aviation, a path that would lead him eventually to the Falco.
It was, in fact, in a private rental airplane that Al Dubiak had his first date with a young, attractive woman named Debbie, a future beautician and an animated girl with a witty sense of humor who spoke Chicagoian fluently and who would eventually become his wife and the mother of two of his daughters. Al's affinity for airplanes and Debbie's tolerance for Al's affinity lead them to own a Piper Arrow for a number of years and summoned them to the airplane lovers' Mecca known as Oshkosh. It was here that Al Dubiak met Alfred Scott and discovered the Sequoia Falco. Not long after, in the early 90's, Nancy and I met Al and Debbie at Rosegill during one of Alfred's Great Oyster Fly-ins.
Actually, the crossing of our paths was set in motion in 1922 when my father, Thomas Aitken, arrived at Ellis Island with his sister and parents from Scotland. He was the son of a carpenter named Alexander, a good man who was a meticulous craftsman. They settled in Stamford, Connecticut where my father grew to become an adventurous young man who joined the Navy and learned to work on aircraft radial engines. He met and married my mother, Muriel Ann, the daughter of an Irish couple from Troy, New York and after World War II, they settled in California where I, their second son, was born in Oakland.
It was my father's work with aircraft in the Navy that attracted me to flying and led me to my Marine Corps flying career and my attendance at the Navy's Test Pilot School. And it was there in 1979 that I met a fellow test pilot named Ken Cockrell, now a Space Shuttle Astronaut, who introduced me to the Falco brochure and set the wheels in motion for my involvement in my own Falco project and my attendance with my wife, Nancy, at that same Great Oyster Fly-in where we met Al and Debbie Dubiak in the fall of 1993.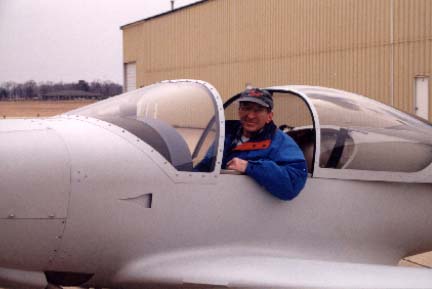 In 1995, I flew to Chicago and had dinner with Al and Debbie and had an opportunity to meet his father, Steve, and see first hand the meticulousness with which they crafted his Falco wing. It was nearly complete but not yet fully skinned. Their woodworking skills were enviable, and it was obvious they worked well together as a father-and-son team and thoroughly enjoyed their project together. We talked casually about flight-test philosophies and processes, and I agreed to Al's request that I fly his Falco on its first flight. Judging from what I saw that night, I was confident his Falco would be well built.
Five years later, Al called me and announced they were getting close to completion. We talked about the logistics involved and of the fullness of my schedule. We agreed to stay in touch more frequently as their project drew to a close. That was sometime in the spring of 2000. And finally in January of this year, Al Dubiak asked me to come to Chicago to fly his Falco, that he had obtained his experimental certificate and that he was anxious to see his airplane in the air. My schedule delayed us for another few months until March 27, 2001, my father's birthday, when I had the honor of breathing life into Al Dubiak's Falco.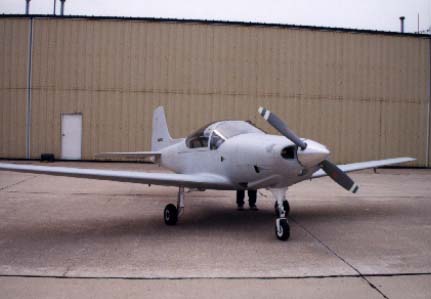 I had arrived at Chicago's O'Hare airport on an early flight from Washington, D.C. at 7:30 that morning, and drove with Al to the DuPage airport nearly 30 miles west of the city. My first look at his Falco gave me pause. With its flat gray primer and cowling blisters to accommodate its hidden 180 horsepower Lycoming, it seemed majestic yet graceful like a cross between a Cheetah in full stride and a whiskered Tasmanian Devil daring me to mess with it. It looked bigger and sturdier than other Falcos I have flown. And it looked like it was ready to fly.
I walked around it twice intending simply to view it in a macro sense but kept getting drawn to closer inspection of details that begged for attention. Details like the absolute straightness of the elevator and rudder trailing edges and the installation of countersunk machine threads buried in the spruce allowing the use of machine instead of wood screws for the attachment of the rudder and elevator hinge point covers. Details like the perfectly fitting Nustrini canopy shirt fairing that Al and his father had made from scratch because they were not satisfied with the fit of the stock fairing. And most impressive to me, after having flown more than ten different Falcos was the ease with which I could move the canopy. Very light pressure with one finger was all that was required to glide the canopy effortlessly on its rails. As I looked, Al explained his registration number, N1443D, "14" for the year his father was born, "43" for the year he was born and "D" for Dubiak. I commented to Al that he should plan to show his Falco at Oshkosh after painting and then I set about to thoroughly inspect it inside and out for the next four and a half hours or so.
Try as I did, I found literally nothing wrong with it. And so, after a welcome ham sandwich, some chips and soda pop provided by Debbie, it was time to get on with the high-speed taxi tests as described in the Falco Flight Test Guide. Al had installed only the left seat for the first flight, leaving the other seat and all of the internal covers out to enable us to monitor the inner workings between taxi runs and prior to flying for the first time. As I strapped in, I was immediately aware of the lack of headroom with the standard height Nustrini canopy that Al and his father had installed. They had not elevated the canopy as some other Nustrini builders, like Pawel Kwiecinski and Joel Shankle had done. With the canopy closed, there was little room for my shoulder and head without hunching slightly forward and leaning slightly inward.


Go back to Al Dubiak