Coast to Coast Australia
in Four Falcos and a Lancair
by Juliet Ferguson
This article appeared in the March 2008 issue of Falco Builders Letter.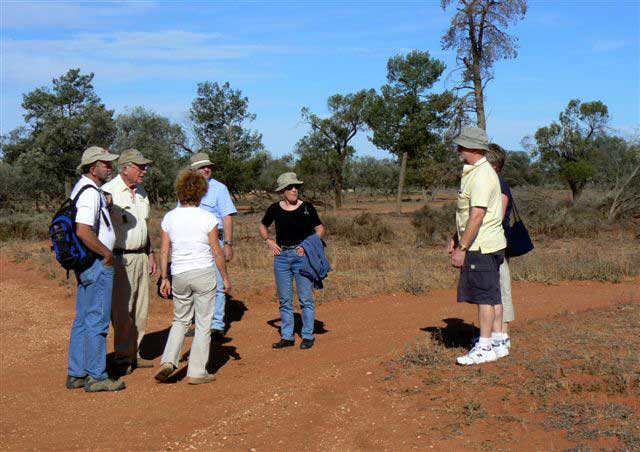 | | | |
| --- | --- | --- |
| | Drew, Ian, Judy, Stephen, Annie, Neil and Gwyn at Mungo | |
See Full Web Gallery
Spectacular Photos now in Facebook album
See Full Web Gallery
Spectacular Photos
Australian Falco Builders and Flyers have a biennial meeting and in 2006 we decided on Perth in Western Australia so that we could inspect Rob Phyllis' nestling Falco and attend the Red Bull Air Race.
The crew was composed of Drew and Judy—DJD, Stephen and Annie—SBD, Neil and Gwyn—NVA, Ian and Juliet—YBN in our Falcos and friends Tony and Jo in their Lancair —TMR.
NVA and DJD hail from the east coast and YBN had been there in the preceding few days though is based in northern Victoria. DJD is from Goulburn SE of Sydney and TMR from near the coast in western Victoria. So most of us started from the coast on the east side of the country, and we all made it to the west coast.
We left from home on Tues Nov 14 on a hot, dry, dusty day for the short step to our first destination Mungo Lake. On departure from our narrow strip with a permanent crosswind we strayed a fraction and had a brief encounter with our stubbly, drought-stricken crop of wheat. We flew over dry irrigation country, dry creeks with billabongs, flat, desolate orange/grey plains then red sandy country with clay pans to Mungo which is NE of Mildura and north of the dwindling Murray River. On arrival we discovered we had no brakes—courtesy of the stubbly, drought-stricken wheat crop.
DJD and SBD were already there tied down behind the cabins and shortly after, amid cheers, Neil and Gwyn arrived in their fledgling Falco NVA. Tony and Jo were to meet us at Streaky Bay tomorrow.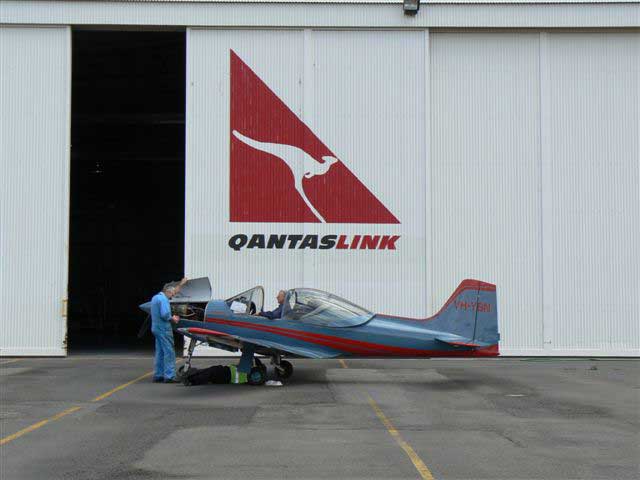 Mungo Lake is a dry, flat lake bed covered with salt bush. It was once a huge freshwater lake providing a rich environment for aborigines but dried up about 25,000 years ago. The relentless westerly wind has blown sand across the lake creating a huge lunette of dunes which are constantly changing, exposing soft multicoloured sand stone buttreses and aboriginal skeletons and artifacts dating back 40,000 years.
We did a bit of a tour with an aborigine who played the didgeroo, drove across the lake accompanied by kangaroo and emu and wandered around the dramatic lunette at sunset accompanied by feral goats.
Then drinks back at the Lodge and bed. Very windy during the night.
The weather has gone mad in this country. It was cold and windy in the morning and snowing in some parts of Australia where there were to be bush fires a few days later. Attempts to fix our brakes were unsuccessful, and we decided to fly to Mildura where there was more chance of finding a LAME (licensed aircraft maintenance engineer, equivalent to your A&P) than Whyalla where the others had planned to refuel. It was freezing, and we sat in the A/C trying to keep warm and waiting for a gap in the squalls that were passing through. Difficult to feel optimistic under these conditions!
At last, after some considerable difficulty starting the A/C we were off just before 11am. Very rough flying under low cloud over flat sand and timber. Then a brief period of peace as we flew across big yellow paddocks interspersed with olive scrub on red sand like an aboriginal dot painting. The short lived peace was followed by violent turbulence. Little blue wing please stay on.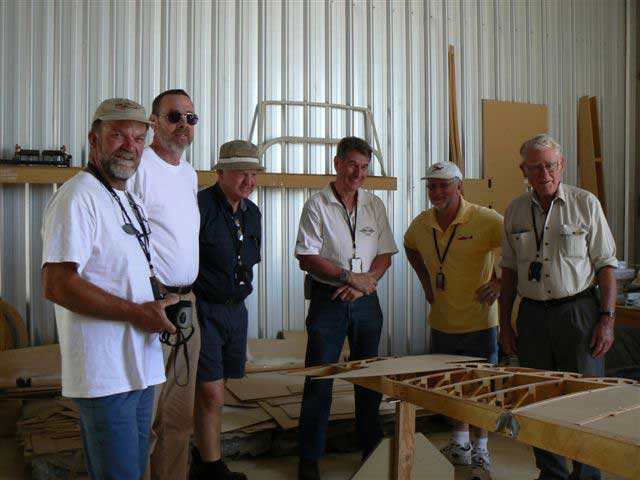 In the circuit at Mildura we were heading for runway 18 when a RPT ahead said he was landing on 24 so we followed him but changed our mind again when he informed us, after landing, that the crosswind component on 24 was 30 knots!
Mildura, normally quite active, appeared deserted. After some time we found the hangar door of QantasLink, a regional airline, ajar and were so lucky! We found two LAMEs who fixed the brakes while we sat inside warm, drinking tea and reading lewd LAME magazines. It took them some time, and they did not charge us for the work.
Off again at about 4pm initially following the Murray in dust storms and wild turbulence. Low cloud, rain and a strong head wind. Lunch was an apple which Ian dropped, loosening his harness for a retrieve just as we were nearly thrown through the canopy.
Over flat scrub on red sand, then the southern end of the Flinders ranges followed by yellow cropping country with small salt lakes bumping all the way until we reached Spencer Gulf which we crossed still at 2,500 with no life jackets. Turquoise water with lots of white caps but at least the air was a little calmer.
Rough riding again. Now over vast yellow paddocks of the Eyre Peninsula. To our surprise and pleasure we heard Tony in the Lancair requesting a SAR (search and rescue watch) for crossing the gulf. We had assumed the weather would stop his departure today.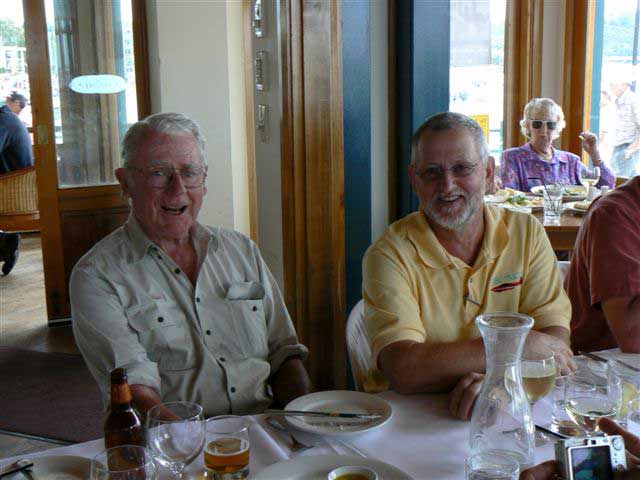 At last Streaky Bay which is on the eastern side of the Great Australian Bight. Tony and Jo arrived at the same time (how fast does a Lancair go?!) No sign of the other Falcos but Drew had called enquiring about holes in the cloud.
Courtesy bus to a nice hotel by the sea. The town is tiny with a long wooden jetty, people fishing and pelicans.
The others arrived only about 1/2 hour later. They had sat out the storms at Mungo until 1pm and then flew sedately over cloud, refuelling at Whyalla on the gulf then flying over cloud again fortunately finding a hole just before Streaky Bay.
Some walking, some drinking and a very convivial dinner.
Woke to a sunny, cool morning with a light breeze. Breakfast then a quick visit to the town's main tourist attraction—a fibreglass model of a huge, sinister shark at the Shell Roadhouse. A grim reminder of the hazards of the ocean.
Refuelled and departed late morning flying along the coast over scrubby plains and long surf beaches. Many A/C on the chatter frequency 123.45 all following the coast on the way to the Red Bull. Some very excited youthful pilots.
Miles and miles of surf and sand. Then the Nullabor ("no trees") Plains ending abruptly in sheer cliffs dropping to the sea. Dramatic flying abeam the cliffs at 500 feet above the wild ocean. Sinister sharks below.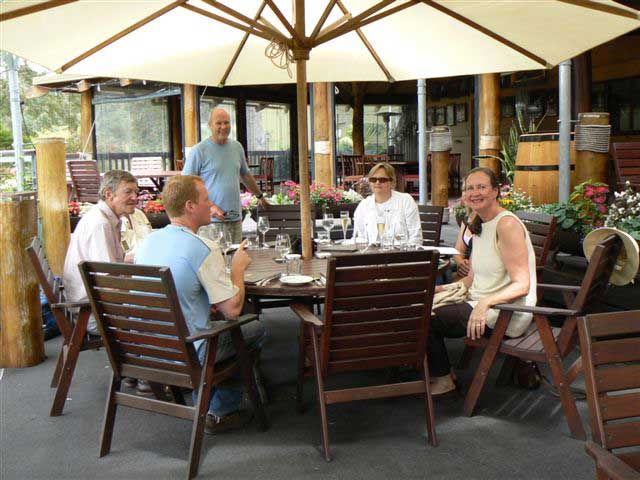 | | | |
| --- | --- | --- |
| | Luncheor at Leeuwin Estate, Tony on left and Jo on right | |
East of Eucla we turned inland over the Nullabor to Forrest. Now hot and hazy. Forrest is in the middle of the Nullabor on the Trans Australian Railway. Only a solitary couple live there managing the aerodrome and providing fuel. The runway is long and sealed, a leftover from the days when RPTs had to refuel to cross Australia. The influx of A/C on the way to Perth caused great excitement especially the line up of four Falcos and a Lancair!
[RPT = regular public transport. Aerodromes served by RPT are treated somewhat differently from others.]
Judy had previously arranged lunch, and we were provided with sandwiches and cake though because of the time change it was still closer to breakfast time. Departed over the wide orange plain following the road and railway trying to catch Neil to take photos of NVA. After the plains scrub, salt lakes, storms and increasing turbulence as we approached Kalgoorlie.
Kalgoorlie is a gold town with huge open cut mines, impressive old buildings, masses of pubs and Hay Street—a strip of galvanised iron brothels. We had planned to visit the giant Super Pit, but it was closed because of the storms!
The following day, after studying the Perth VTC we departed for Jandakot Perth's secondary, but controlled, airport. Over scrub and low hills with an occassional road and red track. Salt lakes. Calm and warm with an inversion. Later yellow country with yellow roads then farming country with big brown and yellow paddocks. In and out of Cu's.
Along Salt River an amazing river of braided salt and salt pans. Descended into turbulence trying to understand the ATIS which was fast and garbled. Low across hills covered with dense timber. Dozens of A/C approaching Jandakot. Had to report at two points three miles apart so by the time we had reported at the first we were beyond the second—a lake difficult to recognise as it had no water!
Lots of airspace infringements and, because of the traffic, Stephen had to orbit on final! Jandakot is 1697.7nm on a great circle from Merimbula. Our trip was a little less direct!
| | | |
| --- | --- | --- |
| | Drew, Judy and feathered friends at Karri Valley Resort | |
Rob had arranged some quality parking and was there to meet us. He lent us a car, and we hired another. Our hotel in Perth was excellent with views over the Swan River and the pylons for the air race—some practice in progress as we arrived. Not so excellent for Gwyn and Neil though as in spite of confirming their booking a room was not available.
The next two days were devoted to inspecting Rob's A/C, lunches, dinners and the air race. The air race aeroplanes were based at Langley Park an airstrip in the middle of the city and adjacent to the Swan River. In addition to the spectacular air race there were F18's, Harvards, an aerobatic pilot from Shepparton (close to home) and others performing. Hundreds of boats were moored on the river to watch the race.
On Mon Nov 20, three of the Falcos started for home by a rather indirect route. Annie had to get home quickly so took a commercial flight. Jo and I had relatives to visit in Perth so we left the following day for Leeuwin Estate, a well-known vineyard about 120nm south of Perth. Prior to departure, while taxiing, our nosewheel dropped into a soft sandy hole with the propellor almost hitting the ground. We stopped the engine and, with assistance, hauled it out.
We flew south at 2,500 along the coast. Surf, inlets, estuaries, lakes, dunes and the empty Indian Ocean. Then inland for a few miles over green paddocks and vineyards. Tied down next to the other Falcos in grass with dandelions as Tony and Jo arrived.
Jo had arranged lunch on the verandah with some other pilots. We had oysters, marron—a delicious freshwater crayfish—cheese and excellent wine with a band of kookaburras pinching food from our plates. The building is surrounded by a lush flowering garden, and there is a wonderful gallery of Australian paintings in the basement. Prints of these paintings are used as wine bottle labels.
A taxi to take us a few miles north to Margaret River, famous for its wine, where we met the others who had spent the day exploring on bicycles. After a walk we all met again for more drinks then yet another large meal.
The next day was another short trip 60nm SE to Manjimup. Neil arranged a limo(!) to take us back to Leeuwin Estate. Jo and Tony left us and departed for Esperance. We flew over vineyards, blue lakes and then dense forest. This is an area of giant trees. Morning tea at the Manjimup Flying Club then a bus, arranged by Neil, to take us on a tour of the giant trees—Karri, Marri and Jarrah, all eucalypts—and on to the Karri Valley Resort where we had cabins overhanging a lake surrounded by forest. Masses of birds including marauding Purple Bonneted Parakeets with very sharp claws. Emu and kangaroo.
Here we walked, had more drinks, more food and the next day did a boat trip down the Donnelly River to the ocean. Then back to Manjimup to depart in the afternoon. Ian and I left the group here to have a beach holiday in Denmark while the others headed home via Esperance.
We departed at 3pm heading west initially to fly over Cape Leeuwin, the most south-westerly point in Australia—rugged coastline and a lighthouse. Then followed the coast SE flying over the mouth of the Donnelly River, blocked by a sand bar, where we had been in the morning. More rivers, white sand and surf to Denmark which is on a big inlet 30nm west of Albany. Kangaroos on the airstrip.
We stayed for a few days in a spacious cabin in the camping ground on the edge of the inlet and spent the days walking on the beaches—deep blue bays, granite boulders, wild surf—and fishing. Birds everywhere—pelican, ibis, gulls, terns, cormorants, ducks, parrots and many others. Also, in our hired car, visited another forest of giant trees. Tingle trees with wide hollow bases, where there is an impressive canopy walk suspended across a valley.
We left on Mon Nov 27. A quick flight to Albany where we refuelled and met a man who has built 22 RVs. Coastal abeam rugged mountain ranges and over islands, endless deserted surf beaches, rounded granite headlands. Sitting at 7,500 on autopilot. Refuelled at Esperance which was very hot then flew low over the islands of the Archipelago de Recherche—hundreds of small, low, barren granite islands and a coastline of turquoise bays and granite headlands.
Then climbed to 9,500 and resumed track to Caiguna and on to Ceduna along the Great Australian Bight. Surf, sand, cliffs and the Nullabor. Warm and hazy. A GS of 197 knots.
Landed at Ceduna and parked by a Jabiru, the only other A/C here but high security getting out and and back in to the airport. Our government's answer to terrorism!
Stayed in an old, recently renovated hotel on the foreshore lined with Norfolk Pines opposite and old jetty. Sad aborigines in groups by the shore. Oysters and squid in the restaurant with a red sun sinking behind the sea.
The next day, a bit sleepy from the loss of 2.5 hours, we departed for home. After eight attempts we started the engine which had shown considerable reluctance for the entire trip. This was to be the last start with this particular starter motor! Over Spencer Gulf again—we got a SAR this time—and across huge paddocks, salt lakes, timber, the long parallel red sand ridges of Sunset Country, flying abeam then over the Murray which has become a curious opaque green in the drought and so to home in increasing smoke haze from devastating bushfires to the east.
Landed on our dry paddock airstrip with the drought-stricken crop. Home sweet home.