To Esperence and
Return by Falco
by Juliet Ferguson
This article appeared in the March 2000 issue of Falco Builders Letter.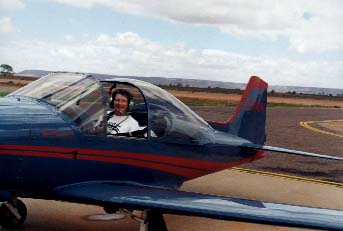 Juliet, one of the few women who flies a Falco
You can go anywhere if you have a Falco. I wanted to see the sand dunes at Eucla which is on the edge of the Nullabor Plain, and about a thousand miles from home. We felt if we were going there we might as well continue on to visit friends in Esperence only a few more hundred miles to the west.
It was to be a six day trip and our first stop was just thirty miles to the north. There we re-fuelled (our usual supply was contaminated; news of this disaster has undoubtedly reached the States) and found ourselves propped up on jacks due to the undercarriage circuit breaker popping on retraction. All seemed well, and we had no further problems on the trip.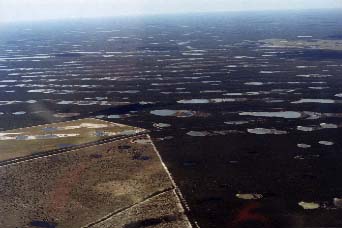 Multiple salt lakes 50-60 miles northeast of Experence
Off at last following the Murray river to the northwest, over salt lakes at Hattah and then over the southern end of the ancient Flinders Ranges before landing to refuel at Port Augusta. Flying at nine thousand five hundred feet and still being tossed about, even above the cloud.
On over iron-stained country with vast salt lakes, initially above cloud, then between, among, above and below and finally through to nine thousand plus again where Ian prefers to be-'though I prefer bumping around at lower altitudes taking photographs.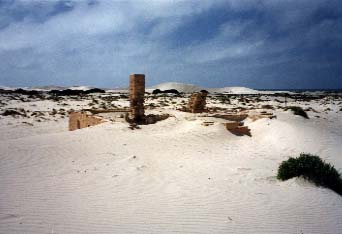 An old telegraph station, once the end of the line from London in the 1800's
On over the red/green Gawler Ranges, over a myriad of small salt lakes and tree-covered sand ridges-the southern tip of the Great Victoria Desert. Virtually no habitation here.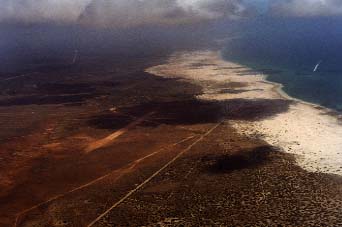 Airstrip of Eucla
Abeam Ceduna then along the coast of the Great Australian Bight with long long surf beaches and pale dunes interspersed with cliffs. Below the Eyre Highway going west across the Nullabor Plains with the Great Victoria Desert in the haze to the North.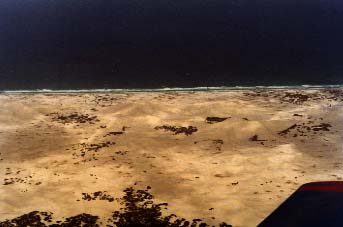 Sand dunes -- on the way home

Go back to Ian Ferguson