To Esperence and
Return by Falco

A cave on the Nullabor Plain region.

There is a layer of limestone under the surface which is eroded into caves by water. When a cavern gets very large, the roof falls in producing an entry to the system. There are many of these in the region, in spite of there being very little rainfall or surface water.
From there it was up and down to avoid cloud then over broken cumulus running abeam the trough-a thick band of dense white cloud with long gray streaks and towering cumulus within, which was pushing us constantly to the South. Later we descended through turbulent wind shear and cloud to about two thousand feet, and from there we were pushed steadily down until we were sandwiched between a dense gray cloud base and mallee-covered sand ridges with a narrow arc of light visible along the horizon between the layers. Quite eerie and very rough and not a good place for a landing if one should suddenly be required.
At last over large friendly, though wet paddocks but cloud base and visibility dropped even further, and we decided to return to Mildura. The conditions got even worse so we selected Renmark on the GPS. Then low in turbulence and rain, rubbing the cloud base with the canopy. We finally broke out into a sunny day at Renmark.

Nullabor (no trees) Plain -- 'miles and miles of bugger-all'
The following day we awoke to rain and more rain so we resigned ourselves to cruising along the mighty Murray-in the rain-and having some nice meals and some local wine. Better than work where we should have been.
It rained all night but was somewhat improved in the morning so we decided to give it a go and left under low, wet-looking cumulus. Over red sand ridges again and salt pans now full of water. Flying lower and lower into more rain and lowering cloud.

Airstrip of the Nullabor Roadhouse
Our final crossing of the Murray into Victoria was rough and wet with a further decrease in visibility and, to use the modern parlance, was scary. We remained in rain for the rest of the trip checking the track carefully on the GPS and anxiously scanning the WAC chart for high obstacles. We thought that when we reached home we might lose the strip in the circuit, but magically, a few miles from home we broke out of the gloom, our friendly windsock in its usual position at right angles to the pole and at right angles to the strip.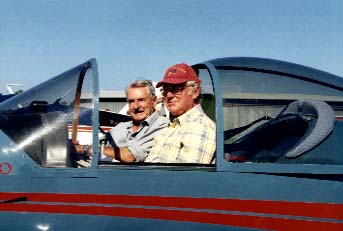 Ian Ferguson and friend