| | | |
| --- | --- | --- |
| | Falco F.8L VH-YBN | |
by Ian Ferguson
This article appeared in the March 1999 issue of Falco Builders Letter.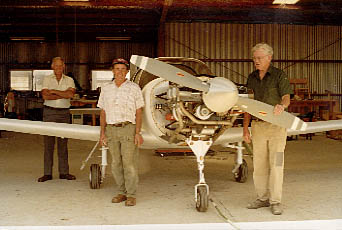 Ian Ferguson (right) with two helpful neighbors, Ted and Ken.
Around 15 years ago, I attended an airshow in a small provincial city in our DHC1 Chipmunk, and there encountered for the first time a Frati aircraft, a Siai Marchetti SF.260. It was love at first sight! The aircraft, the only one in Australia, was owned by an organization based in Melbourne.
I was subsequently endorsed in it and flew it several times. I asked the owner, a somewhat eccentric fellow, to let me know if it ever was for sale. This he didn't do for some reason, and I discovered that a wine maker from South Australia had bought it. I rang him one day and said to him that I would buy it if he ever wanted to sell. He rang the following day and asked what I would give him for it! I made him an acceptable offer and later ferried it back to Melbourne-not without some problems as it was in a rather rundown state.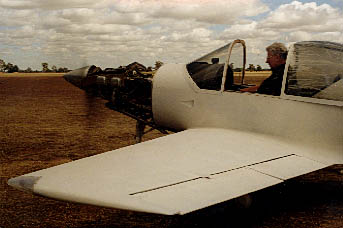 Ian starts the enging for the first time.
I flew this beautiful aircraft for ten years or so using business as an excuse for pleasure. After using the aircraft for a few years we received what initially seemed to be a rather innocent AD. It said, in essence that as cracks had been found in a secondary spar all such spars are required to be fitted with doublers. Then we discovered that this meant that all the flying surfaces would need to be partially de-skinned, a very major job. There was a surgical conference in Athens which I had to attend so the decision was made that Juliet and I would fly the aircraft to Vergiate in North Italy, location of the Siai Marchetti factory, for repairs.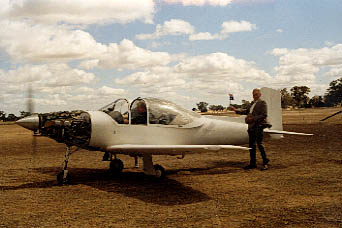 A former neighbor who dressed specially for the engine run and flew the flag!
The trip over was difficult, mainly for political reasons but also because the VHF radio packed up south of Bahrain causing no end of problems. We were equipped with an excellent HF set with which we could communicate with the controllers, but we were unable to get the radio repaired. Even a new radio flown out from London failed to work. The radio tech. said it had the same fault as the old one! By various subterfuges, one of which involved flying over the sea around southern Italy and Sicily to avoid the Brindisi FIR as they would not give us a clearance, (as the controller in Kirkira said, we should have gone the Greek way and had the radio failure after take off), we arrived at Urbe Airport in Rome. There the Aeroclub di Roma found the radio trouble in the inverter unit behind the auxiliary tank we had fitted for the trip.
In Rome we saw our first Falcos, looking stalky on the ground on skinny wheels. We met Luciano Nustrini there who was about to depart for Scotland, I think, flying a Lear. He invited us to stay with him at his home in Florence during our stay in Italy, but most unfortunately we were unable to take advantage of the offer. He called a friend, Enzo Marrucci, to the aerodrome who introduced us to the Aeroclub di Roma and showed us his Falco.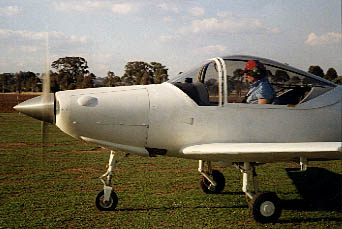 Ian taxies out for the first flight
Having left the aircraft at the factory we travelled to London for a further conference and returned to Milan to await the completion of the repairs, and a long wait it was. During our stay there we met Mike Moore an American demonstration pilot who flew SF.260's for a living, and also had dinner with Frank Strickler. I had a ride in an SF.260D with Mike who went through his routine including double rolls at 50 feet along the runway.
Eventually I was able to ransom the machine, and we set off for Australia. The journey home was politically even more trouble than the outward journey even though the radio did continue to function. We were actually put in house arrest once on the outward journey to Ha'il, and twice on the way home in Chaing Mai, and in Medan.
When I found that I could no longer use business as an excuse, we decided that it must be sold and some of the proceeds were set aside so that I could I build a substitute. In the meanwhile I had re-purchased the DeHavilland Chipmunk I had owned before the SF.260.
What to build was the question. I had a look at a Glasair III under construction, and I was not seriously tempted. At that time Fowler flaps were not available, the stall speed was rather high and its angular lines left something to be desired. Subsequently I heard that our CAA (as it was then) was reluctant to approve the type for IFR flight. This seemed to indicate a degree of instability.
Then a friend of mine came back from Oshkosh with the Falco brochure and everything fell into place. I ordered all the kits knowing that when they were all on hand, I would have the tiger by the tail and would be unable to let go until completion.
Shipping the main spar presented a problem which was solved by packing it in the container with the late Guido Zuccoli's CAC Boomerang. This got it as far as Darwin. The next few thousand miles were by truck followed by a couple of hundred on my trailer.
The building process was not difficult but required patience and careful attention to detail. Dimensional errors have a nasty tendency to turn around and bite further down the track.
The final inspection here is carried out by two licensed engineers and an approved representative of the SAAA. Opening gambit from the engineer, "I'll have a beer for every missing split pin". In the end, he claimed half a beer as I had used safety wire where he said a split pin should have been used.
There was worse to come. He said that as there were no tolerances given on the drawings for the control movements then there were no tolerances allowed.
Combine that attitude with an electronic level reading to 0.1 of a degree, and you do have a problem. Unfortunately Alfred was on holiday. After remaking the aileron pushrods I came pretty close and by then Alfred had returned and the matter was in perspective.
During and before this time I had been thinking about the flight testing and the first flight. As I had over one thousand hours in the SF.260 and also an hour in the left seat of Guido's Falco together with much time in an aircraft with similar control feel, the Chipmunk, I decided to do the first flight myself. Our strip is not overly long at 860 metres (2,800 feet), but it is surrounded by open large fields.
The decision was to do the flight at home. Consequently the aircraft has not been sawn in two, although there is the provision to do so if it ever proves necessary.
The day after the final inspection I gathered some expert witnesses in preparation for taxiing and the main event. We filled to half tanks and made a careful inspection.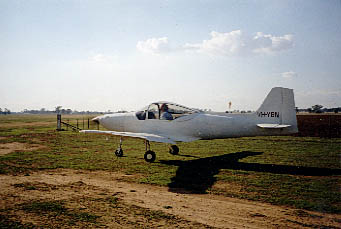 After starting the engine a comprehensive check list was completed. The front tank was selected for takeoff. The wind was cakÒ so the strip could be used both ways. First run to the north to condition the brakes, then to the South to see there is some pitch control both ways. Then to the north again to try the ailerons. Not a lot of apparent effect to 40 knots. Turn around to go south again, this time a little faster. At 50 knots aileron effect in both directions, but then I realized we were airborne. Immediate decision, throttle wide and keep going.
As the aircraft became established in a steady and rapid climb, flaps and gear down, the first feeling was of enormous relief followed by pleasant calm.
All those plans to get the nose down and make for a preselected paddock are not necessary anymore. The aircraft was flying without any major bias in any direction.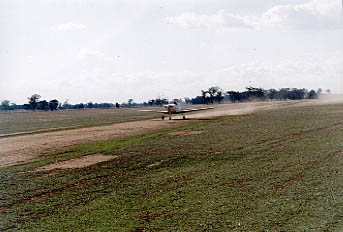 The first landing
Up to four thousand feet and fly around a bit, bank to left and right, 180 degree turns to left and right. Then stalls, straight and turning, flaps up and down, climbing and descending. No real surprises.
Having got a feel for the aircraft, rather similar to the SF.260 except rather lighter in the ailerons than the early model I flew, I made a wide circuit and a long final for an uneventful landing.
I now have twelve hours in the aircraft with gear doors on and gear up. The Falco is an exciting aircraft to fly. Being lighter than the SF.260 or the Chipmunk and more powerful than the latter, it has a spritely feel to it that the others don't.
I've not yet installed the canopy seals as we are still in primer so it is rather rowdy at present. After painting in a week or so, the seals will be fitted.
Building the aircraft was an enjoyable but demanding task and took longer than anticipated, but it was very worth doing in the end. Someone asked what I would do differently if I did it again. I replied "I would try to do everything only once."
Juliet, my wife and I have done a lot of flying together over the years. She is a pilot and flies in either seat of the various aircraft we have owned. In 1988, she flew the SF.260 to Sydney for the Bi-Centennial Airshow while I flew an ultralight nearly there-however that is another story.
The Chipmunk is not really a suitable aircraft for long distance travel. It handles beautifully, but is relatively slow, has a small fuel capacity and almost no room for baggage, and this is a big country. I expect Juliet and I will have a lot of fun flying the Falco together as it has the flying qualities of the Chipmunk without that aircraft's other deficiencies.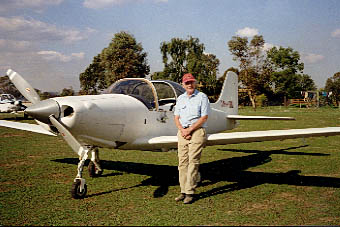 Ian after the first flight