"My Husband Is Building
an Aeroplane"
by Juliet Ferguson
This article appeared in the March 1999 issue of Falco Builders Letter.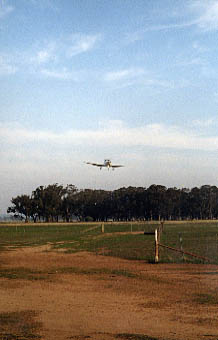 Landing with the gear doors installed
This has been my invariable response to questions regarding Ian's repeated absences over the last years. Dinners, parties, conferences, overseas trips. Travelling alone? Oh yes, Ian couldn't come you see, he's building an aeroplane.
Many years BC (before construction) we decided we needed an airstrip, so we bought a very flat property at 100nm north of Melbourne-a property which is semidesert in summer and, on the rare occasions that we have rain, verdant in spring-removed a fence and started flying. The first thing we built was a large hangar thinly disguised as a farm shed and which has now become home to the myriad of spiders (including the nasty redback), snakes, mice, an owl and the unwelcome swallow which characteristically builds its nest over underlying aeroplanes.
We later built a small house with a wood stove in the living room and spent many a cold winter's evening (in fact, many a cold winter) amid curing epoxy and damp pottery (my contribution to the homely clutter).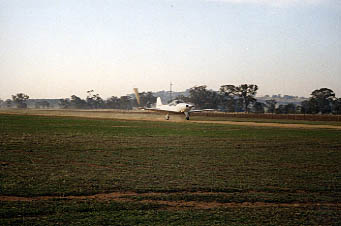 There was a certain agricultural flavor to the Falco building. We soaked the ply in the sheep's footbath. On one occasion, a sheep tried a short-cut through the shed and on discovering its error became quite agitated among the delicately balanced aircraft parts. Ginger Mick, the new farm puppy, was a great help with the wiring-that incredible mass of coloured spaghetti with violet-like brown and brown-like violet. The occasional chook came in to roost and compete with the swallows' contribution to the undercoat.
The shed is also a meeting place for the Yabba North Flying Association (YBNFA) a valiant band of ultralight pilots who meet each month and who watched the progress of the Falco with critical interest. With the assistance of these fellows, we turned the Falco over with great ease and applause, and at the next meeting turned it back again.
The years continued on-fences fell down, corrugated iron fell off the sheds, the hay stack collapsed, the weeds engulfed the pasture but the Falco slowly and surely progressed.
Ian was relatively young at the start and now ought to be relatively old. However there is no doubt that he has been completely rejuvinated by rolling, looping and otherwise cavorting in this quite remarkable aircraft.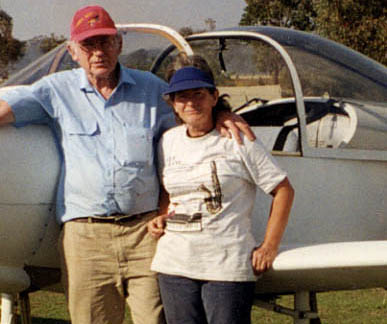 Ian and Juliet Ferguson