Changed to the auxiliary tank—a real battle to see the vertical, supposedly clear strip in the tank to see the fuel level. Hard to turn around anyway and hampered by falling bags, straps etc. Nevertheless a good thing to have!
Over three deserts—the Strzelecki, Tirari and Simpson in one day—characterised by vast areas of red plains—sometimes orange, sometimes yellow-red sand ridges, salt lakes, dry salt rivers and claypans. Over huge salt Lake Frome, the dramatic Flinders Ranges rising out of the desert and the even huger salt Lake Eyre.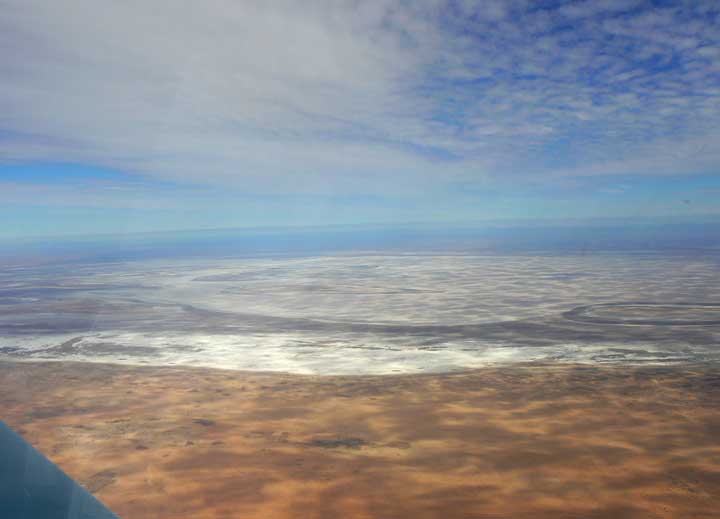 Motel toast (cold) and crumby biscuits for lunch. A lot of traffic at Ayres Rock on the radio. Towards Alice Springs there are several small colourful rocky ranges. Alice Springs is backed by the long, red, rocky MacDonnell Ranges.
Turbulent on descent. High security at the airport. Tied down and got a taxi to a rather smart motel on the dry Todd river with the ranges behind.
The following day we had a free continental breakfast, spent some time planning to Darwin—via Tyndall—708 nm north then spent a small fortune on fuel. A sunny day with a freezing wind. We departed at 1155 leaving controlled airspace north of the MacDonnell's. Some streaky high cirrus and a lot of smoke forecast but initially quite clear.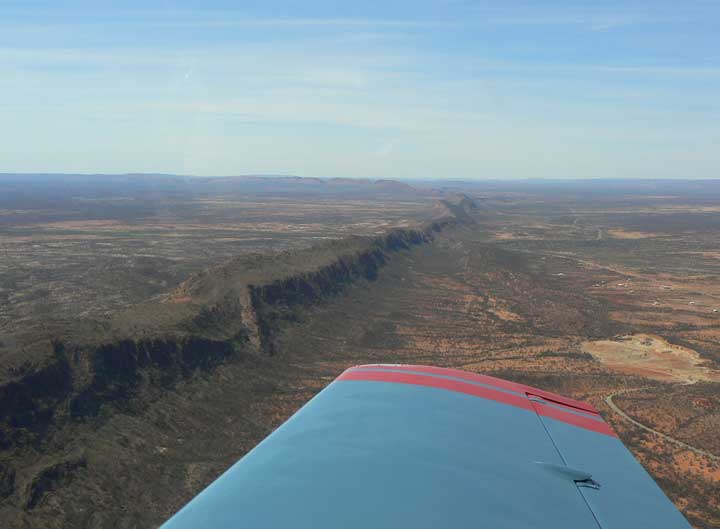 McDonnell Ranges departing Alice Springs
We flew abeam the long straight Stuart Highway to Darwin over more vast red desert—this time the Tanami Desert. Occasional homesteads, some small ranges and rivers of sand. Battling with the wretched luggage which kept falling on us so we eventually unpacked one bag and crammed the contents behind the seat—and the bag. OAT now 17° C so another struggle to get out of my Antarctic coat which was necessary for the red, and supposedly warm, centre this morning.
So much desert! Contacted Tyndall airbase 70nm south and cleared to Darwin via Tyndall. [Tyndal an RAAF and civil aerodrome a few miles from Katherine. Incidentally it is where Guido Zuccoli was killed on take-off.] Increasing smoke haze mostly from burning off by aborigines. More hills and gorges but difficult to define due to smoke.
Fires and dense smoke around Katherine which has fantastic gorges and long ranges of cliffs but difficult to define because of the smoke—we were flying just below a dirty brown inversion in some turbulence. On descent to Darwin we hoped that visibility would improve but it didn't and the turbulence increased. Reported at Wickham Point and were cleared for a straight in on 36 but unfortunately could not see the aerodrome. The control tower of this international airport very kindly allowed us to orbit until we got our bearings!
Tied down then staggered across the rather warm aerodrome to the general aviation waiting room where we waited for a taxi. Then drove round and around Darwin looking for an hotel. From the most opulent to the cheapest backpackers there was nothing! Finally a young receptionist at a backpackers rang around for us and we got the last room in town—the luxury suite at the Novotel—just for $799!! There wasn't much else we could do so we accepted with good grace and enjoyed the complementary bottle of wine. I had crocodile for dinner and Ian battered fish and ice cream at the restaurant downstairs.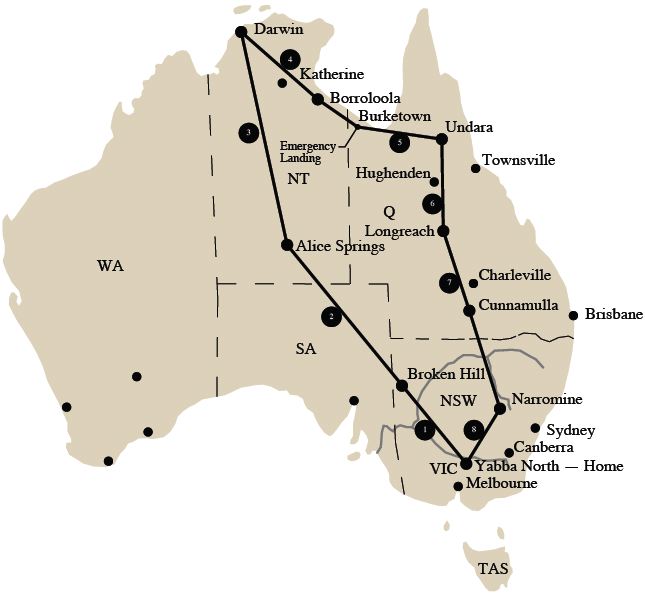 A dramatic sunset from our small harbour view balcony and later in the evening the city was shrouded in, and smelling strongly of, smoke.
We had planned to stay in Darwin for a few days but really couldn't manage $799 every night and no less expensive accommodation was available so the next morning, after masses of phone calls, we hired the last available hire car in town, a Thrifty ute, and booked into the last available room in Kakadu.
The drive east to Kakadu is lovely—through sunlit forest of slender gums and pandanus with huge termite nests. Scattered green wetlands and wide brown rivers. We stopped at the most beautiful Leaning Tree Lagoon for a sandwich lunch. It was tranquil with white water lilies, masses of birds including jabiru and no one else there—except perhaps a lurking crocodile.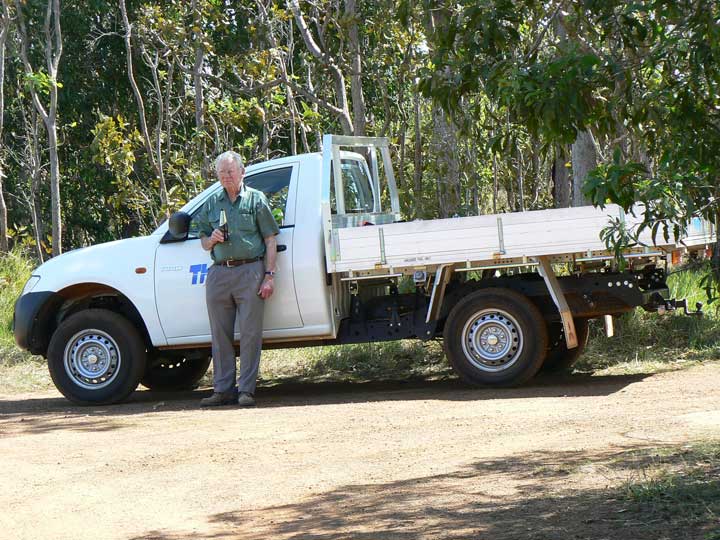 Lunch at Leaning Tree Lagoon
Reached our destination, the small town of Jabiru, and our crocodile-shaped hotel (the Crocodile Holiday Inn no less) in the late afternoon. The hotel has an amazing collection of aboriginal paintings but the flavour is not exactly outback—the view from our room was of an inner courtyard with guests frolicking in the swimming pool well protected from the wild outside. But the room was nice!
We woke to the sounds of birds the next day. After a large breakfast we bought some rolls from a bakery and set off to explore. Kakadu is a huge area with the most significant features separated by long distances of scrub. There are escarpments, fabulous rock formations, wetlands, billabongs, waterfalls—in the wet season—rivers and wonderful aboriginal rock paintings. Also masses of birds and animals including crocodiles. We had two days of driving and walking. Dinner at night included crocodile, emu, kangaroo, mussels, prawns and Barramundi.
On Sun 17 we drove back to Darwin and to the Novotel which had a cheaper room which was just as good as the luxury suite. Wandered around the foreshore and harbour of Darwin, the war memorial and then in to town past the remains of the Town Hall, a memorial to cyclone Tracey in 1994. Returned to the hotel to plan our departure and arranged a cabin in Borroloola to the SE and still in the Northern Territory, where we hoped to do some fishing.
Another beautiful sunset with passing ships. Fish and chips with a bottle of red for dinner at the outside hotel restaurant.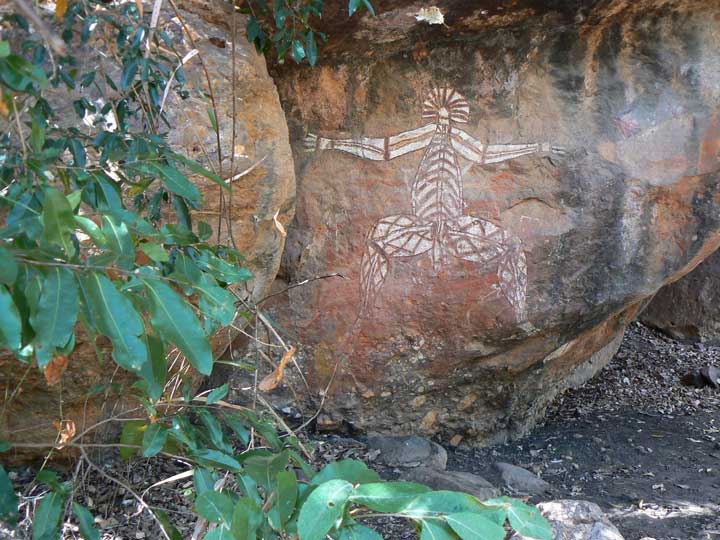 This guy is a dangerous spirit who eats females after striking them with a yam.
The next day a beautiful sunrise with passing ships but very windy. Taxi to the airport with the driver bemoaning the lack of intelligent women in Darwin. Departed via the VFR route—with a little assistance—for Borroloola 382 nm away. Over brown country with dry rivers and smoke haze. Over the southern end of Kakadu with hazy ranges and escarpments. Over the Katherine River again but this time to the NE of Katherine. Then into flatter red and yellow country with masses of mostly dry waterways.
The smoke got steadily worse and there were fires 25nm from Borroloola. A bumpy descent to Borroloola on the wide McArthur River.
Greeted by two bored, young charter pilots who transport miners and sick aborigines but who were not very busy and who regaled us with stories of recent attacks on parked aircraft. They had two Cessnas and the canopy of one had been smashed only a week ago. Boredom and alcohol seem to be the stimulus.
The guest house was quite a contrast to the Novotel and the Crocodile but really more to our taste—a small room with louvres and a frig and meals outside on the verandah. Kite hawks wheeling above and lots of galahs.
The next day we were driven 50K downstream to do some fishing with a guy called Barry in his small tinny with outboard motor. He and his wife, Bets, had a new, luxurious house near Toowoombah but preferred their life in the camp on the river. We rocketed downstream as far as the gulf and caught a number of fish including salmon and a Queenfish. We saw a couple of crocodiles and sea eagles and kite hawks swooped down to pick up the bits when we were cleaning the fish. A week ago the resident crocodile sauntered up to have his share of Barry's fish remains, i.e right into the camp!
On return there were several other aircraft on the aerodrome and so far no damage.
The following day we planned to fly to Undara in northern Queensland. Undara is in volcanic country and known for its impressive lava tubes. We planned coastal along the Gulf of Carpentaria to Karumba then inland—a distance of 476nm.
We flew along the McArthur River and over the camp of our fishing friends. Then over the most incredible vast, flat salt plains with many wide, winding, water filled rivers with a network of dry tributaries. The rivers are lined by mangroves which extend out along the coast of endless beaches. No habitation at all—only crocodiles.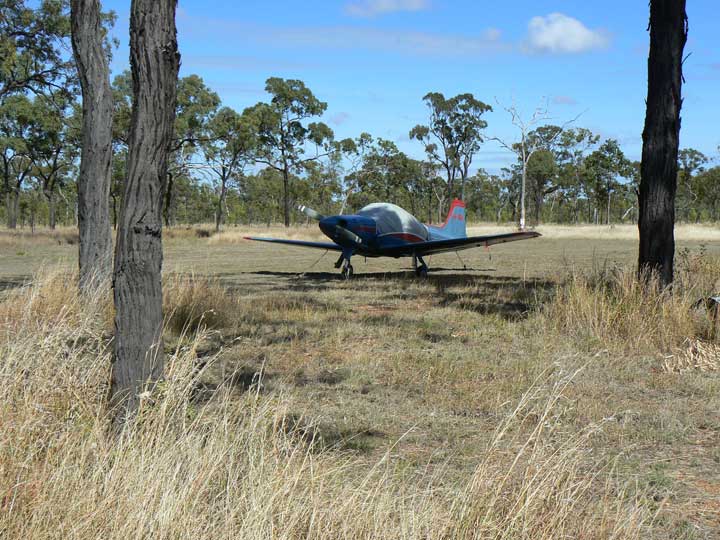 We were over the sinuous Albert River north of Burketown thinking not an ideal place for a forced landing (though you would probably survive—initially) when the engine gave a very nasty cough and started to run roughly. We were on the auxiliary tank so we quickly changed to the main. All seemed OK but we thought there may be a plug problem so we made an "emergency" landing at Burketown.
[Ian later reported "I never did find the cause of the malfunction. On returning home I removed the auxiliary tank, inspected the finger strainer and cut the top of the tank off. There was no sign of a problem. The breather was quite free. The plumbing had not been changed since before we flew to NZ. Our LAME (licenced aircraft engineer) is unable to help."]
Running up on the auxiliary tank was horrible initially, settled down but then the engine stopped before fully leaning. Further running up was OK. We considered staying overnight but the only person on the A/D—a pilot who had just arrived—said there would be no accommodation in town. So, we decided to go on.
Departed at 1551 local time, last light 1835. At 7,500 changed to the auxiliary tank which was initially fine but then ran roughly again. When this happened the fuel flow increased so it didn't make much sense but we found that it ran smoothly if we didn't lean below 46 l/hr—we usually cruise at 36 l. On the main aft tank all was OK—there wasn't much left in the front tank—but we needed to use the auxiliary tank if we could though would have just made it on the main. Our conclusion now was that there must be something wrong with the auxiliary tank (!) perhaps it was disintegrating and dropping bits into the fuel?
Some more stuttering so we increased the fuel flow to 49 l and all was quiet again. Now over timbered hills so it is really even less inviting for a forced landing. It was a relief to change to the main tank abeam Georgetown which is on a bend of the Etheridge River and 70nm from Undara. We found Undara, a small strip in forest with a swamp at one end, and we land happily but with the sudden realisation that there is no fuel here!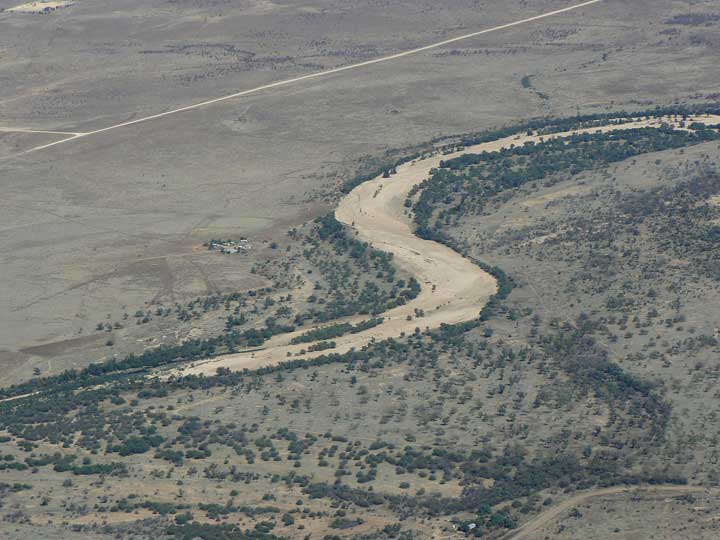 Flinders River and isolated homestead
We were picked up and taken to our accommodation which is in old railway carriages in scrub with birds and kangaroos and very acceptable. Kangaroo, emu and croc for dinner.
We made a few tentative enquiries about fuel in the morning—after a bush BBQ breakfast with marauding kookaburras—then set off on a tour in a small bus. Lots of inactive conical volcanoes all around, and we walked around the rim of a crater then down into several lava tubes. These were created by lava flow which cooled on the outside so solidified while the inner molten lava kept flowing and the longest tube is 160km. Dark and moist inside with bats.
The rest of the time was spent walking on the numerous tracks through the bush, beside swamps and up to rocky bluffs which was all very beautiful with lots of kangaroos and birds. And, of course, trying to arrange fuel. We were reluctant to siphon the fuel from the auxiliary tank as it might be contaminated and "probably enough" fuel to go back to Georgetown wasn't ideal but eventually the staff, who were wonderful, arranged for a truck delivery of AVGAS from Georgetown. They met the truck on the main road and brought the drum back on their ute.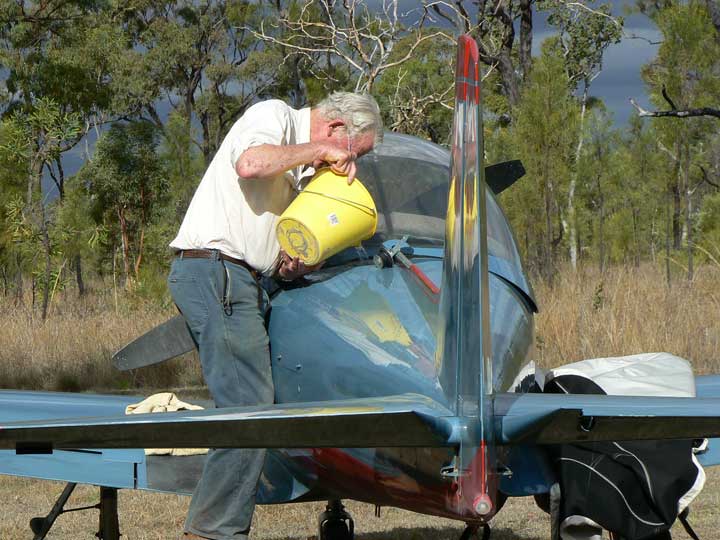 Refuelling was fun—from the drum to a yellow plastic bucket and so to YBN.
So, after three nights at Undara we set off again. We departed at 1027 after beating up the lodge. Volcanoes everywhere, steep sided rivers and scrub. Hazy hills. We were going to refuel at Hughenden but had made good progress in spite of the forecast headwinds so continued on to Longreach. Olive coloured plains, rivers and dry creeks.
Refuelled at Longreach and held the security gate open for each other to go to the bathroom—we could not actually see a bathroom but there were plenty of trees.
On to Charleville then amended SAR to continue to Cunnamulla. Flat timbered and cleared country. Following the Warrego River. There was no one at Cunnamulla, and we were locked in so had to ring security. The security fence is to keep wild youth and kangaroos out—not terrorists. A nice, simple outback motel with a good meal but no breakfast as they all sleep in on Sundays.
Departed at 1155 the next day still following the Warrego. It was beautiful with red/olive plains and the winding tree lined river—dry but with water holes. Red country further south and scattered irrigation around Bourke with more irrigation further south. Refuelled at Narromine then only 266 nm home over timber, large green paddocks to our strip among wheat and canola.