| | | |
| --- | --- | --- |
| | First Flight: Giovanni Fulcheri | |
by Valeria Ansaldi
This article appeared in the March 2009 issue of the Falco Builders Letter.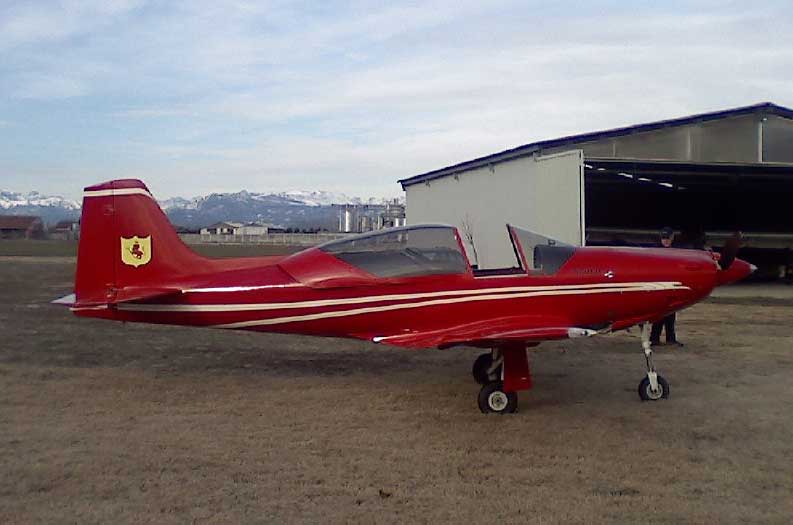 When first I met Giovanni Fulcheri in Villanova Mondovi (Cuneo, Italy), about ten years ago and before he came my father-in-law, I did not imagine at all what was hidden inside this quiet middle-aged man.
Spending some time with him you can immediately understand that he is not the kind of person who wastes his time with words. Hard worker, great strong hands, good at doing everything, many ideas and projects always in his mind.
One day I was told he was working at a plane. Just because I wanted to be polite with the family I made some more questions and Maria, his wife, started telling so many stories about it. I smiled. And I thought: "So many words for a model aircraft!"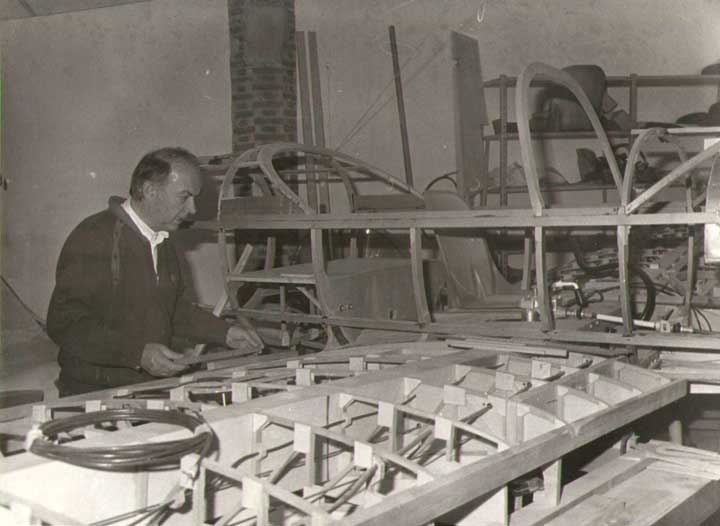 I had not understood anything, of course... but in my mind nobody could build a real plane all alone. I had never heard such a thing before!
Later on, I changed my mind.
Giovanni has always had a great passion for airplanes. His wife still remembers all the weekends they spent at the little airport in Cuneo Levaldigi watching planes, talking to pilots and taking flying lessons to get a license.
And so he did. First he got the license but, after that, he realized that there was something else he was interested in. He was completely fascinated by the technical details: how an aircraft is made, its mechanical components... When he saw an aircraft he thought about all the mechanics involved in it.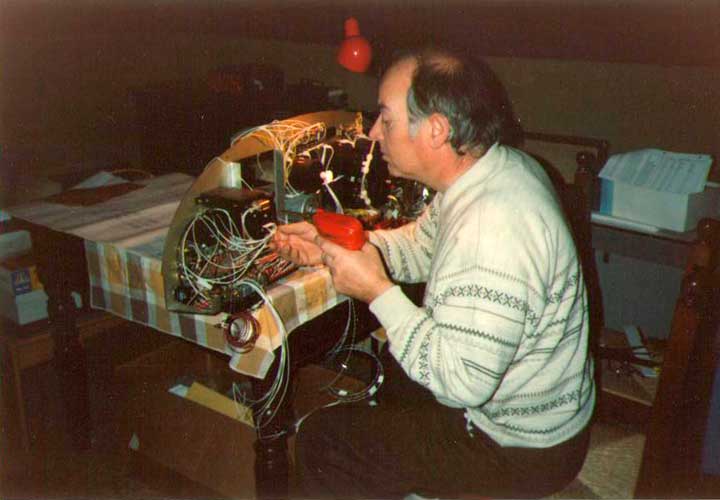 Giovanni has always been one of those rare people who can do anything with his hands, his ideas and just a few tools.
One day, reading an issue of Volare, a magazine on airplanes published here in Italy, he read all the story of the designer Stelio Frati, and he was completely taken by a photo of a Falco. He read about Sequoia Aircraft in America, as well. Since then he started imaging himself creating and building his own plane. And not just an aircraft but the most beautiful one!
The family has always trusted in his ability and talent, and everyone supported him in this idea of building a Falco, even though it was a great expense. So he got in touch with Sequoia Aircraft, and he went to meet Eng. Frati. He met Mr. Frati twice, once before buying the first kits and a second time some years later.
In 1988 he bought the first kits after he found the right place to work. He has lived almost all his life in the countryside, in a very peaceful and quiet village. He had an old country house near his home with a wide storeroom at the ground floor. With some change that place became his shop, the place where he spent most of his time after work for about the next ten years. He started building the fuselage and the tail completely alone. No one ever helped him, and he had to overcome all the trouble of working on his own. But this was what he wanted and overcoming each difficulty gave him the energy and the enthusiasm to carry on with the work.
There were bad times, as well. After some years he was forced to stop building the Falco because of his job. These years were quite tiring and stressful, and the idea of the half-built plane in the store room was so sad. Everyone in the family thought that it was the end of a dream.
Three or four years passed without working at the Falco anymore. But after that bad period of time Giovanni decided that he did not want to give up his project. Beginning again after some years was not easy. He started spending every weekend working at the Falco again. He assembled the engine and the propeller.
In the meanwhile some people started hearing that there was this man who was building a plane all alone. Some journalists both from local newspapers and specialised magazines came to see and asked for an interview. Giovanni has always tried to avoid all this kind of things because of his reserved character. And also because he was not building the plane in order to have a sort of notoriety but just because he liked building it. He always said that when he finished it, he would had liked to fly with his wife during their holidays.
About ten years ago the wide ground floor of the country house became really too small to carry on working at the Falco, and he had to move it. Well, you know, moving a plane (which can't fly, yet!) is not so easy. So it was a hard job. First of all he needed to ask for the permission to pull down a wall of the store room to get out the plane. In the meanwhile Giovanni had designed and built a special truck on which he could put the plane for the moving.
On the planned day a helicopter came and hooked the truck with the plane on it. It was an incredible and unforgettable day at the village. Everyone ran to see the show because of the noise made by the helicopter which landed on a field next to the house! The Falco was moved thirty kilometers away to a flying field. It stayed there in a hangar until the first flight. At that time, at a first look, the plane looked like it was almost complete, but all the instruments were missing.
Since then some more years passed. Giovanni carried on working on it during his free time, sometimes with a great enthusiasm again, other times not: he felt he was getting older and more tired. But among all the up and down the day arrived when he said: "The Falco I-DIET is ready to fly". (The registration code comes from Giovanni's sons: DIego and ETtore!)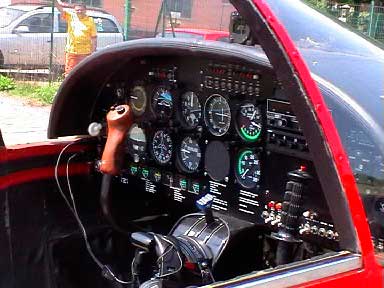 All the previous tests were excellent so it was really time to fix the date for the first flight. It took place on a very cold day in February 2008. We went there at the flying field early in the morning so the grass runway was frozen and hard, and the plane could easily run.
The pilot was Attilio Caiazzo, whom Giovanni knew among the Falco pilots, with a great experience and passion in piloting Falcos.
On that day Giovanni and Attilio checked so many things, so many times, running here and there for a hour, surrounded by a few of us almost breathless... both for the chilling temperature and the anxiety.
The engine was running and so noisy interrupting the the peace of the countryside on a winter Sunday morning. We were in a small group of six or seven people, while Giovanni was standing a little apart.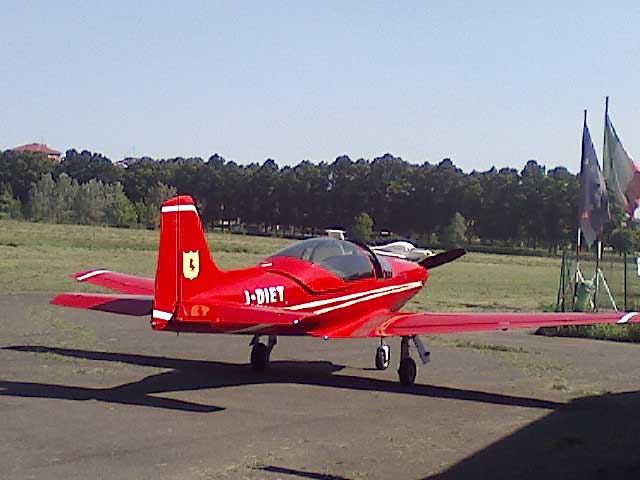 A man ran by with his dog, and he came towards us just in time to see a small beautiful red plane becoming, in a twinkle of an eye, just a dot in the middle of the sky.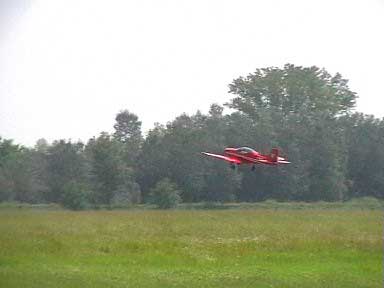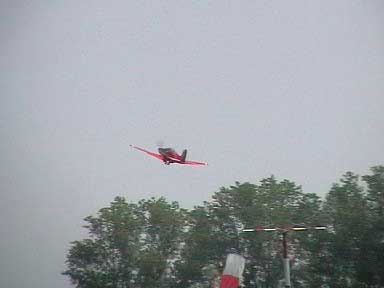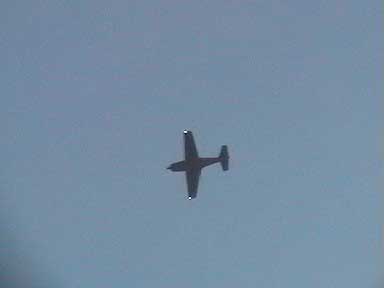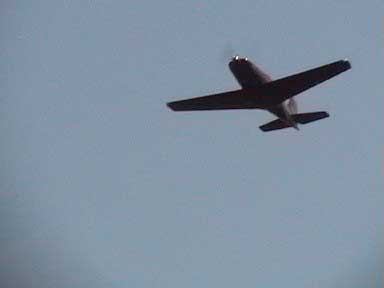 A breath of relief echoed, then there was a little clap and just a pat on Giovanni's back. The Falco was flying up and down above our heads surrounded by the delightful view of the Alps while the first morning sun was shining. There was no time to talk. We ran to our cars and drove to Cuneo Levaldigi airport, some kilometers away.
When we arrived the Falco and the pilot—with a big smile on his face—were already waiting for us. All the tension had disappeared, and it was time to celebrate and smile. It was an unforgettable Sunday morning.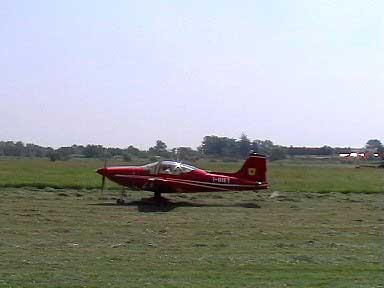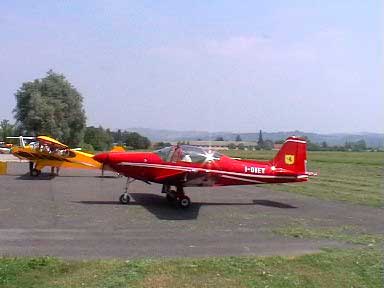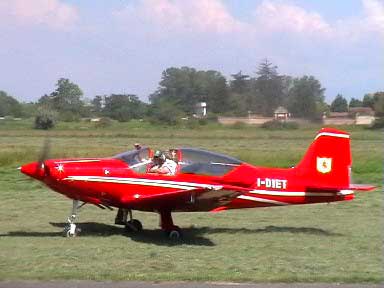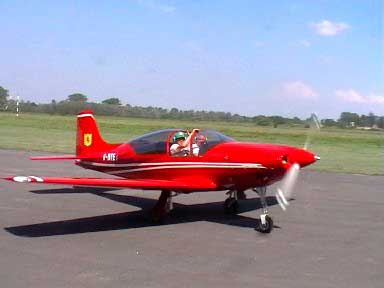 Later on that day Attilio flew Falco to a small airport in Alessandria, about a hundred kilometers away, where the he did all the flight tests during the following weeks. He reports that he was so positively impressed by the plane because of its stability and speed. This is why all the tests, also the acrobatic ones, were excellent. He says that it is the best Falco he has ever flown. And he had piloted many other Falcos during the last thirty years!
There was so much enthusiasm in his words every time he talked about the Falco that one day I asked to fly. It was such a great experience having an acrobatic flight!
We talked many times about the first flight and we watched the video again and again. But Giovanni had never talked about what he really felt on that day until tonight. Perhaps I had never asked before. I knew he would had been reluctant to talk about it.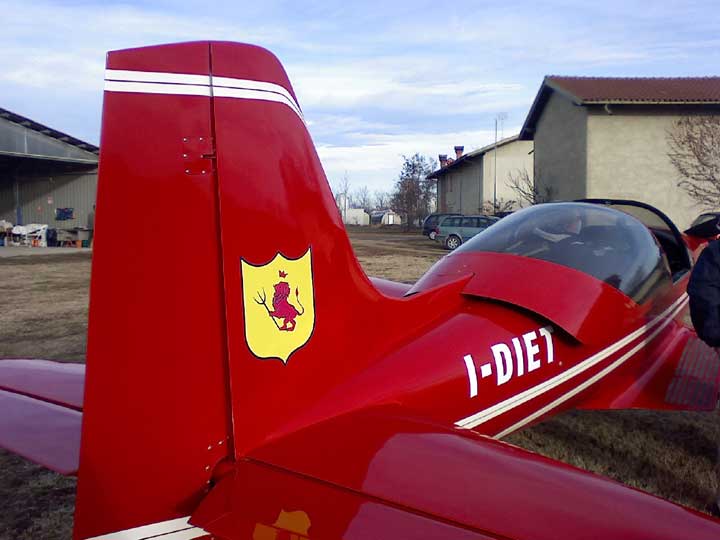 "Well," Giovanni said, "I knew it could fly. It had to fly! I had checked everything, it had passed all the tests! In spite of this, until the Falco took off, there was a slight sense of fear in me. Then, I saw it taking off, and I felt suddenly a strong emotion."
These are just a few words, and I can easily suppose this is what almost every builder thinks and feels at the first flight. I believe that the most beautiful words are those he didn't say openly, but which I could read on his face, as if it were transparent, and I could read through it.
Probably things didn't go exactly as he had planned more than twenty years ago. Because of health problems he can't fly any more. But things go rarely as we plan. The fact is that he built a fantastic plane all alone, he greatly succeeded, and he must be as proud of it as his family is.
Now it's someone else's turn. Someone who can love and appreciate the Falco as her builder does and who can enjoy a great time in it.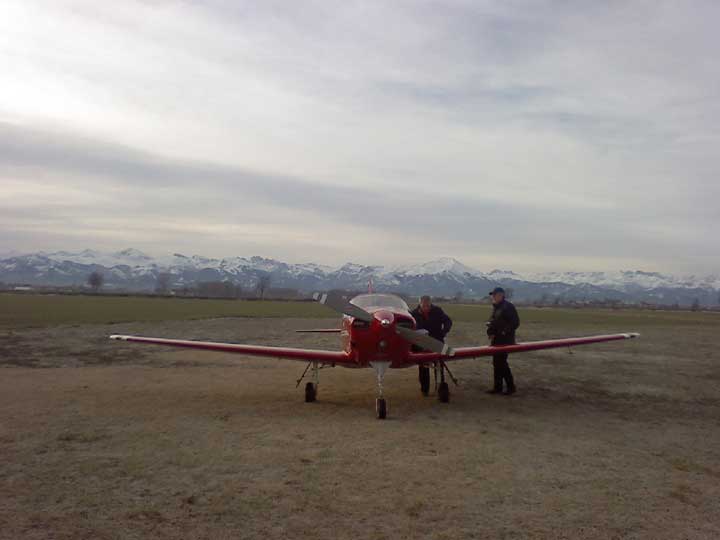 Go back to Giovanni Fulcheri