Skip and Theresa Gutzman's
Grand Champion Falco
by Jack Cox
This article appeared in the September 1991 issue of the Sport Aviation.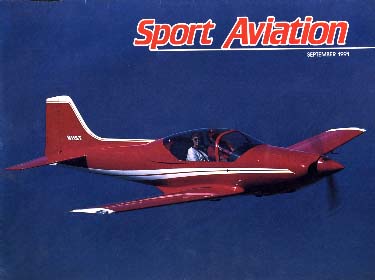 The Plans Built Grand Champion homebuilt at Sun 'n Fun '91 was a beautiful red, trimmed-in-white Falco built from plans by Charles "Skip" Gutzman and his wife, Theresa, of Petersburg, IL. Choosing to make a run for home early in the week to beat a weather system that was crossing the nation, the Gutzman's unfortunately were not on hand at week's end to receive the accolades they so richly deserved for their work. That also meant our Sport Aviation photo crew did not have an opportunity to do any air-to-air photography at Lakeland, but several weeks later, after still more weather delays in the midwest, Skip and Theresa were finally able to zip up to Oshkosh from their home near Springfield, IL and pose for our cameras.
Skip Gutzman is a native of the Springfield area and has a Bachelor's degree in management and a Masters in Health Administration. Along the way he became a specialist in radiology and studied nuclear medicine at both Duke University and Washington University in St. Louis. He taught radiology on the college level for 13 years, then was hired by the state of Illinois to develop a new program for the licensing of radiation therapists. Today, Skip is a program manager for the Illinois Department of Nuclear Safety ... where he licenses the persons who do x-ray procedures, radiation therapy and nuclear medicine treatments in the state.
Skip learned to fly in a Cessna 150 and obtained his license in 1970-71... and later got into homebuilding in a big way. His first effort was a Steen Skybolt powered by a 200 hp Lycoming 10-360 with a fixed pitch prop.
"We had a lot of fun with that airplane," he recalls. "It was a great airplane for aerobatics, just incredibly strong... but, of course, it was not a cross-country airplane. It was a little limited in aerobatics with 200 hp, but still fun. From the Skybolt, we went on to building a Stephens Akro in the Laser configuration... which is an incredible airplane to build and fly. It's only fault... for Theresa and me... is that it has just one seat. We like to go places together and meet people, so it was inevitable, I suppose, that we eventually got around to a 2-place traveling airplane."
After looking at all the fast 2-place homebuilt designs, Skip and Theresa decided they liked Stelio Frati's timeless Falco best... and purchased plans set #952 from Sequoia Aircraft on July 10, 1986. After studying the drawings for a few months and deliberating whether to purchase the kits available from Sequoia or build the all wood airframe from scratch, they opted for the latter course and began cutting spruce on November 1.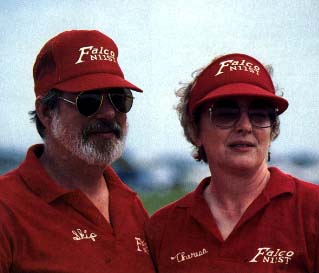 Skip and Theresa Gutzman
While the wing and tail surfaces of the Falco are of fairly conventional box spar/truss rib/plywood skin wood construction, it is the sensuously shaped fuselage that widens the eyes of even experienced builders who look at the plans. It consists of a number of ring bulkheads laminated out of 118 inch thick strips of spruce, to which are glued the outer birch plywood skins that range in thickness from 2-1/2 millimeters on the belly at the wing root to just half a millimeter in some non-structural areas that simply need to be closed. Few view the tasks to be accomplished as impossibly complex or difficult, but, rather, exceedingly time consuming. Skip and Theresa saw it as a challenge, however, and decided from the outset to build as much of the airframe as they possibly could.
"We did all the laminations of the fuselage formers, all the skinning, all the finishing work, the instrument installation and the wiring. We bought the canopy and the cowling kits from Sequoia and salvaged the landing gear out of a wrecked Falco, but we made the rest. We also had the leather upholstry sewn by a friend, because it takes a special machine to sew the kind of split-grained cowhide we used."
The engine used was a Lycoming IO320-B1A... off the left side of a Twin Comanche. Since he intended to do some high speed aerobatics in the Falco, the lo-o-o-ng Twin Comanche proplextension combination was shelved in favor of a standard Hartzell constant speed propeller from a Decathlon. Parts of the Twin Comanche engine mount were utilized, which speeded up the building process a bit. Initially, the engine was flown in the Falco essentially as it had been removed from the Twin Comanche, but it was pulled out at 41 hours and run through High Performance Engines in Mena, Arkansas for an overhaul that included mass and flow balancing. Theoretically, Skip says, the 160 hp engine is now capable of producing 180 hp. The Lycoming draws sustenance from a Christen inverted oil system and an inverted fuel system that is part of a three tank setup... a 16 gallon front tank, 19 gallon rear tank and a 2 gallon header tank that contains the flop tube. 36 gallons are useable.
Builders of wooden airplanes end up with very strong preferences in glues... virtually to the point of engaging in "Great Taste!... Less Filling!" shouting matches at forums... and when the next one occurs, you'll find Skip on the Penacolite and Aerolite side of the room.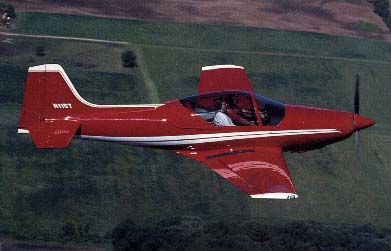 The finishing process employed on the airframe was both complex and labor intensive, but resulted in the beautiful airplane you see pictured here. 3 coats of Stits epoxy varnish were applied to the interior of the airframe to act as a sealer... and the exterior work began with a coat of Safetypoxy 11.
"When the Safetypoxy 11 was still a little green, we went in with some dry micro to fill in depressions. Once that cured out, we found that we could sand the micro without sanding the wood, because the Safetypoxy had literally hardened the wood beyond the density of the micro. That gave us a surface we could sand fairly easily.
"Once we got the depressions out and got everything fairly straight, we went back with a thin coat of Safetypoxy 11 and bedded 1.45 ounce glass cloth in it, using heat guns and squeegees to get it as thin as possible. 1.45 ounce glass cloth looks a little bit like pantyhose, it's so thin. It's really fine, sheer stuff. After the giass was applied, we started with an Ultrabuild process, which is a U. S. Paint primer made as a substrate for Alumigrip. We troweled on a heavy coat of Ultrabuild, then used squeegees to scrape it all off. Then we came back with a spray coat of Ultrabuild, and when it had cured, we sanded it all off. After that, you've got a very hard, slick surface... which we primed with Awigrip and finished with 3 coats of red and white Alumigrip."
In a complex airplane like a Falco, a lot of work installing the many systems remains after the basic airframe has been completed. Skip spend untold hours standing on his head and squirming back into the fuselage to install the mechanisms for his electric flaps which travel from over 40 degrees down to 5 degrees above the trail position (reflexed), the latter for a little extra boost in cruise.
A 3-axis electric trim, with mechanical override on pitch.
A Century I auto pilot coupled to track NAV 1, NAV 2 or the loran.
Antennas... all mounted inside the wooden airframe, except for the transponder and DME antennas which are mounted on the bottom of the wing.
Lighting... dimmer ad;ustable instrument and glare shield lights on the inside, and Whelen NAV and 3 position strobes on the outside.
As previously noted, Skip bought the salvage of a wrecked Falco and extratted an essentially new landing gear from it. As installed in his airplane, it incorporates a safety system that does not allow the gear to retract until the airspeed has reached 60 knots... and a warning horn and light are activated when the power is reduced and/or the flaps go down below 15 degrees.
Skip says that a lot of money was saved by building all of the airframe from the plans, but acknowledges that almost an equivalent amount was pumped back into the project in the form of a really top drawer panel full of avionics and instruments. A full Collins Microline IFR stack includes two (COMM 1 and 2) VHF 251 radios; a VIR 351 (NAV 1) radio coupled to an Edo NSD 360A HSI; a second VIR 351 (NAV 2) coupled to a Collins IND 351 with redundant glide slope; a TCR 451 RNAVIDME coupled to a remote IND 450 head; a GLS 350 glide slope receiver coupled to both NAV heads; a TDR 950 transponder and encoder; RCR 650A ADF; and an AMR350 audio panel. In addition to all the Collins goodies, the panel sports a 11 Morrow 618C loran with encoder coupled to the IND 350 head... and a Pioneer 3000 ELT.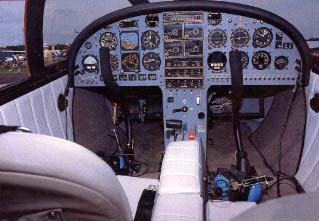 The left side of the instrument panel (refer to the photo) includes, in addition to the aforementioned avionics, a custom marked true airspeed indicator; 0 to 2,000 fpm rate of climb indicator; an altimeter IFR certified to 20,000 ft.; a Mitchell 3 118 in. artificial horizon; Davtron 811 clock and timer; and an engine cluster composed of oil temp, CHT, oil pressure, amps, fuel - front and fuel - rear.
The right side of the panel contains a Davtron 5 in 1; manifold pressurelfuel flow indicator; G-meter; electric tach; Alcor EGT; and Sigtronics stereo intercom.
With all that equipment and the beautiful exterior of the airplane, Skip and Theresa really had little choice but to finish the task with an appropriately luxurious upholstery job. Consequently, the adjustable fiberglass bucket seats were fitted with Temperfoam cushions, bottoms and backs, then covered with platinum grey, dyed split hide leather. The sidewalls and console pad were covered with the same leather, and medium grey plush carpet was placed everywhere else in the cabin. Black 5point, single release harnesses completed the interior appointments.
As can be seen in the accompanying photos, the Gutzman Falco is fitted with the Nustrini racing canopy... which Skip readily concedes offers less head room than he would like. "Some of the builders are raising the entire canopy structure about an inch to give them more clearance, and had we to do it over again, we would do the same thing." Like everyone else, however, Skip and Theresa really like the sleekness the canopy lends to the Falco.
The Gutzman Falco was signed off for flight by the FAA on February 16, 1990... after 40.5 months and between 4,500 and 5,000 hours of construction time. It proved to have an empty weight of 1,300 pounds, which Skip says is heavy when compared with the advertised weight of a typical Falco... but understandably so considering the way the airplane is equipped and finished. Max gross is 1,808 Ibs. and 1,650 when flown aerobatically. The Falco is stressed for 6 Gs positive and 3 negative at aerobatic weight.
The first flight of N11 ST was on April 15, 1990, and the flight test program extended into the summer months. Skip has furnished us with the following operational data:
Maximum speed - 240 mph (208.5 kts)
Maximum gear extension speed - 125 mph (108.5 kts)
Maximum flap extension speed - at 20 degrees - 112 mph (97.5 kts); at 40 degrees - 100 mph (87 kts)
Stall speed - clean, power off - 69 mph (60 kts); with full flaps - 61 mph (53 kts)
Takeoff with 15 degrees of flaps, rotate at 81 mph (70 kts)
On approach... gear down at 104 mph (90 kts); 20 degrees of flaps at 92 mph (80 kts); 92 mph over the fence
Best rate of climb - 1,100 fpm at 100 mph (87 kts), ffom sea level
Normal cruise - 200 mph (174 kts) at 24 inches and 2,400 rpm, burning 9.4 gph
Once out on the fly-in circuit, the Gutzman Falco began winning awards at every place it was taken, winning Best of Show at Bloomington, IL in August of 1990; Best Home Built at Decatur, IL in August of 1990; Grand Champion Plans Built at the North Central Regional EAA Fly-In at Rock Falls, IL in September of 1990; and Grand Champion Plans Built at Sun 'n Fun '91 in April of 1991.
All of these facts and figures are within the realm of cool objectivity, which is well and good ... but what about the emotional response of the two who spent nearly three and a half years of their lives crafting the objet d'art that graces our cover this month? Predictably... and with every justification... their response to that question was:
"It's clean, it's fast... we love it!"