First Flight:
Karl Hansen
by Alfred Scott
This article appeared in the September 1985 issue of the Falco Builders Letter.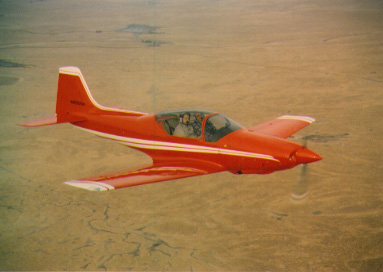 Karl Hansen flew his Falco on July 23. All plans had been made to fly off the required 25 hours, paint the Falco, and bring it to Oshkosh. Two things prevented this from happening. One of our suppliers, despite numerous calls to stress the urgency of getting the last few parts made, simply let us down, and Karl spent valuable time making the same parts. The other problem was that the painting was to be done professionally. After the primer coat went on, Karl broke out the sandpaper and passed it around. At this point, the paint shop informed Karl that they really only taped and sprayed-sanding they didn't do. Since he wanted it just right, Karl pulled the Falco out of the shop and decided to give up on making Oshkosh.
Since Oshkosh, Karl has been flying off the remaining required hours while sanding things out. The Falco came in at 1,190 lbs empty, and N805SH has the Nustrini canopy and a 160 hp IO-320-B1A. The Falco is going to be painted in the first couple of weeks of September. The paint scheme will be the same red and white scheme pictured in our advertisement.
Karl Hansen is a retired USAF pilot and has been invited to bring his Falco to a show at Beale AFB, home of the SR-71 Blackbirds. He hopes to get a few photos of the Falco with a Blackbird-it should make an interesting picture.
While I've only seen photographs of it, Karl's Falco is my candidate for the Falco most likely to win awards at airshows. The instrument panel has a full stack of King radios and an autopilot. His Falco has the Nustrini canopy-beats me how a big guy like Karl can fit in it, but he does. The upholstery is extremely elegant, particularly the seats. The fabric and carpet are simple and plain, but the overall effect is just right. Karl is going to get very tired of trying to convince people that his Falco really is a homebuilt aircraft.
Perhaps the most impressive thing about this Falco is that Karl, a first time builder, built the Falco in one year and eleven months. Karl used all of the kits, except that he built his fuselage frames using the "bare bones" laminations kit. Since he is retired, Karl spent much of his time in the shop working on the Falco, but there were always interruptions, vacations and hunting trips so he averaged about 20 hours a week. Karl encountered relatively little difficulty in building the Falco, but admits that he spent about four hours of "think time" for every hour of actual work. Karl's son, Steve Hansen, is a partner in the Falco, and Steve did much of the wiring. Brother Don Hansen helped out occasionally, but Karl really did most of the work. When he started the Falco, Karl was talking about building two Falcos-one for himself and one for Steve-but when asked about his plans now, Karl says "That's like asking a woman who's just had a baby when she is going to have another!" But he readily admits that he could do it again much quicker.
When Karl talks about the Falco, the word that most often comes up is "sculpture", and he says that the Falco is really a sculpture in wood. Karl is very pleased with the Falco-before he flew it, he had never flown in a Falco, so he did not exactly know what to expect. Many ex-military pilots have reported that the Falco's handling is nearly-identical to that of a T-33, and Karl confirms this. The Falco has flown well from the beginning. It will indicate 150 kts at 23"/2300 and 165 kts at 25"/2500. This is without a nose gear door or wheel well doors, both of which he plans to install.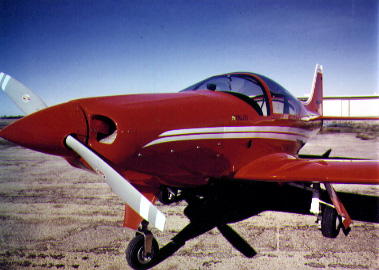 At Oshkosh, Karl told me he had already had his first "forced landing". In fact, he had a clogged injector nozzle so the engine was running on only three cylinders. He landed the Falco quickly and planned to clean out the fuel system before flying it again. Renato Cairo says that at General Avia the procedure is to put some fuel in the tanks, then use the electric fuel pump to circulate the fuel back to the tank. This they do by disconnecting the fuel line from the engine and adding a hose which dumps the fuel back in the tank. After some of this, the fuel strainer is checked and cleaned. The process is repeated until no debris is found in the fuel strainer.
Karl Hansen hails from Roseville, California, which is near Sacramento. He retired from the USAF in 1969, following his last five years of service as a Lockheed EC-121 Super Connie pilot in the Vietnam area. He had been flying his own Cessna 175, which has now been taken over by his son. Karl's only previous experience was in building model airplanes, and he found the Falco not too much different except for working to a much larger scale. Congratulations, Karl, for a beautiful "red Eyetalian machine"!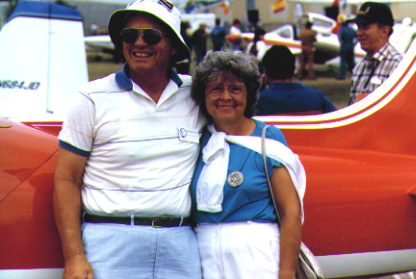 Karl and Shirley Hansen