First Flight:
John Harns
by Alfred Scott
This article appeared in the June 1985 issue of the Falco Builders Letter.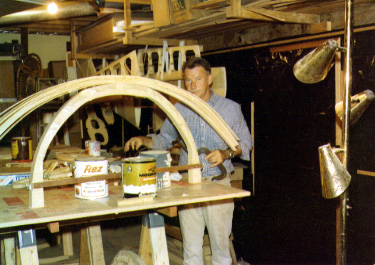 John Harns making fuselage frames.
John Harns got his Falco into the air on May 27, but this was only a high-speed taxi test in which he flew very briefly at 3 to 4 feet. His battery was not secured so he didn't take it around the patch. A good thing, too! John said that he had spent the afternoon making a new bracket for the governor since the arm was "backwards", and the spring and adjustment screw were at the wrong end of the throw. I asked John where his governor came from, and he said it came with his Twin Comanche engine. I set John straight on the governor, and in a couple of days he had the proper one installed. On May 30, John flew his Falco, N141CJ, for 45 minutes. A few days later, John had put 5 hours on the Falco and had visited every airport within his restricted zone. Equipped with two Terra Nav/Coms, John's Falco weighed in at 1,212 pounds, and it is now a couple of pounds lighter thanks to the replacement of the Woodward governor for the Hartzell.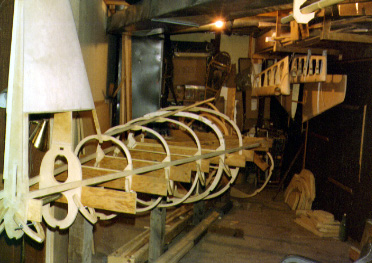 The fuselage frames in the jig.
John's Falco is completely upholstered and painted in white with two stripes down the side, one dark maroon and one burnt umber in the "Monza" paint scheme. While painting the airplane, John was not convinced that the curves were all that important, but he decided to use them since they had already been worked out. He's glad he did and said the results are spectacular. John had painted the Falco with acrylic lacquer, but he didn't like the finish-you could see the weave of the covering-so he sanded it all off and painted it with Ditzler Durethane. John is having the same experience that Dave Aronson had-people don't want to believe that the airplane is made of wood. It's rather frustrating since people tend to ask you the same question over and over-they averaged about 7 times at Oshkosh-so it's probably easier just to tell people it's made of fiberglass and make them happy.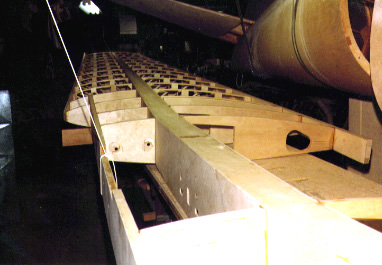 John worked in tight quarters.
The first five hours were flown with all of the gear doors off the airplane, but John got good speeds anyway, indicating 155 kts at 23"/2300 at 5-6000 feet and 165 kts at 25"/2500. Just prior to finishing this letter, I talked to John and his description was "just unbelievable." He had installed the nose gear door and the main gear doors, but he still does not have the nose gear bay doors or the main wheel well doors installed. His Falco has a true airspeed of 213 mph at 24"/2400 and 7500 feet. He took his FAA inspector for a ride, and they decided to see how fast it would go in level flight. At 4000 feet, with full power and high rpm, the inspector "chickened out" and cut the power at 180 kts indicated. John said they were still accelerating at the time. Dave Aronson found that the main wheel well doors were good for 10 kts. John's doors are not quite as smooth as Dave's, so he may not get as much speed from them. He has the standard canopy and said that one of his problems has been the visibility-he keeps trying to duck to keep his head out of the air since it feels like an open cockpit! The center of gravity came out fine and required no adjustment. The stall speeds are right to the book on the Falco.
John said that he pulls 28" on takeoff (his field altitude is just over 2,000 feet) and has taken the Falco up to 15,000 feet where the manifold pressure was just under 21". He feels that he is getting about 2" of ram air in his induction system. He installed the inlet further forward than we show in our preliminary drawing, and it will be interesting to get his Falco side-by-side with Jim DeAngelo's to see if there is a difference.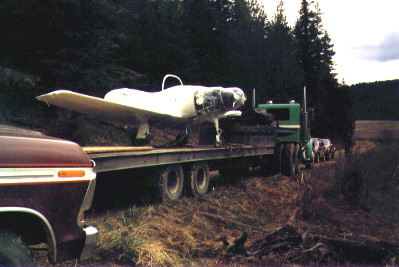 To the airport.
Per our suggestion with the cowling installation instructions, John has sealed up the piano hinge with white vinyl tape and also around the starter ring. His engine temperatures are running well down in the green. We expect the temperatures to come up when the nose gear bay doors are installed. After that, John will be tweaking the exit areas to get some more speed. He does not have the exhaust port horns installed, which should also smooth out the flow and reduce cooling drag. But he's not doing too badly, even with the huge openings for the main gear doors he has a cruise of 23 mph faster than the production Falcos! John has install fairings on all of the hinges and rudder cables. He has reflexed the flaps about 3° and thinks that might be getting him 2 kts. The airplane is trimmed out well in flight, but his Falco drops the left wing consistently in a stall. This is due to the placement of the stall strips, which really should be located after first flight to "tune" things just right. John has done all of the aerobatic maneuvers except snap rolls. Spins were no problem, and he can climb 300 feet per aileron roll.
Like a couple of other builders, John has spent several years giving me a hard time about the 15° turning angle of the nose wheel. I was successful in talking him out of changing anything, and he reports that he is able to turn his Falco nearly on the inboard wheel, even without brakes. He says the noise level is unbelievably low, about like a 172, 182 or 206. John has two layers of Fiberfax on the exhaust port shields and no insulation on the aft face of the firewall frame, but he did run the floor covering up about 6 inches on that frame. I plan to send John a sound pressure meter and get some readings, and I'm convinced that he can cut the noise level substantially from what he has now. There is no wind noise from the canopy, and the airplane has no vibration at any speed or power setting.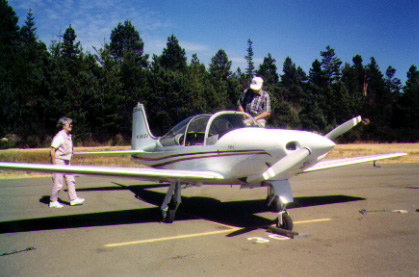 Pat Harns watches as John tries to find his keys.
John located his gascolator on the lower left side of the firewall, and he has had his first experience with vapor formation in the system. He landed at a nearby airport to look at another homebuilt. When he started the Falco, the engine was rough, but it smoothed out once he turned on the electric boost pump.
There's just one little teeny-weeny thing about John's Falco that I don't care for, and I'll pass on my comments, so those of you who want your Falcos to look "just right" might want to make a note. The placement of the numbers on the tail is one of those things that either looks right or doesn't. We took great care with their location on the paint scheme drawings. Draw a line extending aft from the top of the dorsal fin, and you will see where they should go. John has his numbers about six inches too high, in my view. Take a look at his Falco and at the photos of Dave Aronson's Falco and make up your own mind.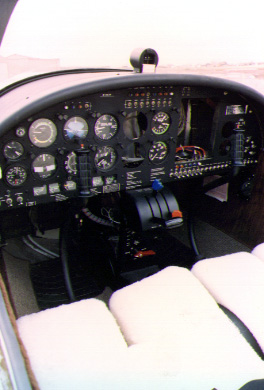 John found that his rudder pedals hit the rudder pedal support tubes when he applied full rudder and brakes. He was able to cure this by grinding away most of the web (he left about 1/4") at the top. Jim DeAngelo had the same problem, so it looks like this will be required for all builders. John and Jim have also had intermittent problems with the landing gear retraction system popping circuit breakers. This is a problem of friction, and all you can do to break in the gears and reduce friction in the rotating parts will work to your advantage.
John Harns bought his Falco plans in July 1979 and began construction in August. He made all of his wood parts, working in a cramped garage and used almost all of our kits, making only the seats and fuel tanks. After the project outgrew his garage, he built a shop to complete the Falco. John amassed 6000 hours flying F4 Phantoms and F14's from carriers for the Navy and retired at the rank of Captain. He had previously built a Baby Lakes biplane, but sold it. John and his wife, Pat, settled in St. Maries, Idaho, which is just up the hollow from Spokane, Washington. John's son recently bought a Swift, which they have modified with a stick, and in which John has been keeping up on his acrobatics. John liked to rattle my cage by telling me he should have just put a 180 in the Swift and not bothered with the Falco, but now that he has flown the Falco, he says that there's no comparison. Those who watched his first flight were amazed at the short takeoff and observed an ear-to-ear smile as John got out of the Falco after the flight. John is all signed off and plans a trip to Jacksonville, Florida, in the last week of June. John and Pat Harns plan to attend Oshkosh and bring their Falco. I get the first ride!