| | | |
| --- | --- | --- |
| | The Birth of N89WH | |
by Willard Hofler
This article appeared in the December 1998 issue of Falco Builders Letter.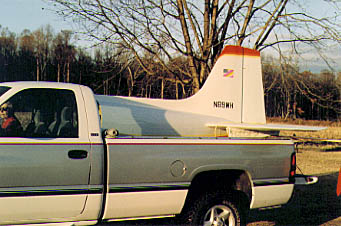 Moving day
I purchased plans from Sequoia in May 1982, and in July, I started construction of my Falco in an old barn that used to be a cow and horse stable in Sunbury, North Carolina.
I made all the wood parts myself and purchased all the metal parts, windshield and canopy from Sequoia. The engine is a Lycoming IO-320-B1A overhauled to new limits.
Through the years, I have enjoyed seeing the Falco take shape. Anything I did not understand, Alfred was always available and very helpful. Also, my wife, Naomi, has been very supportive in the project.
I moved the Falco from Sunbury to Elizabeth City Municipal Airport in December 1996. It took me about two years to get it back together and install radios. When finished, the empty weight was 1,170 lbs.
I know I must hold the record for the slowest builder, but I am very satisfied with the outcome.
I had some difficulty in finding a test pilot for the first flight, so after some taxi tests, I decided to do it myself. I got my private license in a Grumman Yankee, and I think this was to my advantage; although, I know it is better for someone with more experience to do the first flight.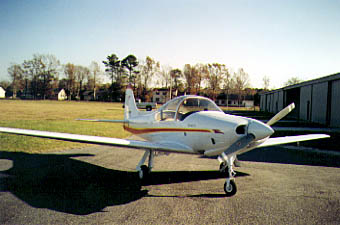 On my first high-speed taxi test, at about 60 knots I lifted the nose, and the first thing I knew the Falco was about five feet in the air. I had about 7,200 feet of runway, so I had plenty of time to throttle back and land. The airplane handled so well that I decided not to wait any longer and do the first flight myself.
On November 22, 1998, the wind was very light, a pretty day, so I decided to fly. The flight lasted about 30 minutes. The airplane handled very well, and the only surprise was the amount of right rudder it takes when you open the throttle wide open.
Adrenaline flowing, I made a near-perfect landing, with a great thrill and feeling of accomplishment.