Sequoia Aircraft Corporation
Press Release
FOR IMMEDIATE RELEASE
Richmond, Virginia
December 15, 1987
Falco Completed in Record Time,
Costs Builder Marriage
Another Falco completion record has fallen. Pawel Kwiecinski's Falco was begun on September 18, 1986, and it flew on October 9, thus becoming the 15th Falco to fly.
The Falco was built by Dr. Pawel Kwiecinski, Adam Slodowy and Irek Mikolajczyk. Pawel moved from Poland about seven years ago to Chicago, Illinois. A friend, Adam Slodowy, was in the U.S. for about six months. Adam is a famous television personality in Poland, who had a show on Polish television for 15 years called "Do It Yourself". Adam worked on the airplane full time in a rented shop, and Pawel worked several hours each night.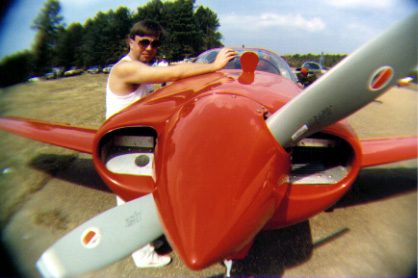 Some people get divorced because of a homebuilt
airplane, but Pawel Kwiecinski got married.
Adam built the tail group in three weeks at a time when they were still setting up the shop. The ailerons and flaps took 17 days. By the beginning of February, Adam had finished the wing, and the fuselage was started. Adam went back to Poland and construction was continued by Irek Mikolajczyk, a Polish aerobatic championship pilot who had recently moved to the United States.
The basic construction was complete by the middle of June, and the aircraft was painted. Painting took eight weeks-much longer than estimated because the painter was available only on a part time basis. To achieve a beautiful finish, the team spent about 500 hours sanding the primer. The first flight of the airplane was delayed for about a month since the front of the shop had to be demolished to get the Falco out, and there were numerous delays caused by building permits, bad weather and contractors who didn't show.
To match his Porsche 928S, Pawel's Falco has a black leather interior and is painted red with black stripes. The Nustrini canopy is installed higher than normal for more headroom. The Nustrini canopy provides very little headroom and by installing the canopy 1 1/2 " higher, this installation provides the same headroom as the standard Falco canopy.
During the construction, Pawel spent so much time with the Falco that he shirked his domestic responsibilities. It cost him a marriage, but not in the usual homebuilt airplane tradition of "5 years, $20,000 and a divorce". The lady simply said, "Marry me or go live with your Falco!"
Okay, it's an old press release, but we had more fun with this than you could imagine. Half the magazines talked about poor Pawel getting a divorce, but in fact it cost him a marriage, not a divorce. Because of the Falco, Pawel and Myra got married, and they have a number of little Kwiecinski's now.

Alfred Scott