| | | |
| --- | --- | --- |
| | European Falco Factory | |
The last of 76 factory-built versions of the Stelio Frati designed, wooden-structured, F.8L Falco (Hawk) left the Italian production line over 20 years ago. Despite this interregnum, the 1990s see Falco production building to another peak in Europe, this time on a Continent-wide basis and at the hands of numerous homebuilt aircraft enthusiasts.
by Geoffrey Jones
This article appeared in the March 1990 Aviation News magazine.
Frati has been enlogised for his racy aircraft designs of which the Falco was just one of a succession that continues to this day. Never particularly successful in production terms -- the Falco has so far been one of the most prolific of his designs -- a certain aura has nevertheless built up about the man and his projects. The Falco is popularly described as 'the Ferrari of the air' and perhaps this adage has helped with hindsight to promote the popularity of the design amongst sport pilots seeking something extra special.
Second-hand factory produced Falcos are still quite common but diminishing numbers in concert with increased interest has boosted their value to a point where they are beyond most budgets.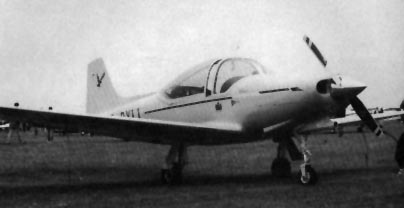 First 'true' Sequoia Falco to fly in Europe was G-BYLL in 1988 at Sherburn.
Enter American Alfred Scott and his Sequoia Aircraft Corporation. In July 1975 Scott, together with David Thurston, were working on their Model 300 Sequoia and Model 302 Kodiak respectively two- and four-seat low-wing cabin monoplane aircraft constructed of steel-tube and metal. Scott and Thurston intended to sell plans and kits of the 300 and 302 and, in particular, to offer them as kit military trainers to countries attempting to establish their own aircraft industries. South Africa was one of the countries particularly targeted but discussions came to nought. Scott also acquired the rights from Italy to market plans and kits of the Falco to the rapidly growing homebuilt aircraft market, particularly in North America. This was in the late 1970s and not surprisingly due to its pedigree, the Falco homebuilt became Scott's main preoccupation. He set up Sequoia to market the plans and kits but only after considerable re-engineering of the design and a complete revamping of the drawings.
At this early stage, Scott had still to build his own Falco but he soon established an enviable record for excellence in terms of his plans and his after sales service to builders. Kits of various sub-structures and components came along in due course but the early Sequoia Falco builders were very much on their own since there was no comprehensive construction manual then available.
First Plans-Built Falco
Laurence Wohlers of Tucson, Arizona was the first to complete and fly a homebuilt Falco in June l982. The first to be completed and flown using Sequoia kits followed in July 1984 and was the work of David Aronson of Minneapolis, Minnesota. Since that time, a total of about 25 Falcos built ffom Sequoia plans and kits have taken to the air around the world.
Here in Europe, one-and-a-half homebuilt Falcos have flown. Why the 'half'? In Passau, West Germany, Herbert Müller took the remains of a crashed production Falco and used Sequoia plans to help with the reconstruction. D-EHDA started life as a Laverda F.8L Falco IV (c/n 406) with a 160 hp Lycoming 0-320, being one of a batch of 20 built by Laverda, the successors to Aeromere and possibly better known as motorscooter manufacturers, As Scott says, 'Müllers Falco is technically a rebuild and is flown as a certificated aeroplane rather than in an experimental category. It looks surprisingLy different from most Falcos by virtue of its lower profile motorglider canopy, rounded fin and odd-looking wing fillets.'
The first 'real' European Sequoia Falco to fly was a British triumph, the work of the Yorkshire trio of Neville Langrick, Bill Nattrass and Ray Holt. Early on the morning of 7 June 1988 at Sherburn-in-Elmet near Leeds, G-BYLL took to the air for the first time in the capable hands of 'Jacko' Jackson, the Chief F!ying Instructor at the Sherburn Aero Club and a former Commanding Officer of the Battle of Britain Memorial Flight. In the process, it became the 16th Sequoia Falco to fly but this first 20 minute sortie was the result of six years of intensive work, initially by just Neville and Bill although they were joined for the last two years of construction by Ray.
The story of G-BYLL is one of dedication, hard work and considerable expense, for the Falco can be said to be one of the most complex and costly homebuilt designs currently available. The construction task can be eased depending upon the number of Sequoia component kits that are utilised but these kits don't come cheap and by the time ffeight, import duty and VAT costs are added, the basic US dollar kit price can increase by more than 50 per cent.
Despite these drawbacks, the Falco is proving increasingly popular with European homebuilders. Scott says that the greatest concentration of overseas builders is in the UK, with approximately ten per cent of the 600 sets of Falco plans he's sold going to UK buyers. About five per cent of the remaining plans have gone to other European builders, particularly in Holland, Norway and France. In a classic instance of 'selling coals to Newcastle', a few have even gone to Italy but one difficulty in selling to non-English speaking countries is the language barrier for all drawings as well as the construction manual are in English although this may change.
British Falcos
The Langrick/NattrasstHolt Falco has proved inspirational to British builders and operators of Italian factory-built versions. An unofficial Falco club now operates usually convening its largest meeting at the PFA's annual international air rally at Cranfield -- this club is also co-ordinating local supplies of several components.
Although G-BYLL was completed and flown prior to 1988's Cranfield, it could not attend the rally because of delays in processing essential paperwork. As a result, its debut had to wait until the following year's rally when it walked away with the coveted Air Squadron Trophy for the best homebuilt. The aircraft's registration is a tribute to Bill Nattrass, an ex-David Brown Tractors and RAF airframe rigger, who had had a life-long ambition to build an aeroplane and who in the early 1980s met Neville Langrick, a chartered surveyor, who had similar aspirations. Bill's engineering skills combined with his commitment and enthusiasm helped the pair through many difficult days and months during the first few years of construction. It was after Ray had joined the team and only six months before its maiden flight that Bill suffered a heart attack, followed by a stroke. He was effectively eliminated from the project and for several weeks could not even communicate verbally with Neville or Ray. Happily, his recovery was sufficient to enable him to travel to Sherburn for G-BYLL's first flight and after Neville and Ray collected the Air Squadron Trophy at Cranfield they were on the telephone to Bill in Yorkshire within minutes to tell him the news.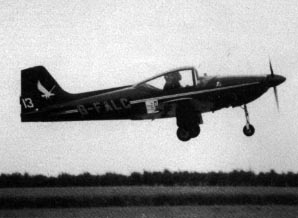 Probably Britain's best known Falco is G-FALC, an Aeromere Falco 3 imported
in 1961 as G-AROT and becoming G-FALC with Peter Hunter 20 years later.
Another British Falco builder with about two years work left on his project, can also be found in the north of England. Bob Sothcott is a 34 year-old market gardener from Burton Pidsea in North Humberside. He currently flies an Emeraude but caught the Falco 'bug' when he was looking round for something 'more practical' to do in light aviation and fancied the idea of this stylish Italian design. He advertised for any part-built Falco project in 1985 and was surprised to receive several responses from PFA members. By January 1986 he was the owner of an assortment of wooden Falco components purchased from Pat Millar in Lincolnshire -- in fact, many of these had been assembled by another builder from whom Pat himself had inherited the project.
Quality control was the initial task, with the assistance of an inspector from Doncaster Sailplanes who are also British agents for Sequoia. Sothcott acquired other Falco bits and pieces including the main undercarriage and canopy ffame -- these came from Falco G-AVUJ which had been virtually destroyed by fire at Doncaster in September 1979. He is also buying in as much as he can from Sequoia because available construction time is very much at a premium. However, he has to temper his purchases with budgetary constraints. Nevertheless, the airframe is now virtually complete, he has acquired a 160 hp engine ffom a scrapped PA-30 Twin Comanche and is currently working on engine bearers and the ply covering to the main airffame.
Other British builders include Stuart Gane at Northleach in Gloucestershire, Peta Hatcher at Iver Heath, Bucks and Gary Montgomery at West Lothian in Scotland. To these should be added the current British Falco operators, sadly now depleted following the crash on 9 September 1989 near Belfast of G-ROVI being flown by Brian McBride and his 13 year-old son Mark, both of whom were killed. It is believed the crash was due to a bird strike on the windshield followed by the canopy detaching and hitting the tail. On ihe positive side, one of Britain's first Falcos -- G-AROT, now masquerading as G-FALC in the ownership of Peter Hunter at Elstree -- still flies regularly along with C-OCDS and G-ORJW.
Dutch Falcos
A few years ago, the prospect of homebuilts in Holland would have been scoffed at. Now, thanks to ceaseless work by Volanada Veerian and the NVAV IDutch Homebuilders Association), there are at least 30 projects active in the country. Two of these are Sequoia Falcos and one in relatively early stages of construction is the work of pharmacist Marcel Morrion at Duurstede. The other is nearing completion with a Fokker employee, namely Barthomeus Van Steyn at Lelystad.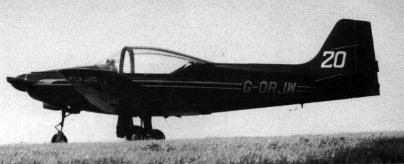 Now flying from Lelystad in Holland with Jaap Havekotte, G-ORJW was the final
inspiration to Marcel Morrien in Holand to start building his own Falco in 1989.
Morrien started construction of his Falco in April 1989 and tries to average 15 hours construction time per week. It was the prospect of his own, small, sleek, fast and aerobatic two-seat aircraft that drew him to the Falco after frustrations at flying club Cessna 172s and Cherokees on a limited availability basis -- after a flight in G-ORJW with Jaap Havekotte at Lelystad, Morrien was sold on the Falco.
He has found construction to be no more difficult than he anticipated and after just nine months had completed the tail section and fuselage ffames. He anticipates getting a sub-contractor to build the undercarriage retractionsystem and plans to buy in Sequoia kits for the wings, canopy, main landing gear, instruments and panel, seats, engine baffle and console. Spring 1992 is the scheduled completion date, so clearly a lot still has to happen in two years!
Norway
One rarely hears news of homebuilding to the north of the Arctic Circle. Airline captain Bjorn Eriksen spends his days flying Dash 7s for Wideroes Flyveselskap. For an estimated 7,000 hours of his spare time since purchasing a set of plans in 1981, he has been making steady progress on his project in the garage workshop alongside his house at Bodoe. He didn't import any wood kits so spent nearly five years completing all wooden components prior to beginning major assembly work. However, he has purchased many of Sequoia's other available kits and has found their cost to be 'astronomical due to freighting, exchange rates and import duty charges'. He is now 90 per cent into the project and estimates that is has cost him NKr 700,000, roughly twice his annual salary! He maintains that the Falco is 'above average' as a homebuilt both in terms of cost and complexity and is definitely not for the homebuilder who wants to modify and alter a design since it must be built accurately and exactly to Sequoia's plans and builders manual. If for no other reason, the Falco's slippery performance when in the air warrants great respect in this department.
Spraying of Eriksen's Falco took place around Christmas 1989, the finish being bright red all-over. Registration LN-LCA has been allocated and the first flight is scheduled for the spring. Like all other Falco builders, Eriksen echoes their comments on the excellence of Sequoia, Alfred Scott, his plans, kits and support -- I suppose it's the old adage that you get what you pay for and if you're building a Ferrari of the air, you must expect to pay Ferrari prices and receive Ferrari service!
At the other end of Norway, at Sandane, Jan Waldahl is nearing completion of his Sequoia Falco, LN-JAN. Waldahl is a bush seaplane pilot, 38 years old and 'married -- but not to my Falco!'. His Falco is claimed by many, including fellow Norse builder Eriksen, to be the highest quality of any in the world. Eight years of working three hours a day, seven days a week on his project have bought it to its current status, but Waldahl has one big problem in that he hasn't yet been able to acquire a suitable 180 hp Lycoming engine.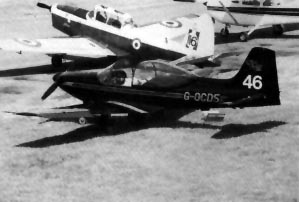 G-OCDS came to the UK in 1985, originally built
by Aviamilano, is regularly seen on the racing circuit.
Like other Falco builders, he's been attracted by the prospect of its qualities in the air. An SF.260 was beyond his means, so the Falco was the next best thing. He's also praised the design for its ability to be constructed in a garage/worksbop although the construction manual, which has only been available for about five years, does recommend a large workshop. When Falcos were built at the factory in Italy, the fuselage was completed as a single entity and then cut in half! This is how most homebuilders tackle Falcos now the cut being made at fuseiage 'Station 8', just behind the cockpit. In a long narrow workshop-like a garage-this means the fuselage can be constructed, followed by the one-piece wing after making this 'cut' by simply turning the ffont fuselage section through 90 degrees and fitting the one-piece laminated main box spar. To reassemble the Falco later in the project, the two fuselage halves are mated together with 12 bolts.
And, like many other Falco builders, Waldahl has enjoyed the woodworking, enlisting the services of a ffiend to do welding work on items such as the main gear. Engine permitting, this Sequoia Falco should be one of a Norwegian pair to make maiden flights in 1990.
French Falcos
Difficulties with the English plans and manual may be overcome, at least for French-speaking builders, thanks to Jean Luc Mallet who is undertaking translation. He, Serge Caubert, Gilbert Fedrigo and Cerard LeClerc are building no less than four Falcos alongside each other at the magnificent Reseau du Sport de l'Air (RSA) workshop facility at Montauban in. South West France. This 'factory' has already spawned a whole string of Jodel D. 1 8s, the prototype Nicollier HN.700 Menestrel II, an Emeraude and several other wood and fabric homebuilts. Homebuilders often comment that it would be as easy to produce several aircraft -- space and finance permitting -- as to build a single machine since all the jigs know-how and tricks of the trade are already established.
Construction of these four Falcos may just be the tip of an iceberg knowing France's voracious appetite for wooden aircraft. Construction is stiEI at a very early stage, with the team presently concentrating on fuselage woodwork.
The Falco is by no means a common type in France, just one Aeromere factory-built Italian aircraft, F-BNAS, flying with the Aero-Club Air Stratus at Bordeaux but this situation will certainly change during the course of the 1990s.
Homebuilding of late has apparently been dominated by composite kitplanes such as the Glasair and Lancair. These designs capitalise on what Frati knew and built back in the 1950s and readily acknowledge that streamlined aerodynamic efficiency will push performance per horsepower upward and at the same time help to give an aesthetically pleasing design. Thanks to Frati, Alfred Scott and Sequoia, the Falco lives on. With the number of homebuilt examples completed and nearing completion in Europe and around the world, the original factory output of the type will soon be passed and before too long doubled so look out for plenty more Ferraris of the air.