First Flight:
Neville Langrick
by Neville Langrick
This article appeared in the June 1988 Falco Builders Letter.
Alfred Scott threatened not to put out the June Builders Letter until G-BYLL had flown. I can't give the usual "first reactions" because as yet I have not flown in it. The first flight was carried out by "Jacko" Jackson, the CFI at Sherburn Aero Club, Leeds, Yorkshire on the 7th of June, making it the sixteenth Sequoia Falco to fly.
The flight was uneventful and lasted twenty minutes with the undercarriage down. It flew left wing low and requires some trimming. Jacko flew it again two days later, but the weather was too rough and bumpy to carry out any serious test flying. The undercarriage was retracted and a couple of low passes were managed, showing the Falco in its most impressive form.
The only problem we encountered was that the overrun on the motor was insufficient to take the spring fully into compression and the last 2-1/2 turns had to be done manually. We anticipate difficulty in setting the down limit switch any finer to overcome this. (Neville is mistaken. There's no need for full compression of the spring. -- Alfred Scott)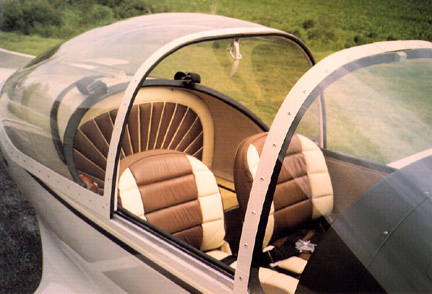 Jacko will continue with test flying which in the UK is a minimum of five hours before application can be made for the Permit to Fly which our CAA grants to homebuilders. You may be interested to know that this prohibits IFR flight and therefore UK homebuilders are more restricted than Americans. Our homebuilt procedure is also slightly different in that we must have an approved Popular Flying Association inspector carry out inspections at about sixteen stages of the project with the completion of log books required.
The story of G-BYLL began about 14 years ago when a friend took me for a trip in his Falco (G-AVUJ-illustrated in the Sequoia brochures) at our local airfield, Crosland Moor, Huddersfield-which for car enthusiasts was previously the private strip of David Brown of Aston Martin fame. I had toyed with the idea of homebuilding but nothing had taken my eye till I saw the Falco advertised as a homebuilt in 1982. I was hooked.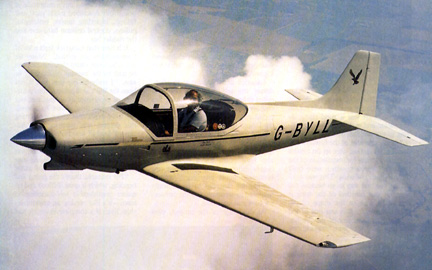 The first delivery of spruce was in November 1982 when Bill Nattrass, friend and co-builder, decided to make a start on the wing ribs with the idea that if we were not happy with the project we could light the fire with them and very little would be lost. No chance. We had taken the bait.
Enough history. G-BYLL has taken five and one half years from inception to first flight and is a mixture of kit parts and homemade. The woodwork is all homemade with spruce supplied cut to section by Doncaster Sailplanes and much of the hardware has been made by Bill in his 6'x4' garden shed equipped with his vintage Myford 3" lathe.
The finished product weighs 1,280 lbs and is powered by an O-320-A3C. It has a Nustrini-style induction scoop with provision for ram air or filtered air. The standard canopy is fitted. It is equipped with one comm, ADF, RNAV, transponder with encoder and eventually marker beacon receiver. One could question the fitting of all this when IFR is strictly prohibited, but ah-well!!
Ray Holt came on the scene to help finish the aircraft and was responsible for the "rubbing and filling" and the paint scheme, which is a 1965/70 vintage General Motors "Stone Beige" set off with dark brown stripes. It doesn't sound as exciting as those "red Italian jobs" but it sure looks good. The interior is upholstered in leather in matching tan and cream with a spectacular open fan design on the rear bulkhead.
Maybe it would be interesting to mention generally some of the experiences during the construction stages to make up for detailed flight performance data which we don't have yet. Looking back we found the easiest part of the project was the manufacture of the timber components which appear to go together fairly quickly and can easily deceive one that progress on the Falco is going faster than it really is. Even the main spar did not pose a problem -- you just have to think bigger and make sure adequate clamps are available.
The hardware is more difficult and in my opinion most of it requires engineering skills and tools. I would certainly endorse that the Sequoia kits should be used as far as finances permit. We have had the experience with some parts, particularly some of the aluminum castings, that they cost more to make than they would have been if bought from Sequoia -- despite the high transatlantic shipping costs, included shipments of "fine quality Virginia air" and our quaint value-added tax.
We have found some aspects particularly frustrating, and the ones that come to mind are the fitting of the seat runners -- to get them parallel on both planes to allow smooth movement of the seats -- and fitting of the canopy. I sympathized with Pawel Kwiecinski on his frustration and the need to open a bottle of champagne on its completion -- how many hidden and discarded screw holes in the perspex?
We have been impressed with the general quality of the Sequoia kits and in particular the electrical kit -- despite its cost. I am no electrician but by carefully following the electrical manual I had little difficulty. Don't forget to budget for expensive crimping tools and despite the warnings in the electrical manual that your local AMP representative won't have time to spend with a homebuilder, ours was good enough to call in and translate all the crimping tool part numbers to the European equivalents and give me a lesson on crimping. I would suggest that two electrical kits should be available, the existing one and a simpler one for non-IFR builders.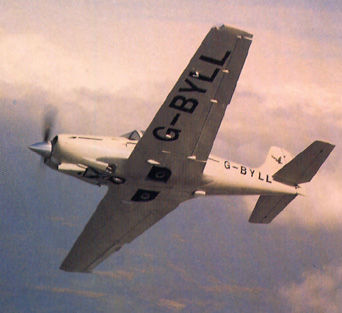 I must endorse Alfred's advice to make sure everything on the panel works before installing it. Although it is removeable, it weighs close on 50 lbs fully equipped and becomes quite a handful. We let the avionics engineer take the panel to install the radios, etc. After getting it back and putting it back in, the undercarriage would not retract-after working previously. Tracing this back to a broken resistor and replacing it was little short of a nightmare. However we did learn that the panel can be unbolted and moved back 4-5" with the plugs still connected and will somehow hold itself on the top of the center panel.
As a sequel, G-AVUJ was burned out in a fire at Doncaster, but I think the engine was subsequently bought by Barry Mowforth for his Falco project and the remainder of the salvageable hardware by Mike Pepper and Peter Grist for their project which is now being completed by Bob Sothcott.
Old Falcos never die.