| | | |
| --- | --- | --- |
| | First Flight G-CYLL | |
This article appeared in the September 2011 Falco Builders Letter.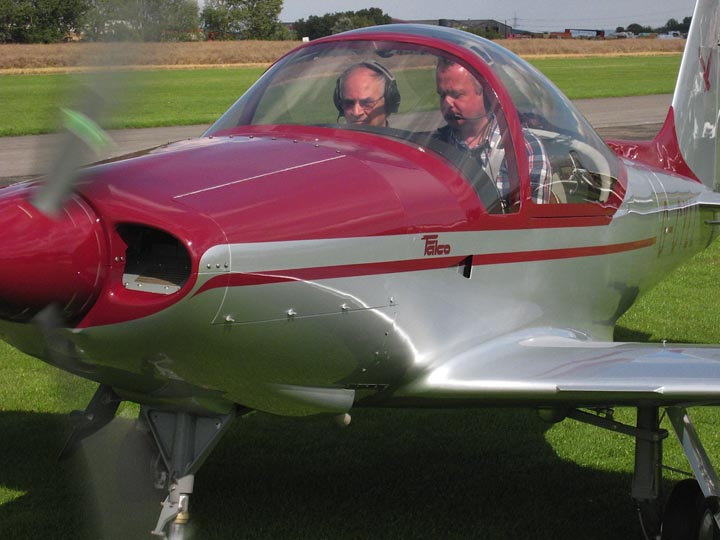 by Neville Langrick
It is difficult writing a first flight article on our new Falco G-CYLL without reviewing and reflecting on the one that I wrote 23 years ago on G-BYLL. One thing is for sure, Alfred is putting the same pressure on me now as he did then to get some print to him.
The most often asked question is, why build another? I can only explain that the mind plays tricks after a long period of abstinence thinking that the experience was enjoyable all the time! I had definitely become obsessive about all things Falco and after retirement I was looking for a Falco refurbishment project rather than starting from scratch. I looked at two factory-built projects in Eire and Germany plus a partly completed Sequoia project in the UK but I had difficulty evaluating them.
At this time a friend, Alastair Newall, who had been flying with me in some aerobatic training and obviously taken a liking to the aeroplane, borrowed my plans and started building wing ribs on his own. He initially asked me so many questions that my mind recalled the pleasure of making the timber parts and I suggested we work together. Alastair, his father and uncle are all light aircraft enthusiasts, builders and professional pilots so we had a good knowledge base.
We started in the spring of 2006 and the first flight was on the August 15, 2011 making it the 93rd Sequoia Falco to fly. Alastair carried out the first flight at our base, Breighton Airfield, North Yorkshire, and it lasted the usual 20 minutes with gear down and without a hitch. We have now flown eight hours and completed our UK Light Aircraft Association flight test programme and are awaiting the issue of the full Permit to Fly. In the meantime the aircraft is grounded giving us the opportunity to catch up on some of the minor issues such as inflating the main gear oleos and replacing the o-rings in the nose gear which have continued to leak.
Performance is always interesting.
The aircraft was weighed professionally and came in at 1199 pounds (lighter than the factory built Series 4 which weighed 1212 pounds). It is fitted with an IO-320-B1A built by a very helpful Jody Arch at Norvic Aero Engines using new ECI parts and a MT three-blade propeller. It has a standard canopy and gear doors only. The flying controls are fabric covered and weigh in within the balance limits without additional weights, which we wanted to avoid. The finishing products are Stits Polyfiber with the exception of the final paint coat. In this configuration and AUW of 1880 pounds it achieves a TAS of 158 knots at 75% power, 154 knots at 65% and 162 knots at full power. Rate of climb in full power AUW for a constant five minutes is 1100 fpm.
The decision on the engine had to be changed at the eleventh hour when Superior got into difficulties but, as Norvic were already involved, a change to ECI parts was relatively simple. The propeller was also a late decision and as Alfred says the three blades are a "man thing" and whilst in our view slightly modernising the aesthetics, not improving the cruise performance but possibly improving take-off and climb performance.
A further plus was the decision to collect the propeller by road and to drive across Germany in December last year to the MT factory in Regensburg where we were given a guided tour of the factory by the enthusiastic Eric Greindl. I persuaded my wife Shirley to join me on the promise of a visit to a traditional Christmas market in the grounds of Regensburg Castle before snow chased us back to the UK.
The decision on the covering was probably made by the earlier one to cover the flying controls in fabric, followed by the Stits claim to be the best and lightest available and my reluctance to work with fibreglass products.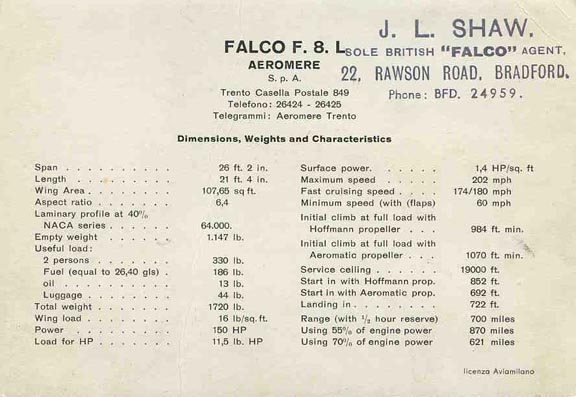 The colour scheme is easily recognizable as an original Aeromere Series 3 factory scheme which I have always liked and may have something to do with it being the scheme on the first Falco I flew in G-AVUJ. This scheme is also shown on the advertising postcard attached when we had our own Falco agent here in Yorkshire in the early 60's. We were lucky to have a friend, Les Clark, who is a professional finisher with premises in nearby Selby. We moved the aircraft there in two parts where we had the luxury of a heated booth where we spent three months over last winter flattening and preparing with final coats applied by the experts. It was painted, separated at frame 8 and we have not attempted to cover the joint, hardly noticing it now.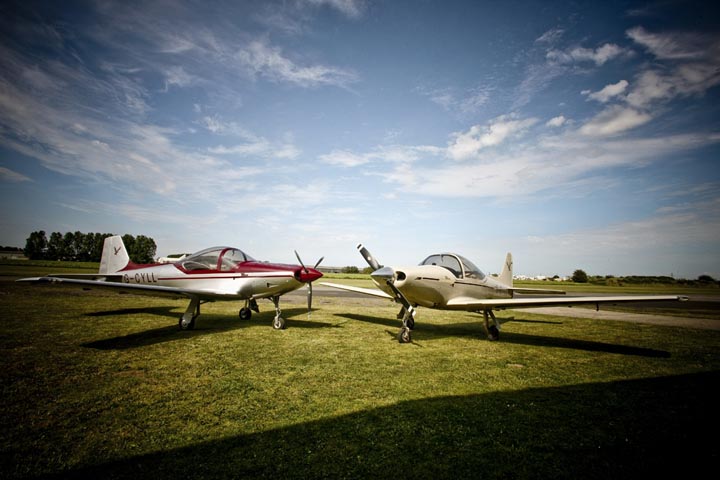 The main differences in BYLL and CYLL are: the engine being 160 injected compared with 150 carburetted, three blade MT prop. vs two blade Hartzell, Cleveland wheels and brakes vs Rosenhan/Matco wheels and brakes and a MGL glass panel which I have yet to be converted to but understand Airbus pilots can't do without.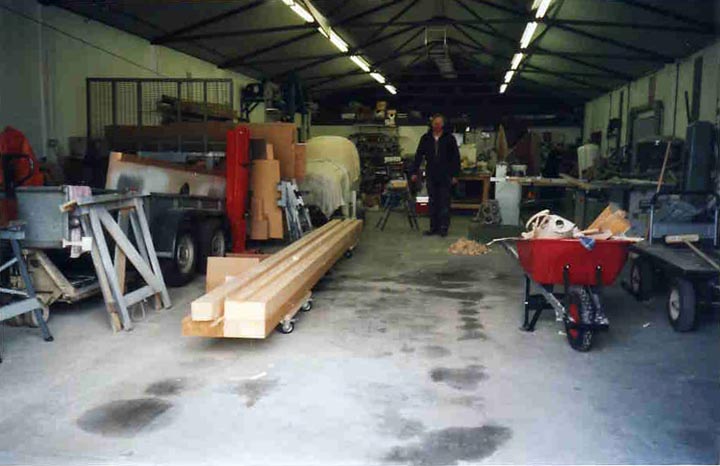 How much spruce does it take to built a Falco?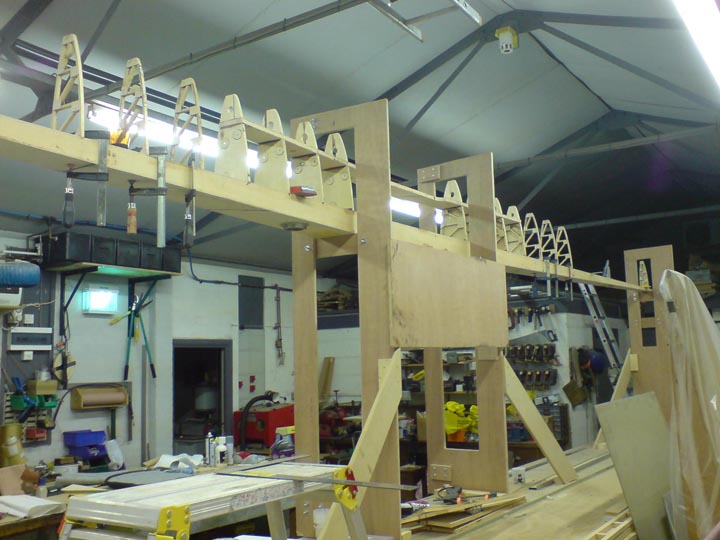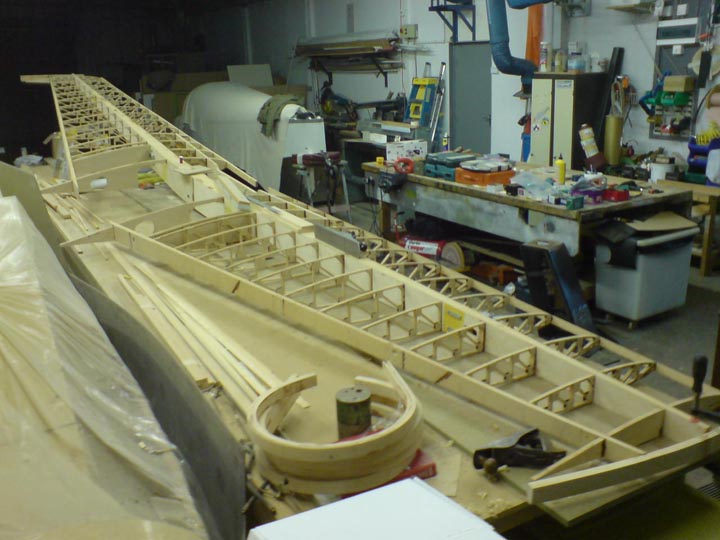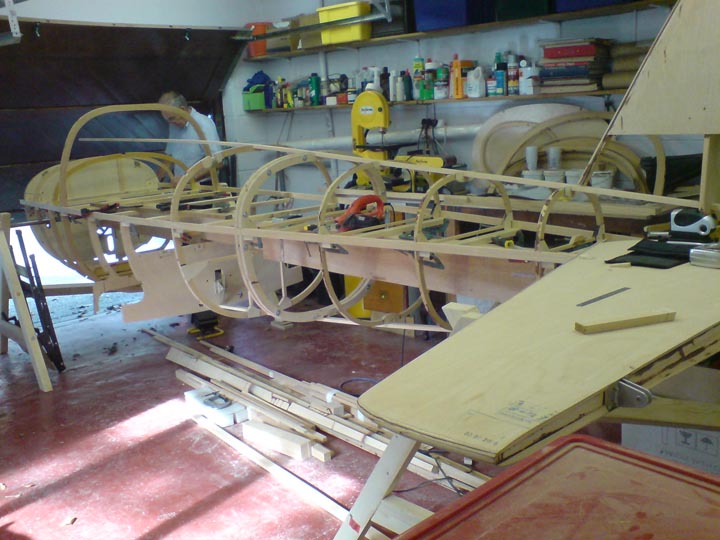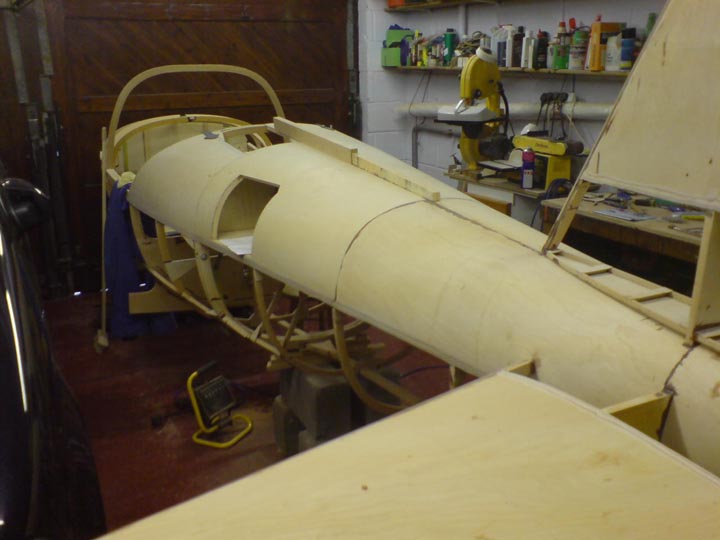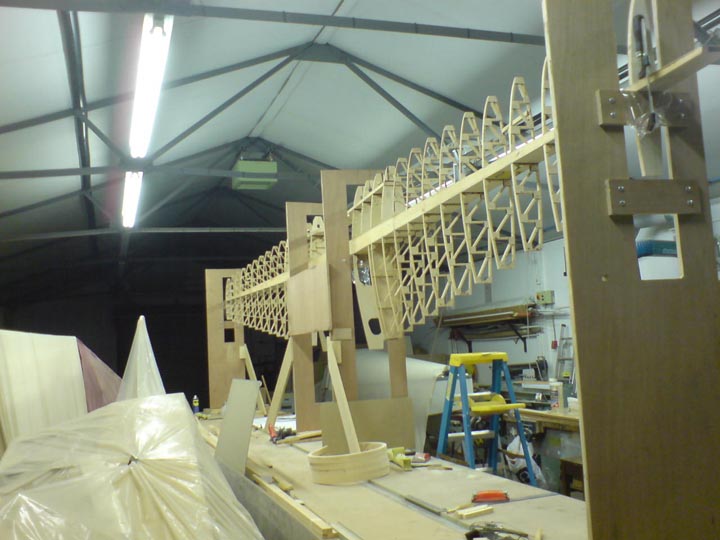 We had decided to do our own woodwork but were no longer able to buy spruce cut to kit size in the UK since the demise of Doncaster Sailplanes. We visited a timber importer with a timber specialist, John Thompson who has a workshop at Breighton with the equipment required to convert it. We selected two 37 foot baulks 9"x 4" in section held for boat masts and had them chainsawed in half to avoid premium transport rates back to Breighton. The quantity worked out exactly, apart from a little extra for a couple of spoilt spars so if anyone asks the question, how much spruce is required? we have the answer although Alastair has still not recovered from the shock of the quantity of sawdust waste in the conversion process.
From this we made all the timber parts using Aerodux resorcinol glue (now Dynea Prefere) which we bought in 2 x 25 kg tubs. As neither of us had machining skills or facilities we used all Sequoia hardware kits being able to buy as required to coincide with fitting requirements in the construction manual.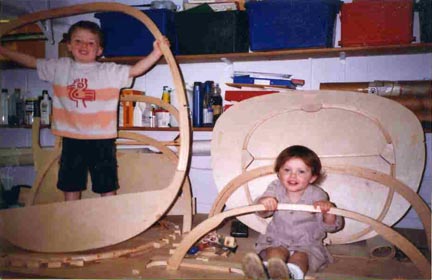 Grandchildren Charlie and Kate are 'helping hands.'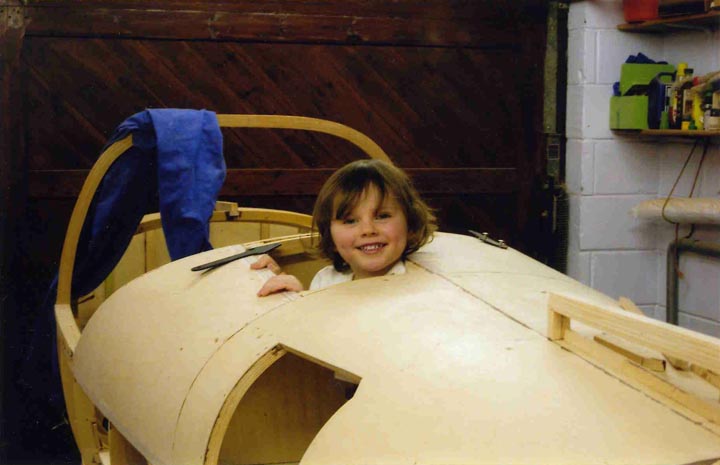 Kate at two years old
Both projects took just over five years each. Early optimism made me think the second could be shortened to four years but reality crept in after the initial rapid airframe progress when we were able to work at our individual homes but slowed down when we started assembly and fitting in a workshop on the airfield which meant travelling for both of us. I was not helped by one heart attack, having to take more holidays since retirement and Alastair's "part-time" flying job.
I mentioned last time that "old Falcos never die" and to update I can confirm that the engine from G-AVUJ was bought by George Brothwood who is just putting the finishing touches to Alan Powell's project in Liverpool and the remainder of the salvageable hardware went on again to Bob Sothcott's project to be finished by David Thomas in G-CCOR in 2007.
What have I learned from building a second? That memory lies to you at times and Shirley has requested written confirmation from Alfred not to sell me any more parts. You still make mistakes, some the same, some new, but still a tremendous satisfaction on completion of the challenge and having a brand new quicker and lighter Falco—from which Shirley sees "more baggage allowance."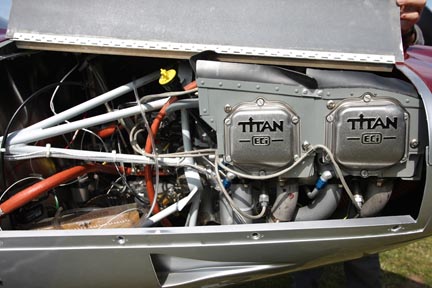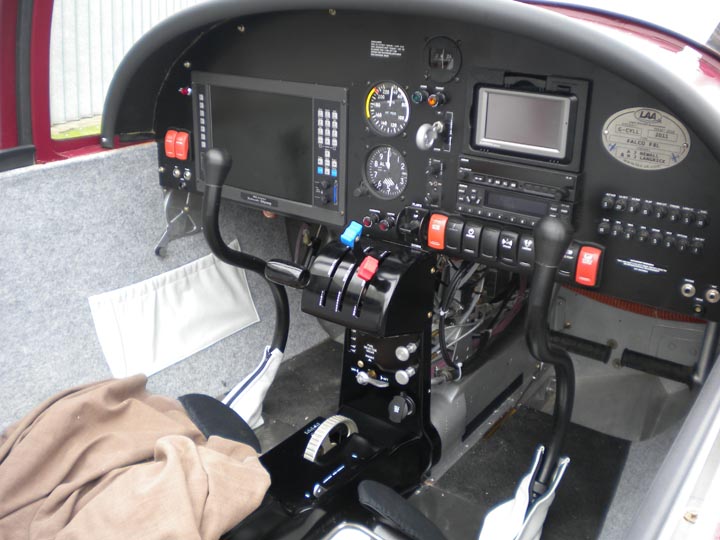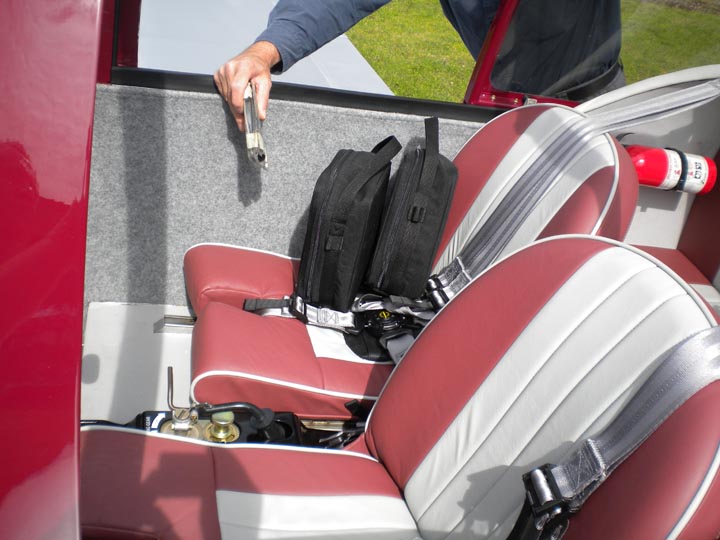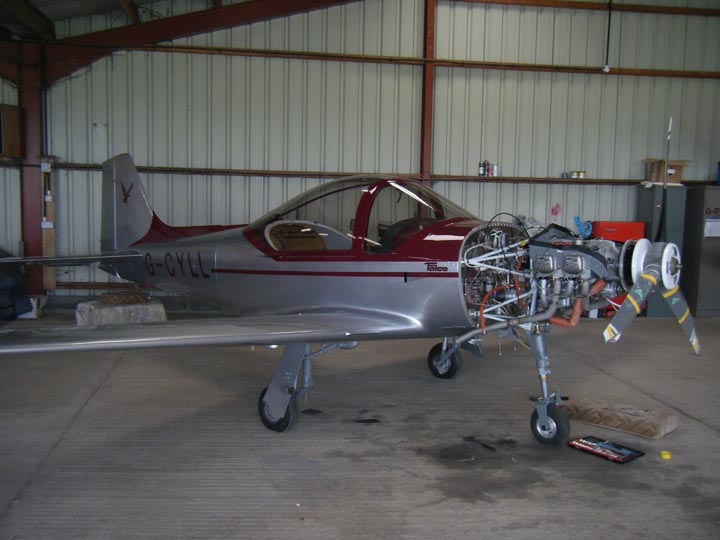 Finally, why CYLL? At my age it is sufficient to remember only one letter change in registration and to give me a clue our grandson is Charlie.
On a general note, light aviation in the UK appears to be in the doldrums with a shortage of young people showing interest in our type of aeroplane. Our homebuilt/experimental regime is definitely the way forward with fully certified aircraft becoming less popular due to high maintenance costs especially if it's an EASA type. Added to this is the spiralling cost of Avgas, about £1.90 per litre (about $11 per US gallon) forcing people away from traditional aircraft engines towards more economical alternatives. In this climate it is difficult to assess the future of the Falco as an on-going kit-build but one thing is certain, that it will remain a classic and I always marvel that the prototype flew over 55 years ago.