| | | |
| --- | --- | --- |
| | Flight of "The Lizard" | |
by Graeme Lean
This article appeared in the March 2008 issue of Falco Builders Letter.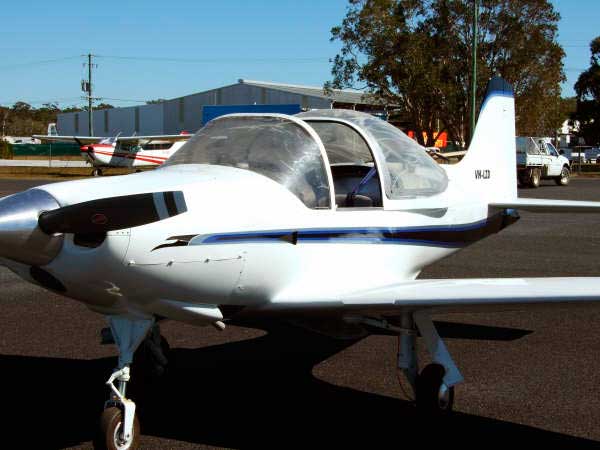 'Caloundra traffic, Falco Lima Zulu Delta, lining up runway 12, Caloundra.'
What the heck am I doing here? I'm lined up on the active runway at the attractive coastal city of Caloundra's airport in an airplane that I have constructed myself. This is to be its first flight, and I am at the controls. What do I think I'm doing?
I was born during the post-war period and raised on stories of intrepid fighter pilots. I grew up harboring a desire to be one of these dashing souls who could swoop and roll through the skies. I read numerous books on aviation, joined the air cadets and, on graduation from high school, I was offered a place in the RAAF (Royal Australian Air Force) pilot training program. At this time it was pointed out to me that my height precluded a career as a fighter pilot, and the thought of being a transport pilot did not have the same appeal.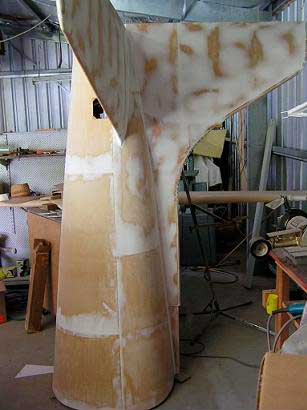 Tail cone with microballoons
A quick re-evaluation of my options led me to consider a career involving biology which had intrigued me in high school. So I accepted a scholarship to study veterinary science, which led into a career that has served me very well, allowing me to be involved in food production, herd improvement, public health, teaching and general animal health as well as giving me the chance to travel to exciting places and meet some very interesting people.
But the addiction of aviation, as we all know is too strong to ignore, and while working in Canada during the 1970s, I learned to fly. At about this time I read my first homebuilt aircraft magazine and have been hooked ever since.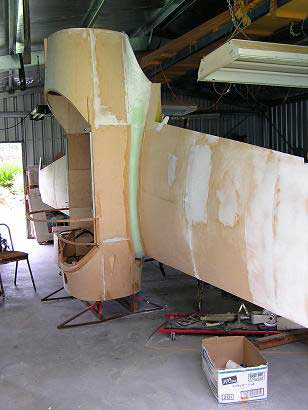 White stuff is epoxy and microballoons
My first homebuilding project was a Zenith CH200, but before I completed it I felt the urge to return to live in Australia. So with my new Canadian bride, and various aircraft components, I returned to Australia intending to complete the project here.
Well, as things often do, the project was put on the backburner while I got engrossed with establishing my practice, buying real estate and raising four children. When it was time to return to aircraft building I found that my harmless pastime of looking at other aircraft had become a hopeless obsession with a sleek Italian model. I had fallen in love with another aircraft—the Falco.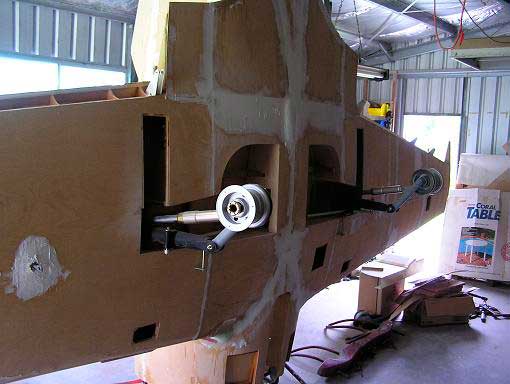 In 1991 I contracted a severe case of psittacosis (parrot fever) from some birds I had been treating and was off work for some time. My wife, Marilyn, decided I needed something to focus on, so she encouraged to order the plans from Sequoia Aircraft.
Thus started a project which filled the next 17 years of spare time between working, community involvement, driving children to school, sport, dance, the beach, then encouraging and supporting them through college—somehow infecting two of them with the aviation bug, with one becoming a Blackhawk pilot with the Australian army and another an aero-mechanical engineer with the Canadian forces. The other two are more like their mother—enjoy going for a fly—but not obsessed.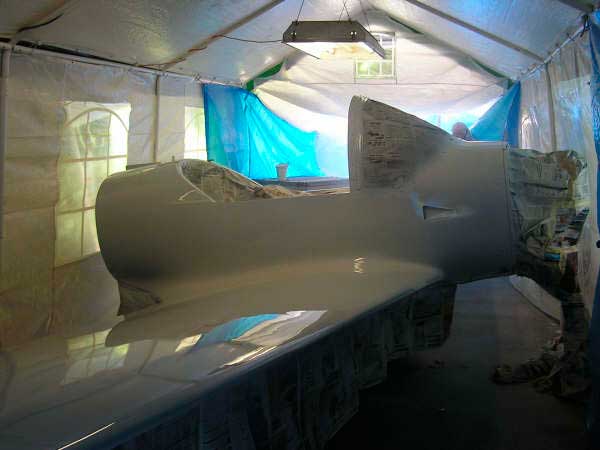 The building process managed to fit in between many other activities and episodes of my life, including time spent abroad and periods in hospital after I was demolished by a cranky brahman cow and a bout of bowel cancer. It was always a focus of time 'for myself'. During the process I developed some skills in woodwork, glueing, metalwork and fiberglass construction as well as developing more patience than I thought I could muster. It has been a great experience and has taught me very much the meaning of enjoying the journey as much as the destination. The building process, for me, was very rewarding and actually having a flyable aircraft, for me at times seemed irrelevant.
However the time came when I realized that I was running out of excuses for procrastination and the only thing left to do was to fly this love child of mine. At about this time I enlisted the help of Tony Chamberlain, who worked on Lynette Zuccoli's Falco, and who now works on the Caloundra airfield, to check it over. It was comforting to have an experienced eye run over it even if some of my building errors were brought to the light. So after the necessary paper warfare and inspections and a few humbling revelations about my construction inadequacies (fortunately minor, and not of a serious nature), I was issued with a Certificate of Airworthiness—Experimental category for Falco VH-LZD aka "The Flying Lizard."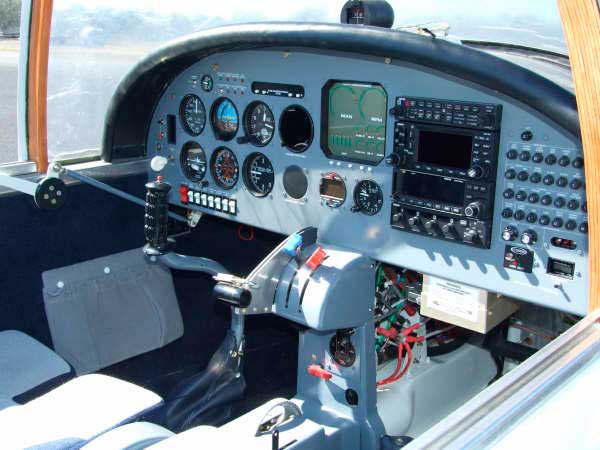 The lizard reference has nothing to do with a former neighbour and client who achieved a degree of fame by stirring crocodiles and other wild animals until he met an unfortunate end at the tail of a stingray. It was indeed named after the quiet water dragons that live in close proximity to our house and happened to be visiting while I was poring over the list of available registration marks on the CASA website.
So here I was at 0730 am on a beautiful Sunday morning with about 4/8 cloud over the airport, with Tony Chamberlain in a borrowed Cherokee Arrow with my wife, and number one supporter, Marilyn riding as passenger, sitting off to my right waiting to line up after me. My pre-arranged test pilot was working for the airlines in China when the time came to fly, and under the regulations only pilots nominated on the certificate of airworthiness can fly the aircraft for the first 25 hours. Tony, who was also on my pilots list declined (cautiously) to fly it so it was now up to me. I had prepared for the flight by practicing my arranged first flight routine many times over in the Arrow until I thought I could do it in my sleep.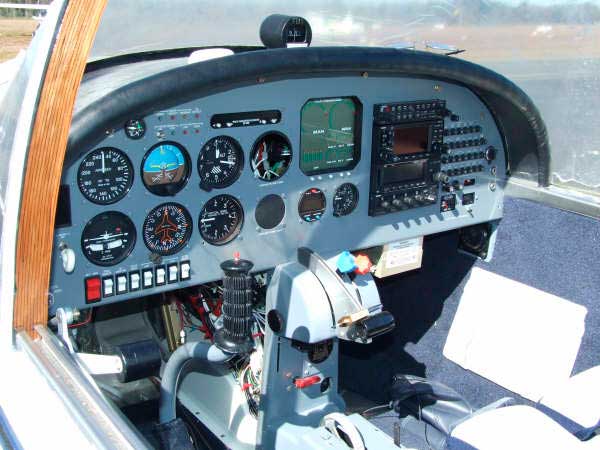 I take a quick look over my shoulder—Tony and Marilyn give me encouraging smiles and a 'break a leg.'
'Caloundra traffic, Lima Zulu Delta rolling 12, Caloundra.'
I open the throttle, the plane's engine roars encouragingly, and I'm off down the runway, 60 knots comes more quickly than I expect. I ease back on the stick, by 65 knots we're airborne. I've decided to leave the gear extended for the first flight to reduce my workload. The nose pulls off to the left, and I have to give it an extra bit of right boot to straighten it. The nose begins to oscillate a bit, I decide I'm being too assertive with the controls and relax on the stick. The lizard settles down to climb out at 85 knots.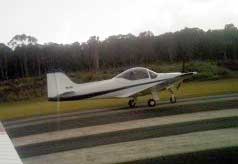 "Gees that thing is slippery, can you slow it down a bit?"
It's Tony on the radio. We're passing through 2000 ft, and he is steadily falling behind in the climb. I throttle back to 24/24, and he is able to keep up behind in climb but it is not until we reach the top of climb and I try slow flight that he can catch up.
The Falco flies very sedately in slow routine with nothing to stir my nerves, let's see how she stalls.
Power off, hold the nose up, slight buffet and the nose comes down abruptly, left wing dropping to a steep angle.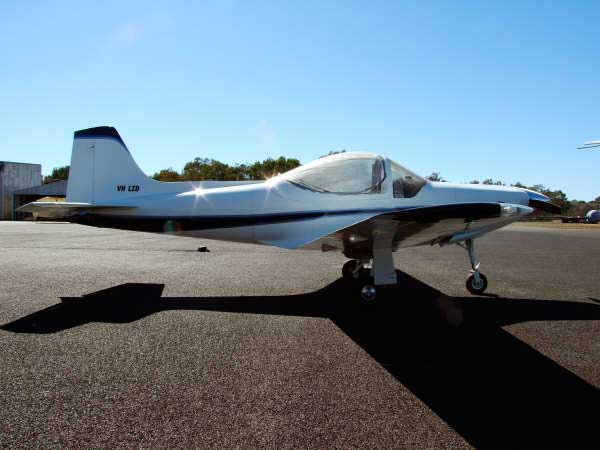 Comment from Tony,"That looks like fun!"
Okay let's do it with power on, this time the wing doesn't drop so sharply. Maybe I'm a bit on top of this thing now. Next stall not so bad.
Well, that was my planned show routine, so back home to Caloundra in a slow descent, this time the Arrow had no trouble flying with me. The circuit is a breeze, the Lizard flies like it is on rails and the landing straight forward.
This plane makes me look like I can fly. I like it!