First Flight:
Falco N227DT
by Dave and Tamera Nason
This article appeared in the June 1999 issue of the Falco Builders Letter.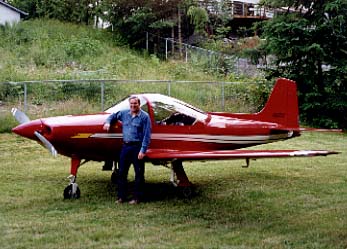 Dave Nason with his 180 hp Falco.
I was born and raised around Seattle, Washington, the airplane capital of the world. At 19 years old, my twin brother and I found an L-2 Taylorcraft for sale in the local want ads for $850. A few days later as we brought it down the driveway on a trailer, the neighbors came rushing over to find out what those Nason boys were up to now. We spent the summer of 1967 re-covering it with Ceconite and getting it airworthy.
Then we started flying lessons. I was in ROTC in college and got more flight training. After college, it was on to the Air Force where I flew T-37s and T-38s at pilot training. I did my four years flying C-141 transports during the last of the Vietnam war. I was preparing myself for an airline pilot career, but with fuel shortages and plenty of pilots, I've been a building contractor ever since.
While in the Air Force, I started building a Bushby Midget Mustang. I got about two-thirds along (between building houses) and lost the plans and key parts in a fire. I never got back to it, but it is sitting there waiting its turn to be finished.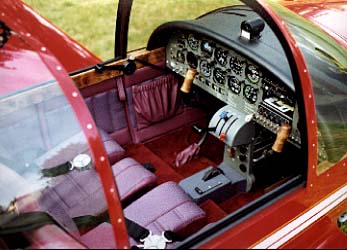 In 1978 I bought an old Bonanza, serial #12, which I have been flying ever since. Meanwhile, I got married, and my brother-in-law got me started building and flying radio controlled model airplanes. I built and flew several models, the last project being a fifth-scale Spitfire, with an 89" wing span. It took about a year to build, and I told my wife, the next time I put that much labor and love into an airplane, I want to be able to sit in it.
My first introduction to the Falco was the Sport Aviation article about Bjorn Eriksen in the October 1993 issue. With the similar lines and construction techniques to the Spitfire model, I sent for the information packet and was hooked. Since I'm always reading airplane magazines, it was a couple of months before my wife Tamara knew what I had in mind. I actually started construction of #1227 in February 1994.
I was comfortable working with wood, coming from a cabinet-making family, and being a builder by trade. From my experience with the Midget Mustang, I knew that building all the pieces takes too long, and you can lose interest. I bought the rib and spar kits to cut down on the building time. As I got into the construction of the tail, there were some questions in the back of my mind. I wondered how close to make the gaps in the control surfaces. We also received information on the West Coast Fly-In. We made plans to attend so we could see more than just the pictures and get some answers to my questions.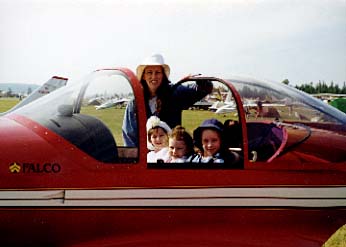 Tamera, Natalie, Shannon and Ginger check out the Falco.
I wanted to have the tail section well along so it would give me credibility at the fly-in. I shouldn't have been concerned. From the moment we arrived, the group made us feel part of the 'family'. Dave McMurray had his Falco to show off for the first time, so I tried to build mine as nice as his. I asked lots of questions and took even more pictures. Tamera got to ride first. Jim Slaton did a good selling job too, which is a big plus when your spouse supports your 'hobby'.
By the second West Coast Falco Fly-In we attended, the wing was well along, and I was looking ahead to what engine mount I should get. I had ridden in the 160 hp but would rather have the 180 hp. Our Bonanza has a good climb rate, and I wanted the extra power. Howard Benham had a 180 hp engine and had just completed his Falco earlier that summer. I got a ride with him and knew that was what I wanted.
I was really sorry to read in the next newsletter that he had wrecked his plane. Just by chance, in early December, I found out that his plane was being sold by the insurance company. With Benham's help, I got the whole plane, and trucked it from Kansas back to Seattle in January 1996. I was able to re-use his wiring, instruments, engine and propeller. This saved a bunch of money and at least one to two years building time. Having one to look at up close (through the splinters) saved me lots of headaches!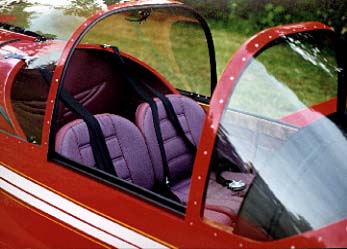 I started building the tail section in the basement workshop. This made it real handy as my wife had to only stomp on the floor when dinner was ready. The girls loved to come down and play in the ever-present sawdust and wood scraps. We live on a small airstrip adjacent to the housing development, so the wing section was set up in the shop area of our hangar. We had an intercom to communicate between house and shop, and the kids could still be close to Dad. The one daughter would often scold me if I was in the house and not working on 'her' airplane. She also thought it should be pink. No way!
When it came time for the fuselage, we had to move again. The shop was on the second story of the hangar. I had one of my suppliers bring a crane to move the wing out of the hangar, back up to a garage across from the house. My work truck and travel trailer got to set out in the weather for the next two years. When the finished project was ready to be moved back to the hangar, the biggest problem was getting 12' of Falco out a 10' door. It was real close-only pinched knuckles, no scraped paint.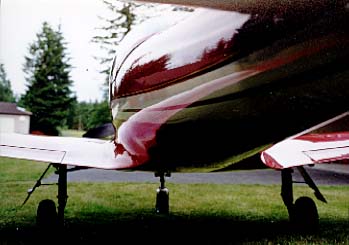 Falcos are pretty from any angle.
On May 1, 1999, we moved the two halves to the hangar, and the first flight was June 28th. I kept current flying the Bonanza until about ten days before flying the Falco. At each of the fly-ins I got rides with several different pilots. Last year I let it be known that I wanted some 'stick' time, and Larry Black saw that I got three take-offs and landings. He and John Harns encouraged me to do the test flights myself. I read the Flight Test Guide and Flight Manual a number of times.
I was quite nervous the day of the first flight. I thought about the airplanes I flew in the Air Force. I decided, if I could do that, then I can do this. Ten seconds after the power came up, our Falco flew off just as advertised. I needed to hold right aileron and right rudder, which was to be expected. My three youngest girls are excited about learning to fly in the Falco, and they took a little convincing that the 25-hour test period would take longer than just 2 days.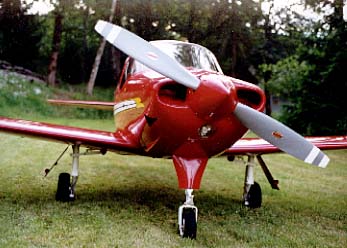 To date I have about 12 hours and 20 takeoffs and landings. Each time I feel better about the plane and the handling characteristics. I thought it would be similar to the Bonanza, but it's lighter on the controls and faster. The procedures (prop, gear, flaps) are similar. Our Falco took five and a half years to build, and I wondered if the flying would be as much fun as the building. Each flight I am enjoying the airplane more. I tried to pay attention to extra weight, so the airplane weighs 1,259 pounds empty, which pleased me.
It has the 180 hp engine with lightweight starter and alternator, S-Tec 20 auto pilot and full upholstery (heavy). I built my own wing fairing using balsa strips and graphite, extending it about 8 inches past the joint. I didn't like the extra bumps for the big engine so I built my own cowling, using graphite and Kevlar. I think this probably saved some weight. I used Aerolite glue throughout, as I wanted to paint the airplane red, after all, it's Italian and it's fast! The airspeeds to date have been very satisfying, but we look forward to flying along side the others in Durango in September.
The help, advice and encouragement received at the yearly fly-in's has been invaluable, along with the builders newsletters. I followed the advice of another EAA member, of trying to work at least an hour a day, if possible-my wife would say more-and not looking at the whole project but just one piece at a time.