| | | |
| --- | --- | --- |
| | Falco Out of Africa | |
by Brian Nelson
This article appeared in the June 2006 issue of the Falco Builders Letter.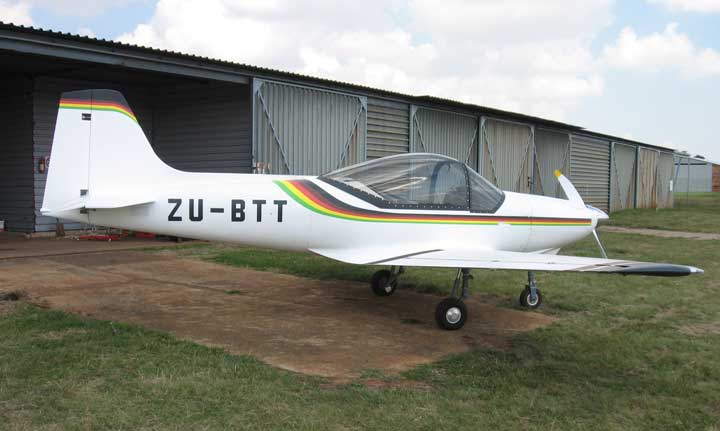 November 1983. That's when Brenda Avery kindly agreed to meet me after hours, on the way to her bowling evening, to load me up with three large tubes of plans and two fairly heavy files containing metal parts drawings and a builder's manual. The next evening, at Washington Dulles, I spent 10 minutes pleading with airline staff to let me keep it all as cabin baggage because I was so afraid it would go astray during my return to South Africa via London. They relented, and I got my wish. Flying business class certainly helped.
By the time I got home, I was in a 'blue funk.' How on earth was I going to build such a complicated aeroplane when I didn't understand half the plans?
In an effort to become more familiar with homebuilding (you know—how to beg, borrow and steal!) I purchased the first part of a KR2 kit from the South Africa agent who was a personal friend and spent the next four years taking that aircraft to about 60%. Late in 1987, I was on a business trip to England and met the Falco agent (Brian Fox) who removed some of my fears and fired me up. So upon return to South Africa I sold the KR2 and started on Falco No. 820 in January 1988 after building a 10m by 6m workshop for the purpose.
Well, here we are in 2006 and ZU-BTT had its first flight on Wednesday 15 March.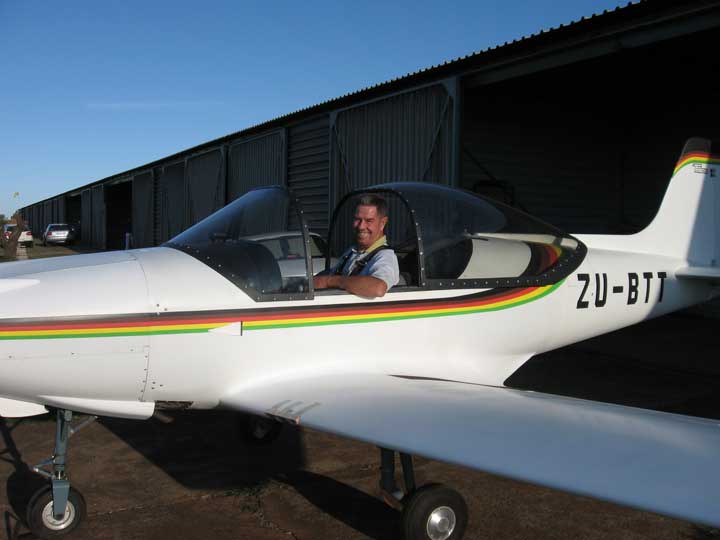 | | | |
| --- | --- | --- |
| | Test pilot Brian Zeederberg | |
In South Africa we are not allowed to test fly our own aircraft unless in possession of a test pilot rating and the specific type endorsed in one's log book so my longstanding friend, inspector and advisor—Brian Zeederberg—took responsibility for this. Brian is current World Tiger Moth (DH82A) aerobatic champion, was in the South African aerobatic team as both participant and coach for many years and is a highly experienced, competent test pilot with some 250 types on his license (but he is not one of those 'type collectors').
We arranged that, before his arrival at 15:00, I should spend Wednesday morning checking the aircraft to ensure that nothing had been overlooked. (You know, is there an engine in the front, etc.) The two of us had spent the previous Sunday going through the final inspection checklist, and I had been in the habit of inviting all and sundry to "feel free to criticise. I've got to fly in it eventually, and I would rather have hurt feelings than a quick passage to St. Peter's Gates."
Notwithstanding this, a final study seemed necessary to ensure my friend would not have to deal with some life-threatening situation. At about 14:30 Brian phoned to say he was running late—a message to be repeated twice more, each time with the assurance that he would be there, and that I should not get anxious. Strangely, I was not then, nor am I yet, emotional about the whole thing. I think I'm still so focussed on ensuring that everything is right that it may well require a few hours as PIC before the enormity of the achievement hits me.
16:00 saw Brian's arrival. He made me re-brief him on the cockpit switches, etc, then instructed me to join him for high-speed taxi runs. Generally following Al Aitken's test cards, these were carried out without any real trouble, but we returned to my hangar to adjust oil pressure up and increase idle speed.
All of this took place at Syferfontein airport (southwest of Johannesburg) so those of you who have Google Earth can zoom in and see what we look like. I'm the guy on the right hand side waving! Syferfontein is owned by the Johannesburg Light Plane Club, the second oldest active flying club in the world. We are at 5393' and temperature on this Wednesday afternoon was 22°C (72°F).
I had decided to have the testing done at home base because, although we have only a 3600' by 33' runway and no formal fire service, the topography of the area is far more suitable for emergencies than at the two local commercial airports, Lanseria and Rand. In addition, the logistics of transporting the aircraft to either of those two places and the subsequent housing for reassembly and inspection dictated a home effort. The final favourable condition was a large group of friends at Syferfontein whom I knew could be called upon if help was needed.
After restarting, taxiing and pre-takoff checks were completed Brian applied full power, released brakes and executed a delayed lift-off at 70kt and about 1600' of runway. A gentle climb at 500'/min was followed by some gentle turns and control checks with T's and P's being called out to a friend manning a hand-held radio. Gear remained down, of course, and after about eight minutes Brian decided to land as the oil temp was reaching into the upper quarter on the green. Landing was at 72 kt, and the runway was vacated at 2400'.
The Falco's handling was excellent (which I hoped it would be with an empty weight of 539kg/1188lb) but the snags which required attention were high oil temp, variable idle, and max rpm in the air of 2350.
I spent the next two weeks reviewing possible causes and after some remedial action which included increasing the air flow to the oil cooler, resetting the Ellison throttle body and resetting the magneto timing, the second flight, still with gear down, took place on the 2nd of April. This time the flight was 20 minutes before the oil temp reached high into the green. Revs had increased to 2500, and Brian throttled back so as not to exceed the gear down 108 kt.
| | | |
| --- | --- | --- |
| | Brian and Trevor Trautmann | |
Brian is rather anxious that I fit another oil cooler, but Trevor Trautmann, my engine expert and the man who supervised my work on the engine rebuild, insists that with only about 1.4 hours on the clock (mostly at less than 1800 rpm) this engine has still a lot of running in to do. The cylinder head temps are fine so I plan to continue as we are, watching for Trevor's predicted drop and stabilisation of oil temp.
Trevor is a former motor racing driver who set some of the fastest times in South Africa in a rotary-powered car. He was instrumental in Mazda solving the sealing problems they had and some of his ideas are incorporated in current versions of the engine. Just as Brian is the expert in the air, Trevor is my fountain of knowledge when it comes to engines—and cars in general.
The next flight is to be with gear retracted so I have started retraction tests (again!) to ensure that nothing has moved or gone out of alignment during the two flights and landings. By the way, earlier tests revealed that the nose gear could jamb on the screwjack. I installed two springs anchored to the tiller to centre the nose gear when it starts retracting and as a 'belt and braces' idea, screwed a wedge into the nose gear bay so that any off-centre condition would be deflected away from the screwjack. Fanie Hendriks had the same trouble and his (independent) solution was the same in principle.


Go back to Brian Nelson