A Family Affair,
the Nustrinis and the Falco
| | | |
| --- | --- | --- |
| | Syd Jensen's machine as Giovanni first saw it in the hangar. | |
My dream began to turn into a reality talks with Graham resulted in a cheerful change of hands that Syd no doubt would have approved of. The day came to pick TBD up, myself and George Richards arrived by Boeing and went straight to the hangar to meet Graham, obtain the neccessary type ratings and eat his picnic lunch.
The owner very sadly parted with the Falco, and very soon after first hearing of it, George and I took TBD home to the hangar at Ardmore where ZK-SMR, George's nearly finished Falco, was waiting for some company.
That evening TBD landed at Ardmore, just at civil twilight, after many social stops up the country. I pulled him up and parked him in the very same hangar where ERNA lived, and so it was time to start work on my Falco.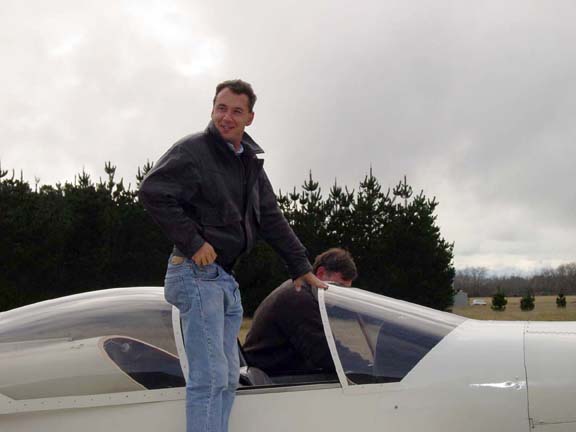 | | | |
| --- | --- | --- |
| | Arriving in Auckland with the Falco | |
When I took delivery of TBD, he needed a lot of TLC, both on the looks and on the actual airframe and engine, so what started as a simple 100-hr check turned out to be a top overhaul of the IO-360, removal of a whole lot of ancient radio equipment, replaced by more modern and lighter avionics and comms. He was all white, in fact, different shades of white! I could not resist the temptation of painting it the same colour that George had planned for his: yellow!
Then came the time to fly! Having spent a life flying ERNA with Dad, I expected a nasty, tricky, non-forgiving but fast machine. I was actually quite nervous!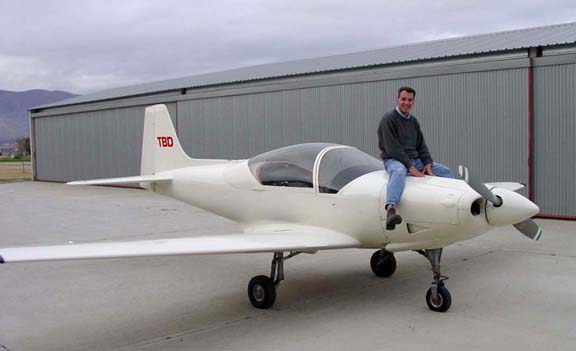 | | | |
| --- | --- | --- |
| | Being a Nustrini, he had to sit on it. | |
Well, well, the surprise came. What a teddy bear. What a simple, sweet, and easy machine it was! I could not believe how it responded honestly to everything I wanted him to do-a dream aeroplane! Certainly nowhere near as fast as ERNA, but showing all the potential for a considerable increase in speed.
Take-off is very straight forward, just full power, and you can feel the incredible acceleration, and then up, gear up, flaps up, and nose up and more and more. It felt like I was going up vertically! I turned to crosswind and then downwind where I met with a number of Cessna 172's operating with students almost non-stop at my airfield. Speed increases and increases until in no time I am doing 160 kts, the 172's just going backwards on my left! I was clear of the circuit pointing towards the coast into the blue sky with 25/25 and 165 kts. Not bad I thought! Still far from the almost 200 kts of ERNA. How did Dad do it? I am afraid we will never know.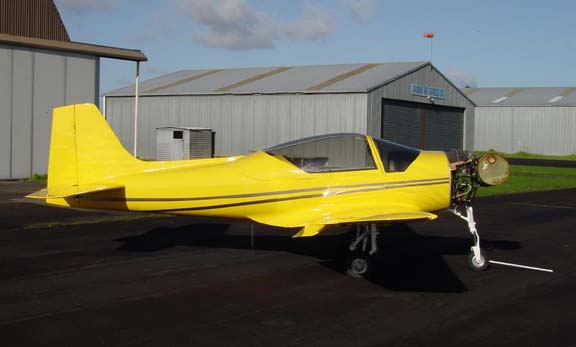 I opted not to replace the trim tabs on the rudder and aileron as I really like the clean lines, so I use rubber bands going from the stick and from the rudder pedal to the center consol. Looks basic, but it works. After all, my father won the World Championship with that system I thought!
On to some turns, gentle at first but not for long as the Falco really wants to be pushed all the way, so steeper and steeper until I felt I was inside a blade cutting the air.
The stability and incredible control of the Falco are unique. You put him in a turn, and he stays there. Perfect. He knows how to fly.
I have now realized that he is teaching me the finer techniques of speed, of control, he knows it all. You just have to learn and 'listen' to him through the stick. He will tell you everything!
After a few minutes of 'playing' it was time to come back and to land: the landing, I was always made very aware of landing ERNA as he did not like low speed. I expected the same from TBD, but no -- even more docile that I thought! Easy, responsive even at 70 knots, then 65, a bit of power on the flair, and then gently down, back on land. Truly awesome. I wish Dad was here to fly my Falco!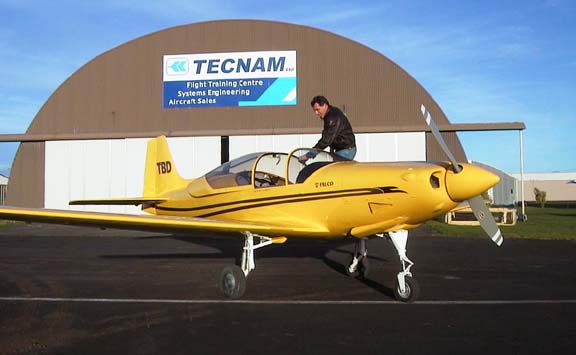 I now have about 50 hrs with him, and I am starting some gentle aerobatics. Again, beautiful, responsive and perfect.
Frati, you have designed the ultimate flying machine!
A few weeks ago I took my son, Alessandro (eight years old), up for his first flight in a Falco. Obviously he loved it, and after we landed and I saw the sparkle in his eyes, I suddenly realised that this was a very special day: the fourth generation Nustrini had flown in a Falco -- Alfredo my grandfather, Luciano, Giovanni and now Alessandro!
After much deliberation, and hours upon hours of thought, followed by work from myself and a dedicated team, and with the wonderful support, help and inspiration of George Richards, TBD now enjoys a very fulfilling life with me, and he looks so proud to be new again and where he belongs, in a loving Falco family.