| | | |
| --- | --- | --- |
| | First Flight of N767CN | |
by Bill Nutt
This article appeared in the March 2008 issue of Falco Builders Letter.
On Sunday, June 10, 2007, one week before father's day, Falco N767CN took to the air for the first time—the culmination of a 13+ year project with my Dad that I'll cherish forever. I was at the controls that day, with Charlie watching anxiously, acutely aware of the fact that I was reneging on a promise I had made to my wife years earlier—that I would hire someone else to make the first test flight. I'm not sure what she was so nervous about—after all, Charlie is a retired A&P mechanic, and I fly airplanes for a living, so it seemed like a good combination! As near as I can tell, I guess either: a) she still loves me, b) she doesn't trust our building skills, c) she doesn't trust my flying skills, or d) maybe I don't have enough life insurance. All kidding aside, Charlie and I have been fortunate to have had very supportive wives over the years—a key ingredient when you take on a project like the Falco—thanks Rita and Mom (Inez)!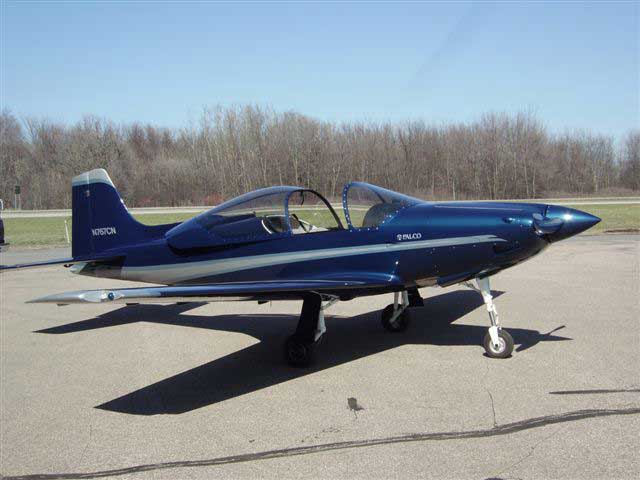 Charlie and Bill Nutt's Falco, the 88th Sequoia Falco
I guess you could say the genesis for the Falco started many years ago. Charlie grew up during the golden age of aviation. As a kid, he built and flew models. Later on, he learned to fly, got his pilots license, and enrolled at Parks College to get his A&P license. Afterwards, he landed a job with Pan Am as a professional flight engineer flying DC-7s out of New York. He bought his first new car—a sporty brand new 1958 Mercedes convertible, and an airplane—a Luscombe. Then he got married, had six kids and guess what? The airplane went away, and the sports car almost went away, and well, you know how the rest of that story goes… Charlie went on to survive the ups and downs of the airline industry while they raised us—sacrificing a lot to get six kids through college, all of us with advanced degrees.
I first remember seeing the Falco when I came home from college one year. Charlie had seen it and ordered the info packet. We talked about it briefly, but at that point it was simply a dream.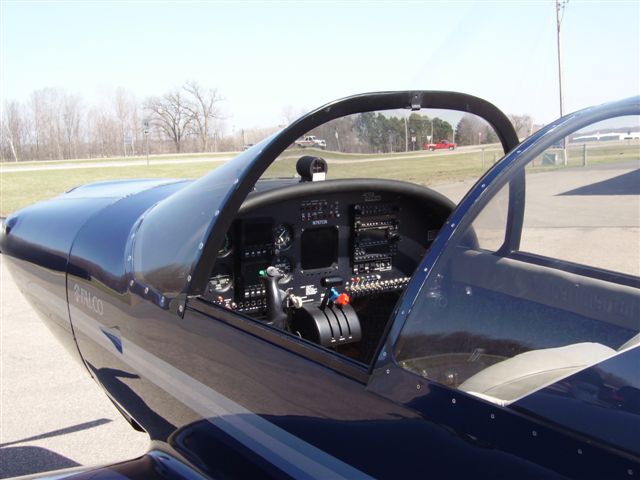 As for me, I've been interested in aviation for as long as I can remember. Dad used to take me to the airport as a kid to watch the airplanes take off and land. When I was 14, I had my first flying lesson, and I was hooked. It's funny, but I soloed and got my drivers license when I was 16 and Mom never told me to be careful flying, but always told me to be careful driving to the airport. I earned my private license at 17 and knew if I could get paid for doing this, I'd be a happy man.
Of course, with airline deregulation underway when I graduated from high school in 1979, I decided to go the military route. I was fortunate to get a four-year Air Force ROTC scholarship with a pilot slot to Embry-Riddle in Daytona Beach and graduated with an aeronautical engineering degree in 1983. (Coincidentally, I would meet Rita at a beach party on spring break, and we've been together ever since). I spent the next 14 years on active duty flying a variety of aircraft, but decided to get out in 1997 when the airlines were hiring, and I have been with United airlines ever since.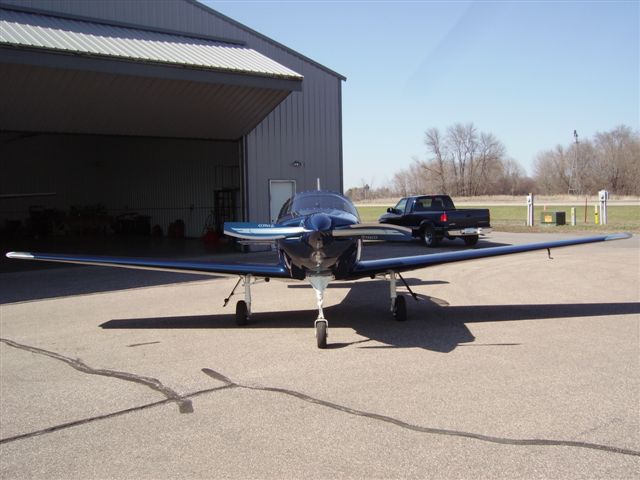 Around 1993, the dream of building a Falco rekindled. Charlie reordered another info packet and we discussed turning the dream into reality. We decided to take Mom and Rita out to a nice restaurant to "discuss" our plans—it's a good thing that I had two couches at home since we almost needed them. It wasn't a total surprise, of course, but when the wives get the calculator going on that price list Sequoia includes, it can take a little convincing…
We started by ordering the plans—serial number 1232—and Sequoia gave us a list of builders in the area. As it turned out, Bud and Peg Baker lived only 20 minutes away from where I lived in Dover, DE at the time. Bud and his son Tim had built a Falco (N4TB), but tragically Tim had died recently in another plane crash. Bud was getting ready to sell the Falco—along with parts they had to build another airplane. We purchased most of the wood to build our airplane along with an unfinished hardware kit (see, this isn't going to be so expensive after all!), and kindled a fond relationship with the Bakers at the same time.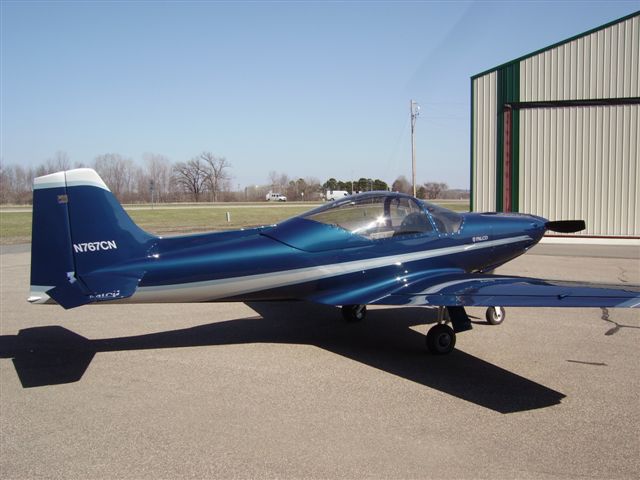 We set about building the small parts—Charlie worked on wing ribs in Minnesota, and I worked on the fuselage frames in Delaware and later Illinois. We spent time setting up our respective shops and got to the point where we needed a hangar. Charlie found a portable school building (24 by 30 feet) that the local school district was selling for 500 bucks and jumped on that. Since they live on 72 acres in Minnesota, space wasn't an issue, so up went a foundation. The only tricky part was getting it moved—we decided to take it apart and reassemble it on-site.
Everything went pretty well until we tried to get the last 30-foot wall down. Dad and I were on both ends, with my brother in the middle, rocking that wall back and forth. It got away from us—I jumped off my end, my brother jumped through a window opening and the wall came crashing down on Charlie. Fortunately he knocked out a stud which helped a little and my brother said "we just killed Dad". We picked the wall up and sent Dad home bloodied from the nails that gouged his back, with a swollen ankle, and in shock by the time he got home. Needless to say, Mom wasn't too happy with us that day. All turned out well, and we were soon in business with a heated and air-conditioned "hangar" that the Falco would slowly take shape in over the years.
Starting the engine for the first flight
During the construction, we didn't set any specific timetables other than to make steady progress. We decided to enjoy the building process along with our time spent together. We followed the plans as closely as possible, and built all of the wood parts, including the spars. We also copied many of the great ideas we saw at Oshkosh, the fly-ins, and on the website; and even added a few original ideas of our own.
By the spring of last year, Falco N767CN was in primer and looked "almost ready" to fly. Glyn Russell had told us once that the last two percent seems to take forever, and he wasn't kidding. We debated painting it ourselves, but Rita and Inez convinced us to have it painted professionally. Similar to Dan Dorr's story, it would be at the paint shop for over five months, but we were extremely pleased with the final result—WipAire had done a beautiful job.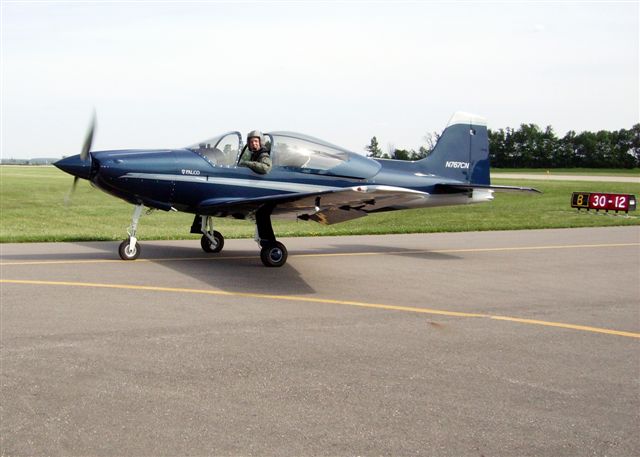 As it turns out, the delay gave us a chance to close up the gap between the spinner and the cowling, close up the cooling inlets slightly, and most importantly move the NACA inlet forward (Dave Nason kept telling us to do that, and we decided we couldn't face him if we didn't do it!). We did a little research on NACA inlets and found the Falco inlet as designed was very close to optimum—we lengthened it slightly and added a small airfoil at the inlet lip which is supposed to be very important. It's too early to tell, but Dave says moving the inlet forward gives him an extra inch of manifold pressure, so I think it's a worthwhile (and relatively easy) modification.
Our Falco weighed in at 1349 pounds with an empty CG of 64.4". It was a little heavier than we had hoped for, but we installed a lot of equipment to include the "high Nustrini" canopy, inverted fuel and oil systems and full gear doors. I'm sure the paint job and interior (leather) added a fair amount of weight, although we didn't weigh it before it was painted. We installed an Eagle Engines XTREEM 360 (Superior IO-360-B1E2) with LASAR electronic ignition system, lightweight starter and two alternators. We installed an Aerocomposites ACI-2250 constant speed propeller which required some design work to get the hub length and spinner design set up for the Falco, and we are very pleased with the final result.
We decided to get rid of the vacuum system and went all electric with triple redundancy to an essential bus powering dual Blue Mountain EFIS Lite G-3's, GTX-327 transponder, SL-30 NAV/COMM, VM1000C color engine monitor, floodlights, gear indicator lights, and turn coordinator. The rest of the panel is stock Falco and we rounded out the radio stack with a Garmin audio panel and GNC 300XL GPS/COMM.
About two years ago, as we discussed the stall characteristics of the Falco, we decided to install an AOA professional angle of attack system—a worthwhile addition we'd highly recommend. Once calibrated, it provides aural (through the headsets) stall warning in both the clean and landing configuration, an additional landing gear aural warning and provides L/D max and optimum AOA information during maneuvers and approaches.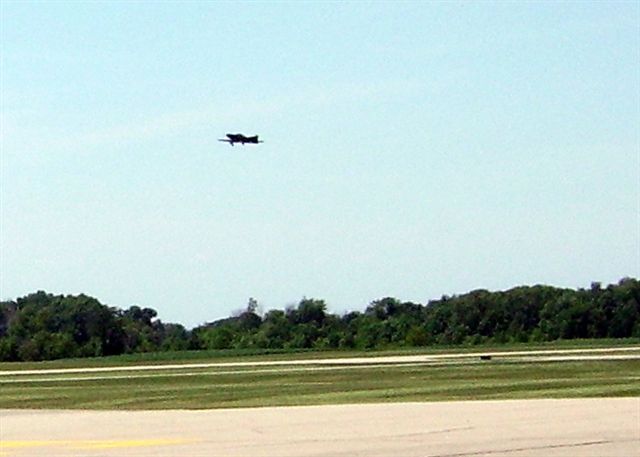 By April, we were ready to go. We contacted the local designated airworthiness representative (DAR) recommended by our EAA technical counselor. With the paperwork set, we figured it would be a quick and easy sign-off for N767CN. I had reserved the N number the previous year—the CN part was easy for me—my Dad's initials, but searching the FAA database for some meaningful numbers was more difficult. In the end, I settled for the airplane I currently fly for United. We had our aircraft registration from the FAA.
As it turned out, this was unacceptable to the local MIDO inspector—his interpretation was that only one name can be listed as the manufacturer. The FAA in Oklahoma City insisted what they had done was correct. In the end, our local guy wouldn't budge and release our paperwork to the DAR until we re-registered our Falco. How a local MIDO inspector can override the FAA was beyond us, and in the end that fiasco set us back several weeks. The good news was that our final inspection and sign-off went off without a hitch.
In early June, we were finally ready to fly. I spent three days in Minnesota but the winds wouldn't cooperate (strong, gusty cross-winds), so we decided not to chance it. I felt ready to go—Larry Black, Dave McMurray and Dave Nason had given me some stick time a couple years ago at the West Coast fly-in in Redding, CA. In May, I had a layover in Seattle, and Dave Nason took me up again for a bunch of landings and stalls which was invaluable—thanks again Dave and Tamera!
On June 10, 2007, I was back in Minnesota for another attempt—the winds had subsided somewhat—still a quartering crosswind, but acceptable. I was ready to go—nomex flight suit and gloves, my Air Force helmet, parachute (my birthday present), and Al Aitken's flight test cards. I studied and followed the advice in the Falco Flight Test Guide, and as advertised the flight was almost a non-event.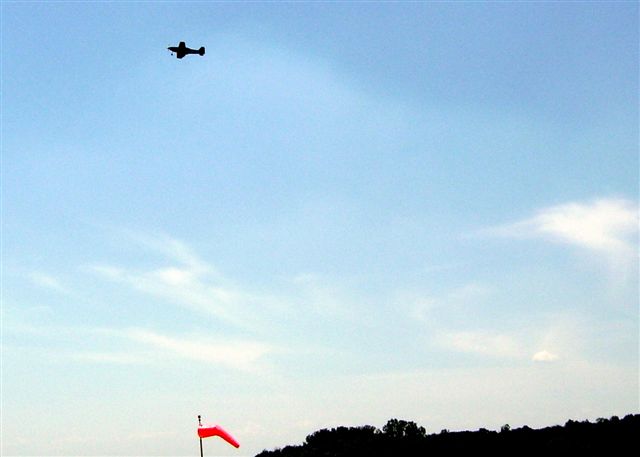 The takeoff was quick—with over 195 horsepower (according to Eagle engines) and that prop, I was off the ground before I knew it. It needed a good stomp of right rudder, and I realized that I've gotten lazy feet flying jets. Charlie was surprised at how high I was by midfield, and the pictures reflected that. I stayed over the field, flew the flight test as planned and landed after about an hour. It wasn't until after our Falco was safely tucked back into the hangar that the emotion of that first test flight and what we had been through hit me. I didn't show it much, nor did Charlie, but I'm sure we both felt the same way.
To date, we have about 15 hours flown off in the FAA-mandated 40-hour flight test program (non-certificated engine/prop combination). The engine and propeller are running strong and smooth. The VM1000C engine monitor does a nice job of tracking engine performance. CHT's climb into the low end of the yellow arc during slow, extended climbs on hot days, but remain around 380 degrees most of the time. Oil pressure is steady around 72 psi and the oil temps are consistent at 185 degrees. The left wing was a bit heavy—we re-rigged the ailerons slightly and added a small three-inch long wedge to the right aileron to balance things out. It also takes right rudder to keep the ball centered at cruise power settings, so we'll add a trim tab to the rudder next. We didn't install stall strips on the wing, but I get slight, but noticeable feedback in the stick 3-5 knots before the stall.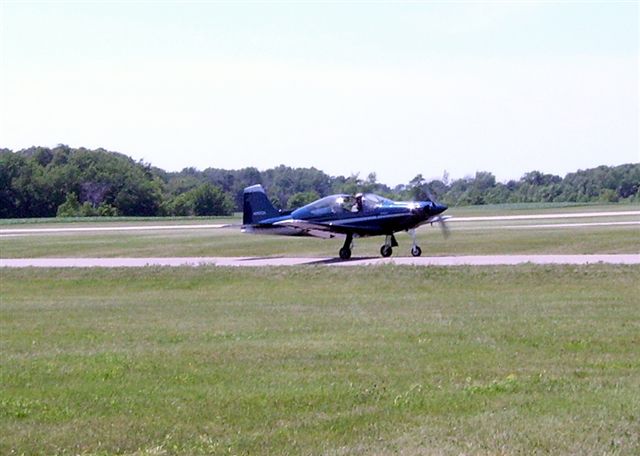 Taxiing back after the first flight
I haven't taken it much past approaches to stalls, but I see 66 KIAS clean and dirty (flaps 20 degrees) with slight wing drops in both directions. Now that the AOA system is calibrated and once we get the rudder trimmed a little better, I'll explore the stall envelope more fully. I retracted the landing gear on the third flight test, and it really is like taking the brakes off. In level flight at 5,500 MSL on a hot day at 24.7" MAP and 2500 RPM, the Falco accelerated quickly to 178 KTAS on the EFIS's (or 205 MPH if my calculations are correct). Not sure if that's particularly fast or not, but we're hoping for more once we get the gear doors installed and reduce some of the trim drag. So far N767CN is flying like the other Falcos that I've flown—a joy to fly with the utmost of ease. It definitely takes a light touch, gets very dirty with the gear and flaps down, and builds speed quickly in a dive.
Charlie and I are hoping to get it to Oshkosh later this month, so I'll be flying it on most of my days off. Al Aitken has graciously offered his services to help us and will be flying it when I can't. Wish us luck and hope to see you at Oshkosh with our airplane this year.
As I stated earlier, Charlie and I owe thanks to many people in making our dream come true. First and foremost to Inez and Rita—without your support and encouragement it never would have happened. We know it wasn't always easy, but you never wavered in your support. To my three daughters—Vanessa, Caity, and Jackie—who gave up time with their Dad almost every month so I could travel to Minnesota to spend time with my Dad and work on the airplane. I hope we can create memories of our own in the future flying our Falco.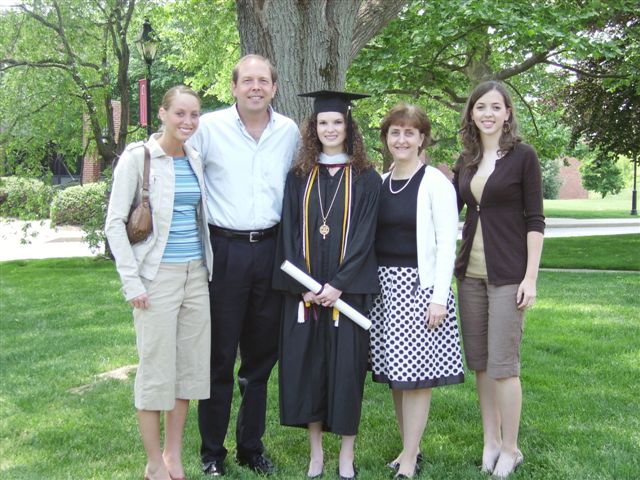 Caity, Bill, Vanessa, Rita, and Jackie at Vanessa's college graduation.
To Alfred, Susan and Sequoia Aircraft for the help and support over the years in providing the best homebuilt aircraft in the business.
Finally, to all we've met over the years that have provided friendship, help, encouragement, and ideas. Charlie and I tend to be quiet by nature, but consider ourselves fortunate to be part of the Falco family.