| | | |
| --- | --- | --- |
| | Charlie and Bill Nutt's Falco F.8L | |
by Jack Cox
This article first appeared in the Spring 2009 issue of Sportsman Pilot and then in the June 2009 Falco Builders Letter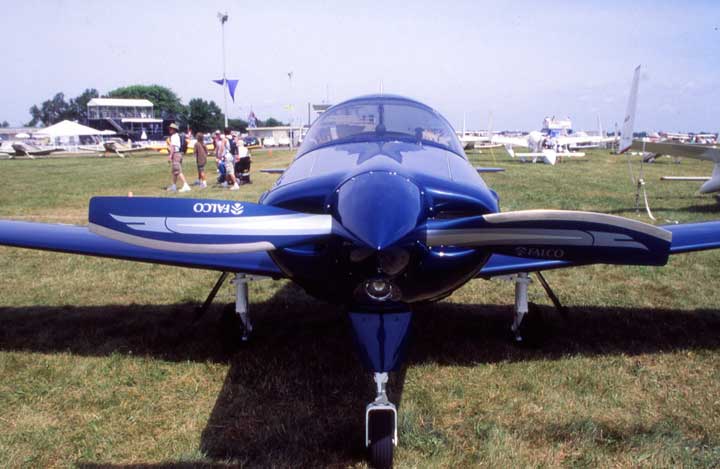 The sleek two-tone blue and silver Falco F.8L that won the Reserve Grand Champion award for Plans-Built homebuilts at Oshkosh in 2007 was back again last summer, and I was finally able to catch up with the owner/builders, the father and son team of Charlie and Bill Nutt. The unusual part of the story is that Charlie Nutt lives in the little town of Montgomery, Minnesota—where the Falco was built—and his son, Bill, lives in Magnolia (Dover), Delaware.
Charles H. "Charlie" Nutt was born in St. Paul, MN but grew up in Iowa. Early in life he became an airline mechanic and would spend the next 38 years on the roller coaster ride that profession has always been. He started out with Ozark Airlines, then switched to Pan American where he was a flight engineer for several years—until, inevitably, he was laid off. Next came employment with National Airlines, but after about a year, he was laid off once again. By that time he had married, so he and his wife packed up and moved to San Francisco where he hired on with United as a line mechanic. He worked there for four years then transferred to Minneapolis, only to fall victim to a reduction in force which put him back on the street… but not for long. He signed on with his original employer, Ozark, worked in Minneapolis for a year, then transferred to St. Louis where he spent five years as a maintenance controller. At that point he transferred back to Minneapolis—because he thought it was a better place to raise his children. He and his wife, lnez, had six children in eight years, so going back to their home area was a major consideration. TWA eventually bought Ozark, so Charlie finally ended his working career, in 1993, with that airline.
Charlie learned to fly in 1948 and soloed in an Aeronca Champ. While working for Pan American, he was based in New York where he and a friend bought a Luscombe 8E. After he was laid off, Charlie flew it back to his boyhood home in Iowa and eventually sold it.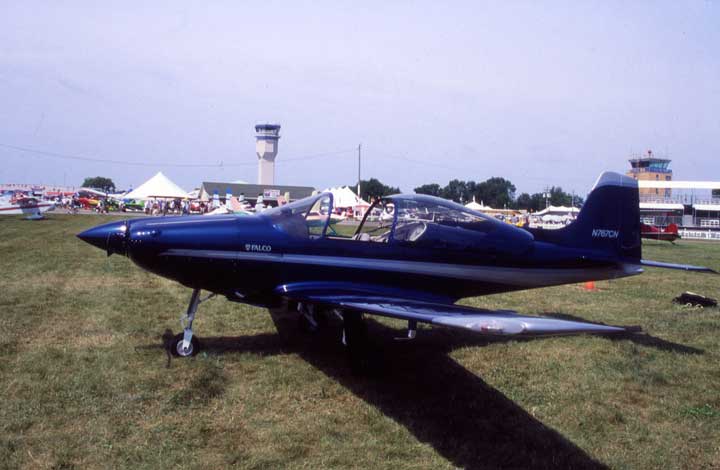 "After that, I flew a Piper Colt a little, but I sure didn't like it. I grew up on taildraggers and that tricycle gear thing just didn't seem right. They don't land right—it's more like a crash. No finesse, it seems like, to land one. Anyway, when our children started coming along, that was the rest of my life."
Asked about his children during our interview at Oshkosh last summer, Charlie said, "I have been lucky. I couldn't ask for any better children. They are all college educated and are very productive citizens. I have my oldest son here with me, so I'm a happy man."
That oldest son was his partner in the Falco—William "Bill" Nutt, who got an early start in aviation courtesy his dad.
"With me being in the airline business, William (as Charlie calls him) took an early interest in flying. When he was around 12 years old, I asked him if he would like to fly. He said he would, so I told him that when he was 14 and had graduated from the 8th grade, I would take him to the airport and have an instructor take him up. I did that. I told the instructor I wanted him to take my boy up and give him a decent ride—not just one of those around-the-pattern things. He took him up for about 20 minutes or so, and afterwards I said, 'What do you think—still interested?' He was, so I told him that when he got to be 16, he could get a summer job at the Green Giant packing plant in town and use his earnings to take flying lessons.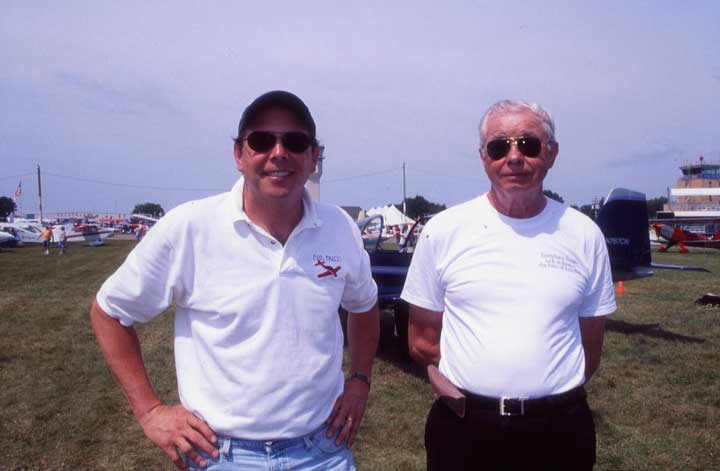 "The airport was about 30 miles away, so I bought him an old 350 Honda motorcycle to get there. He soloed in a Cessna 150 and built up his time between his 16th and 17th years. When it came time to do his written test for his Private ticket, I told him I wasn't going to let him go to one of those weekend cram courses. I would buy the books and manuals so he could study and do it the right way. He was a good reader—always was—especially in anything in the mechanical field. When I brought things home, like a lawn mower or something that had to be assembled, and pulled out the manual, he would say, 'Let me see that.' Then he would do the assembly. From the time he was about 14, I let him do that sort of thing. I even let him tune up my car! I had a little Datsun pickup and one day I bought plugs, points and condensers and said, 'Here, son, I'm taking the other car to work today, see if you can tune up the pickup.' When I came home that evening, he was standing there by the truck just smiling away. He had it all squared away."
Bill came out of high school with an Air Force ROTC scholarship and enrolled at Embry Riddle in Florida. Always trying to excel, he was one of the few graduates in his class to get a regular Air Force commission—and a pilot's slot in helicopters.
"He won his wings flying helicopters," a proud father recalls, "and graduated at the top of his class. I was the only dad in the whole class who was granted the privilege of attending and pinning on his son's wings."
Bill instructed in Air Force helicopters at Fort Rucker, AL for four years, then transitioned to fixed wing aircraft at Vance AFB at Enid, Oklahoma. For the next five years he flew C-5s out of Dover AFB in Delaware, which included participation in Desert Storm. His next assignment was a staff job in the headquarters at Scott AFB in Illinois, which led to his decision to leave the Air Force after 14 years and become an airline pilot. He was subsequently hired by United Air Lines and because he wanted to continue to fly in the Air Force Reserve, he and his family moved back to Delaware, near Dover AFB. Today, he is a first officer on the 757 and 767, flying out of Washington, DC. That move took place 11 years ago, which is about the life cycle of the Falco he and his dad built.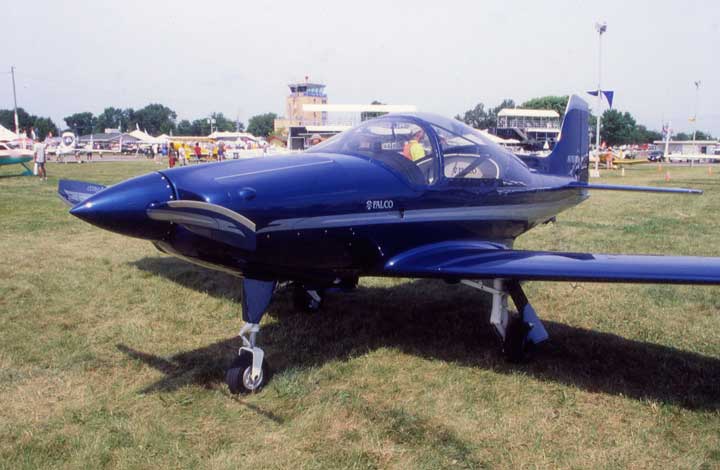 The desire to build a Falco came about when Charlie Nutt saw a picture of one in a magazine ad. He was so impressed with the appearance of the airplane that he ordered an information kit—but with kids in college he had to put the idea of building one on the back burner. Son Bill knew about his dad's interest in the Falco, so when Charlie retired in 1993, he suggested that they build one together. Charlie was more than receptive to the proposal.
The Falco kits were looked into, but they decided to build from scratch. Luckily, they were able to purchase the wood from another Falco builder for about half price, so the project was a go.
Charlie started building ribs in his basement the first winter, but eventually moved the project to a workshop he and his wife, Inez, had fashioned out of a portable classroom he had been able to obtain. Work progressed slowly. Charlie worked by himself most of the time, but every month Bill would fly jump seat to Minnesota and spend three or four days working with his dad.
The all-wood airframe was built "probably 98% stock," according to Bill, but like most builders, the Nutts began to go their own way when the engine and systems began to go in. They did buy the landing gear, bubble canopy, cowling and the fiberglass parts from Sequoia Aircraft but, for example, they decided to install a 180 hp rather the 160 Lycoming for which the company cowling had been designed. That required some modification to accommodate the 180. Their engine, a Superior I0-360-B1E2, was built up for them by Eagle Engines in Redding, CA. It was fitted with a Lasar ignition system, a B&C 60-amp main alternator, plus a B&C eight-amp standby alternator, and a SkyTec high torque inline starter. A Christen inverted oil and fuel system was also installed. Eagle Engines' sister company, American Propeller Service, built up their propeller—painted to match the airframe.
Early on it was decided that Bill would build up the instrument panel at his home in Delaware. He ordered the electrical kit from Sequoia Aircraft, which he found to be of very high quality with color-coded wiring and gold-plated pins and sockets, and ordered and installed instruments as his budget allowed. As time slipped by, however, and electronic gadgetry advanced by leaps and bounds, Charlie and Bill decided they had to have an EFIS in the airplane. As a result, the first panel was scrapped and a new one of Bill's design was built—featuring a Blue Mountain EFIS. Bill also added an angle of attack indicating system.
"I highly recommend an angle of attack system on the Falco. Its stall characteristics are such that you don't get a lot of advance warning. A lot of builders have added stall strips on the wing's leading edges, but we decided not to do that, choosing the angle of attack system instead. It works wonderfully, and I really enjoy flying with it."
For an airplane based in Minnesota, it seemed prudent to provide as much cabin heat as possible, so eyeball vents were built in at the sides of the instrument panel that can be aimed at the pilot and passenger.
Sequoia Aircraft offers two bubble canopies for the Falco—a standard model and the lower, sleeker racing canopy developed in Italy by Luciano Nustrini. Everyone likes the looks of the Nustrini canopy, but many, such as Charlie and Bill who are both over six feet tall, find the head room to be virtually non-existent. Regardless, the Nutts opted for the Nustrini canopy and incorporated some significant modifications to make it usable. That involved extending the sidewalls of the fuselage upward by about an inch and a half, repositioning the windshield bow a bit, reworking the canopy skirt and raising the dorsal fin by about an inch and a half.
Throughout the long project, Charlie and Bill were attending the EAA Convention at Oshkosh each summer. According to Charlie, "We had a chance to view a lot of other people's airplanes and get ideas. We have to give a lot of credit for this airplane to Dave Nason of Kent, Washington. His past Grand Champion Falco was the inspiration for a lot of things we incorporated in ours. Dave is such a nice, personable, knowledgeable guy and so willing to help you with any questions you have—when you see his Falco, you know he is a master craftsman."
Oshkosh also provided the inspiration for the Falco's beautiful paint job. While walking through the Fly Market one day, Charlie happened to notice a display of color samples in a paint dealer's booth—aluminum plates sprayed with complimentary colors. One really grabbed Charlie's attention—dark blue with a light blue and silver stripe. Both he and Bill liked it so much that they asked the dealer to send it to them after the show—which he did.
According to Bill, he and his dad had originally intended to paint the airplane themselves—but were talked out of it by their wives!
"They said as much time, effort and money as we had put into the airplane, they weren't sure we would be happy with a homemade paint job—and they were right."
As events transpired, the Falco was taken to a company at Fleming Field in South St. Paul, MN, had it painted and had the cabin upholstered. The paints were high quality automotive products. The dark blue was a Toyota color, the light blue a BMW color and the silver a Mercedes color. The seats and parts of the cabin sidewalls were covered with light gray leather and the lower sidewalls were covered with upholstery fabric to save weight. The word experimental was embroidered into the upper sidewall leather panels and the Falco logo was embroidered on the aft cabin bulkhead covering. Bill and Charlie were very pleased with the paint and upholstery work and it was much admired at Oshkosh when it was displayed there for the first time in 2007.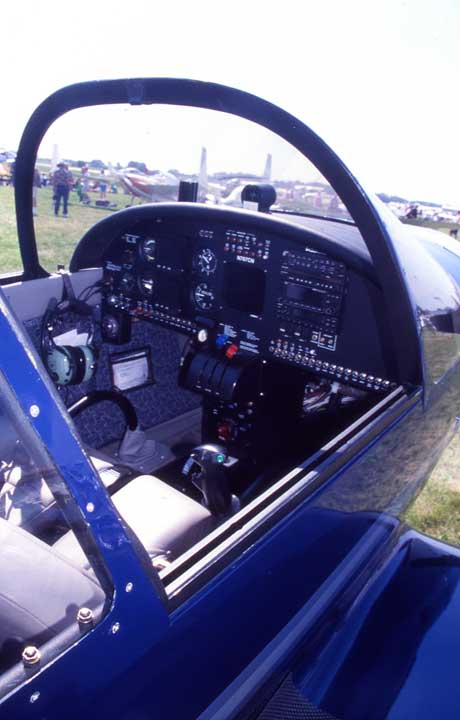 When completed, N767CN was found to have an empty weight of 1,349 pounds. Gross is 2,250. Bill would be the test pilot.
"My wife, Rita, made me promise years ago that I would not do the initial test flight, but I reneged on that promise. I'd been flying long enough to realize I needed to feel comfortable with the Falco before making the first flight, and I was fortunate to get some stick time with Larry Black and Dave McMurray in their Falcos in California and with Dave Nason in Washington. I happened to have a layover in Seattle just a couple of months before we were ready to fly our airplane and Dave and I did a bunch of stalls, takeoffs and landings. Based on how I felt then, I decided I could do the test flight. Rita bought me a parachute—I think she was still nervous—and I didn't take any chances. I wore my Nomex flight suit, gloves from my Air Force days and my helmet—and, happily, the first flight was pretty much a non-event. Al Aitken, a retired Marine Corps test pilot and a Falco builder, had designed flight test guides and cards, so I followed them. I took it up for about an hour and left the gear down as recommended. We had a brand new engine so I tried to keep the power up. I pretty much circled over the field, did approaches to stalls and then landed.
"Successive test flights built on the first one. I raised the gear on the third flight. Initially, I was seeing about 178 knots at 75% power at 5,500 feet. Over the winter of 2007/2008, Dad and I put all the gear doors on, then just before Oshkosh 2008, we took it up to 7,500 feet, calibrated our Vision Microsystems engine monitor and found we were getting 178-179 knots true at 73% power—which I think is on par with most of the Falcos out there with 180s and Hartzell props. We have 55 hours on it now (this was at Oshkosh 2008) and it has just been a joy to fly. Just takes two fingers to fly."
The Falco is based at the Faribault, MN airport, which is a pretty long haul for Bill to get to fly it.
"And an opportunity to visit my parents," he says with a smile.