A Falco Pilgrimage,
Oshkosh to Chino
by George Richards
This article appeared in the September 2013 issue of the Falco Builders Letter.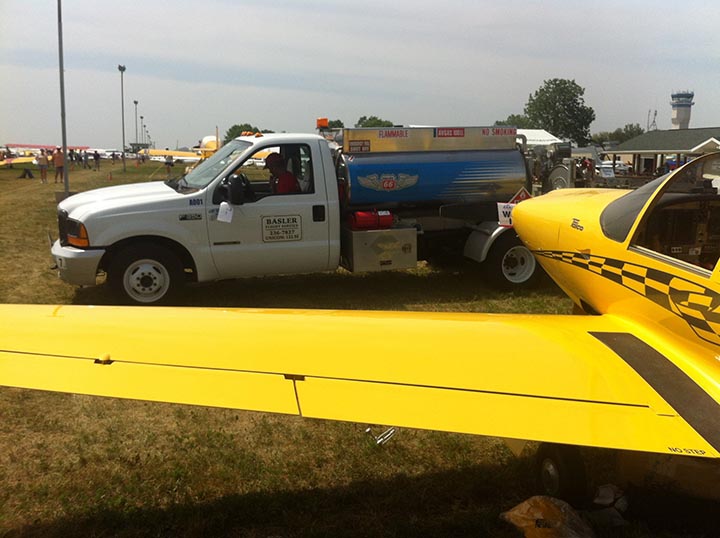 Refuel at Oshkosh prior to departure
Day 1: Oshkosh to Stillwater, MN
Oshkosh itself is different things to different people. To me it was people, shopping and static displays. I can honestly say I didn't watch the air display.
What made it a little strange for me was the small amount of celebrity status I seemed to earn which I was a little uncomfortable with. I found myself being interviewed several times. I even had a short slot on EAA radio. It's not something I would normally volunteer for but I enjoyed it this time. The highlight was meeting Budd Davisson. All through my training I had read articles by Budd so to be interviewed by him was a real honour for me. He did the process justice by publishing a fun article of my trip in EAA Experimenter magazine.
By Thursday, Darryn and I had seen enough crowds and had enough of the 40 degrees C heat so we decided to leave. By mid-morning we had the Falco fueled and ready to go. We dragged it down to the flight line, fired it up and taxied out for departure excited about our Westbound vacation. The flying to date was mainly to get the machine to Oshkosh but the return journey was to be slightly more leisurely to enjoy the sights.
We got lined up next to a Zenair which would lead us out. If you've never flown the Oshkosh departure before, it calls for an immediate right turn of about 150 degrees to a heading at 500' AGL to remain below the inbound aircraft until clear of the Class D then they cut you loose. When you have a Zenair immediately in front of you it's not long until you blow by it. It's so much fun it's probably illegal. The problem is that the class D is quite small and once you're clear they don't want to know. We got spat out of the system heading 150 degrees but needing to go pretty much on a reciprocal to get to our first overnight stop at Lake Elmo. The OSH arrival ensures there is a string of traffic above you stretching way to the south. We figured the safest option for us was to stay at 500' AGL and under fly the inbound daisy chain of aircraft until the fun wore off then we expedited a climb through to 250'. It seemed to work great and we still had the smile on our faces late into the night.
The lower altitude we selected for headwind avoidance gave us a great view of the pretty little lakes as we tracked North West on our short 1:30 flight.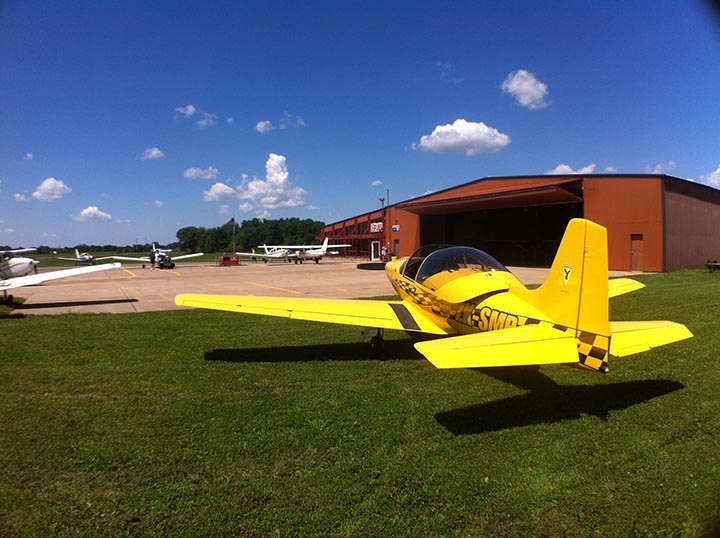 Parked at Lake Elmo airport at Stillwater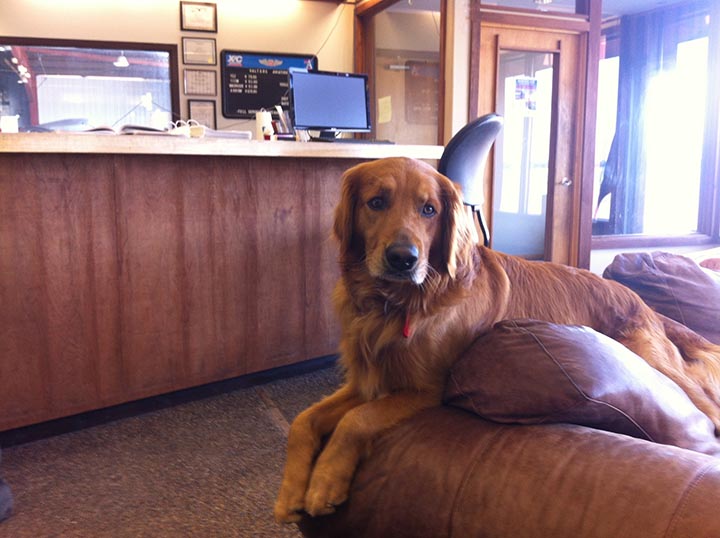 Lake Elmo FBO dog
Lake Elmo itself is an immaculately groomed and cared for airport. Gatus, the owner of the Valters Aviation, the local FBO couldn't believe it. He'd never seen a Falco there before but here was the second one in two days. (Duane and Mary had been there the day previous)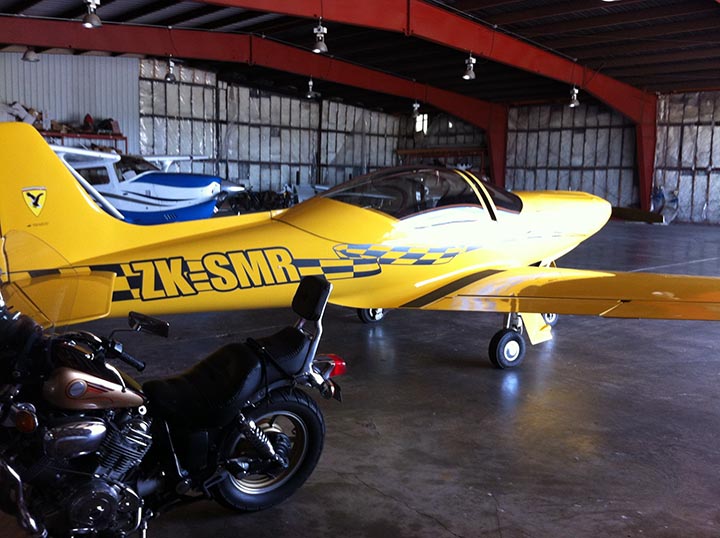 In hangar at Lake Elmo airport
The welcome extended by Gatus was second to none. He offered us a parking spot in his hangar and instructed his staff not to accept payment. He told us to put our bags in the car outside and then he drove us into our hotel in Stillwater. It's not an inconsiderable distance in to Stillwater and even along the way he was offering to stop for ice cream. He didn't want payment but when we discovered that he had hijacked the instructor's car for the ride, Darryn insisted on passing on a few bucks for gas for the owner at the very least. We all know what it's like climbing the aviation ladder.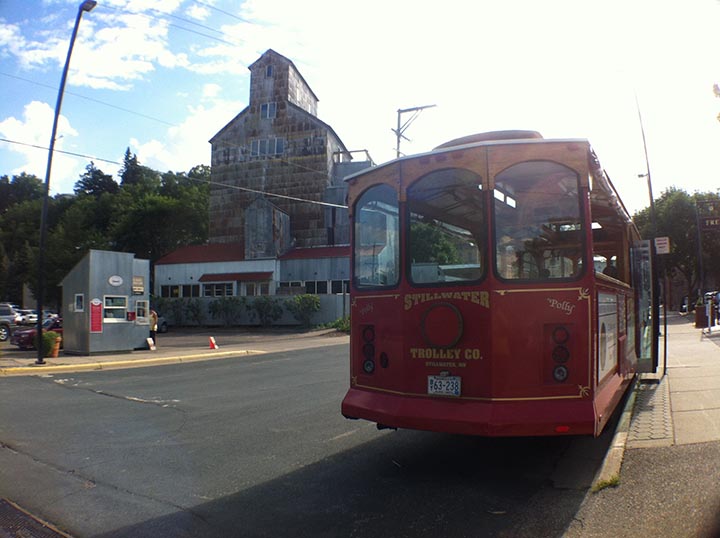 Stillwather trolley bus
After a brief rest in our our hotel, which was a replica of George Washington's house, we went for a walk for some lunch then toured the town on a guided trolley bus tour. What a lovely town. Rich in history. A logging town that eventually went broke as nobody thought replanting would be necessary. The mansions are beautiful and the town is very quaint sitting on a river that separates Wisconsin from Minnesota.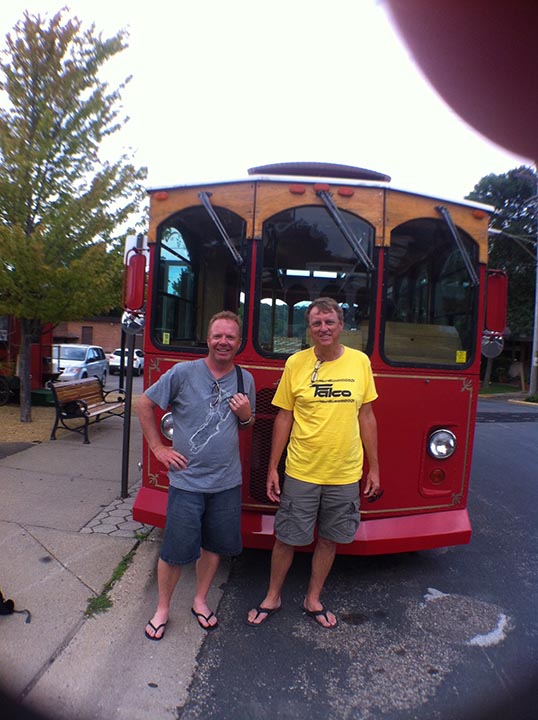 Stillwater tour
We really enjoyed our stay in Stillwater although the hotel we chose was probably preferable to share with your significant other especially since the bathroom door, well the whole wall actually, was just a curtain that was a touch too short to fill the gap.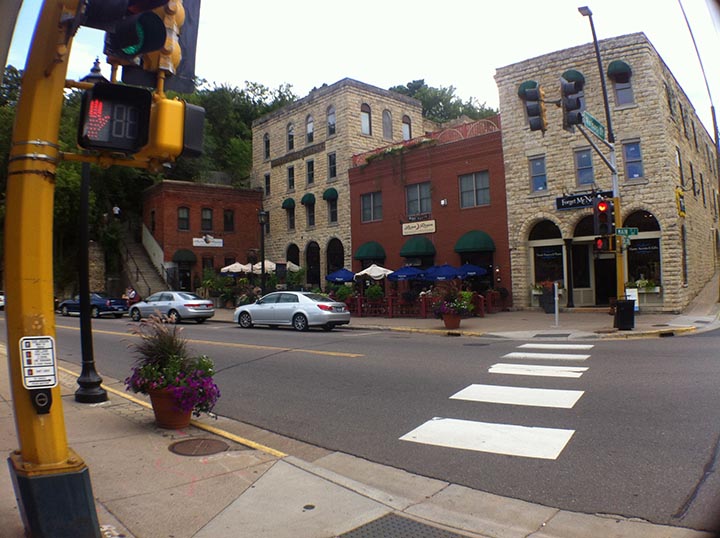 Historic Stillwater
The next morning we did our usual early thing and woke up to a fairly low overcast. We kept moving anyway with usual morning preparations but before calling the taxi we walked back into the little town in search of caffeine. We found a fun little cafe and got our morning fix before wandering back and checking out.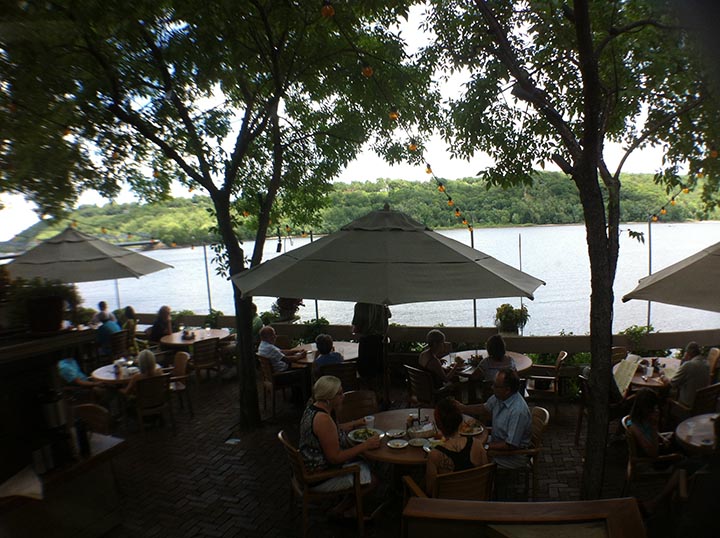 Lunch at Stillwater
Back at the Valters Aviation, the plane was waiting for us in the hangar. The owner again refused to let us pay for the night in the hangar then left to go to the doctor.

Go back to George Richards