A Falco Pilgrimage,
Chino to Oshkosh
Day 6: Jackson to Cedar City UT
Back at the FBO Darryn had everything all set so we walked along the line of business jets to our ride and got it ready for departure. At 7:30 local Darryn was pushing the throttle in as it was just starting to hail lightly at the arrival end of the runway. We rolled clear of the weather on the takeoff roll and climbed into beautiful clear skies.
At our selected cruising altitude of 8500' we were below the tops of the terrain but it was fairly easy navigation through some fairly mild and wide valleys. The scenery as we headed south from Wyoming into Utah was absolutely beautiful in the morning light with nature showing us all the colours of the rainbow in the terrain as it slipped on by.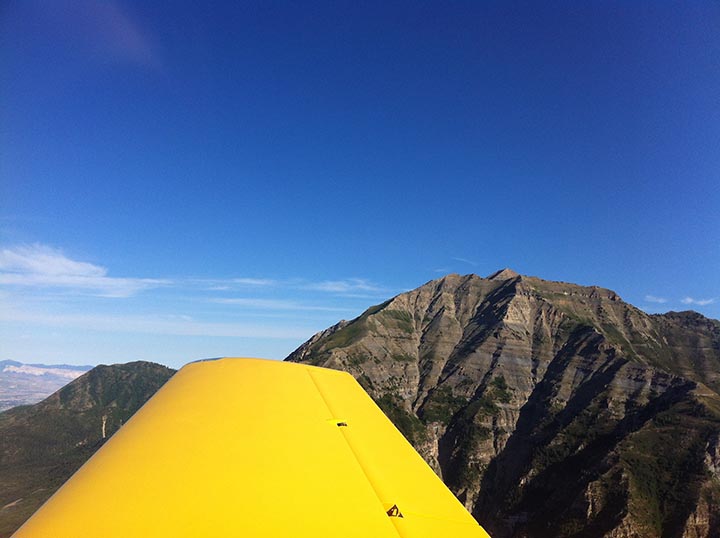 Through Provo Canyon
Our destination had changed. Initially I had planned Provo but everyone we told about it could only respond with 'Oh'. That did it for us. We changed the day's destination to Cedar City, Utah, which was initially only an alternate. This particular flight was bound for a tech stop in a little town called Nephi. I had chosen this as a tech stop earlier since Provo was charging around $6.70 a gallon for 100LL but Nephi, just 10 minutes further on was down at around $5.25 provided you pump it yourself. That was good enough for me. I mean the gas at any price is cheaper than home, but there is no point in throwing money away. And anyhow, we prefer the smaller town to stop at anyhow.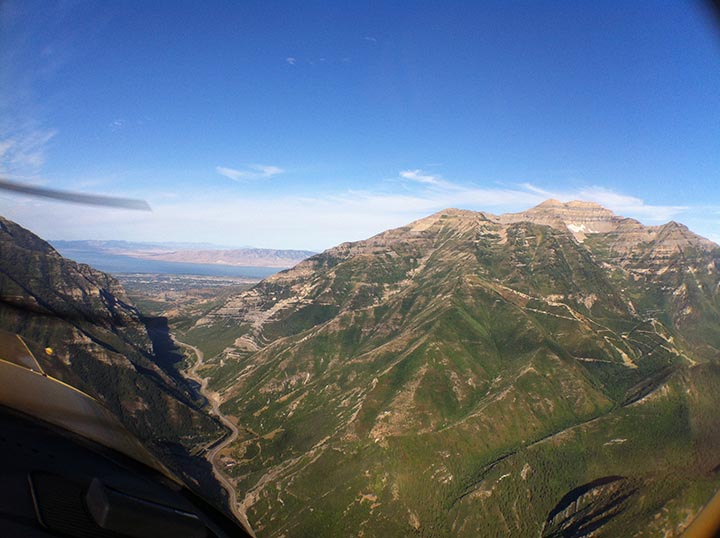 Looking through Provo Canyon, Utah
As we approached Provo from the East we had the mountains to contend with. There is a very beautiful canyon just East of Provo, aptly named Provo Canyon that we headed for. The weather was great and the wind light. The majesty of this area has to be seen. Certainly an iPhone camera doesn't do it justice.
We flew through the canyon at 8500' with peaks 3500' above us on either side. Unbelievable and indescribable. Darryn did a great job at not smiling but I couldn't help it. It was nature at its best and seeing the terrain open out to Provo City and the lake beyond was stunning. It was a highlight of the whole trip.
Enroute Nephi, UT
From the exit of the canyon we hugged the edge of the cliffs to avoid Provo class D. We were above it but we wanted to be sure and anyway it was fun, but don't tell anyone.
Downwind Nephi for gas
Within minutes we were on descent into Nephi for a well earned leg stretch. We gassed up and chatted to the pilot of an executive jet who was waiting for his customers to return from their business.
One hour had passed all too soon so we jumped in and headed for Cedar City just an hour down the line. A fairly uneventful flight with terrain having a desert feel despite many hills.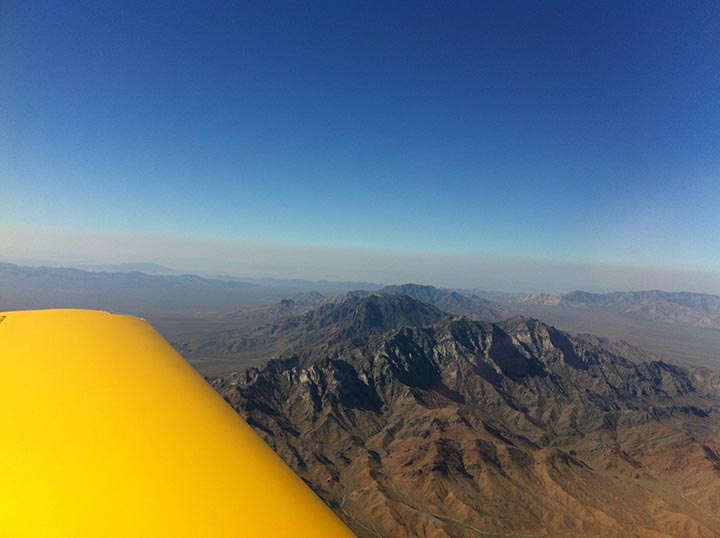 Enroute to Cedar City
The night stop was fairly routine. Again we did washing, email and blogs. We were a bit far from any activity so it was a quiet night and to be honest we were starting to become travel weary.
We had originally planned the next day to be a flight to Lake Havasu. It was a really bad idea to plan it for the middle of summer and when we saw the forecast for 43 degrees it was a simple mutual decision to decide to continue to Chino to complete the flying part of the adventure.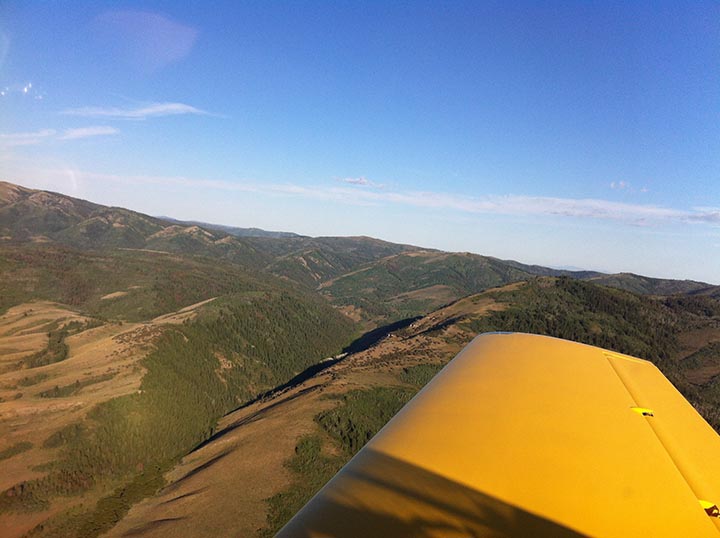 Northern Utah is like New Zealand
Cedar City to Chino CA
The following day, Darryn woke me up. I'd had a really solid sleep that last night. It was a good time to wake up though.
The weather for our trip looked good. There was an airmet for IFR weather in the Chino basin but it hadn't eventuated. We decided to indulge in the hotel 'food' for a bit of a breakfast. Chino is on a different time zone so we wanted to wait until 8:00 local so we would get a METAR from Chino produced by a person, not a machine, at 7:00 Chino time.
Darryn dug up a taxi for us and he duly turned up in his Toyota capable of 7000 RPM (ask me how I know) playing Magic Carpet Ride. 'A little bit of rock on roll on' he advised. A nice guy, down to earth.
By 8:30 we were away with a positive weather outlook ahead. The briefer told me he wanted to visit NZ. I hope some of these guys do. And I hope I get to help them out one day, even just a little bit.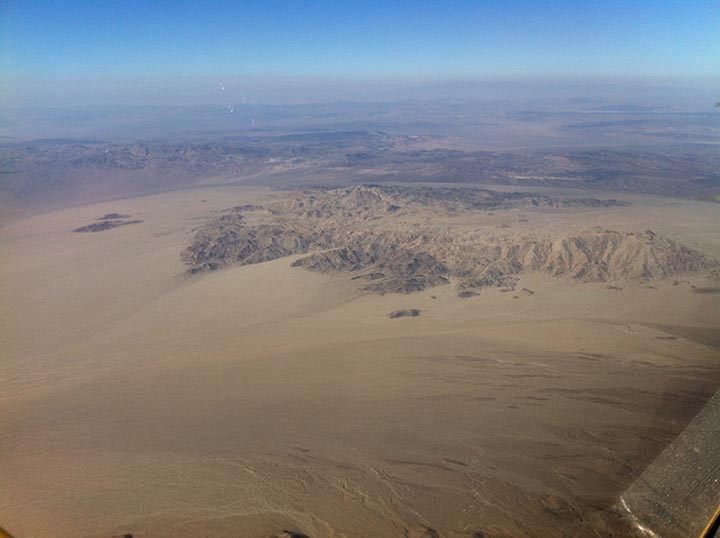 Nevada desert
The flight headed south initially. Level at 8500' I was keen to avoid the Las Vegas Class B so we tracked to fly around it. The terrain slowly changed from high hills, desert in style, to desert proper.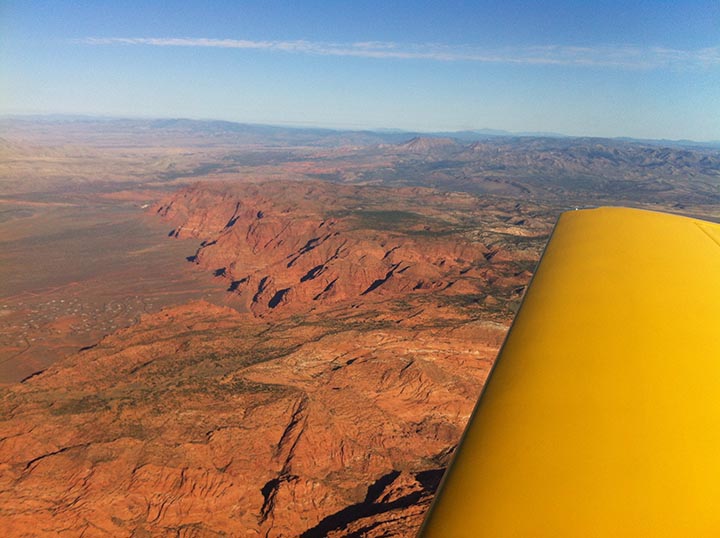 Southwest of Las Vegas, Nevada
We flew along taking in the amazing colours of the land below as we flew to the South of Las Vegas.
Then, out of the blue, "TRAFFIC" came through our headsets. The box showed something slightly higher and close on the right. A quick scan and we had a Southwest 737 along side on a right base for the Las Vegas 26 ILS. What a cool sight. This happened again a little while later. While we were clear of airspace I can only assume we were probably giving the controller something to do. With the speed the second Southwest Jet flew by I'm sure he was just as interested in us as we were of him.
Shortly after that we spotted a Twin Otter heading for the grand canyon on a sightseeing tour.
We turned right at our track intersection to head more toward Chino. The land changed to a vast sandpit. Lots of nothing with the occasional road and railway.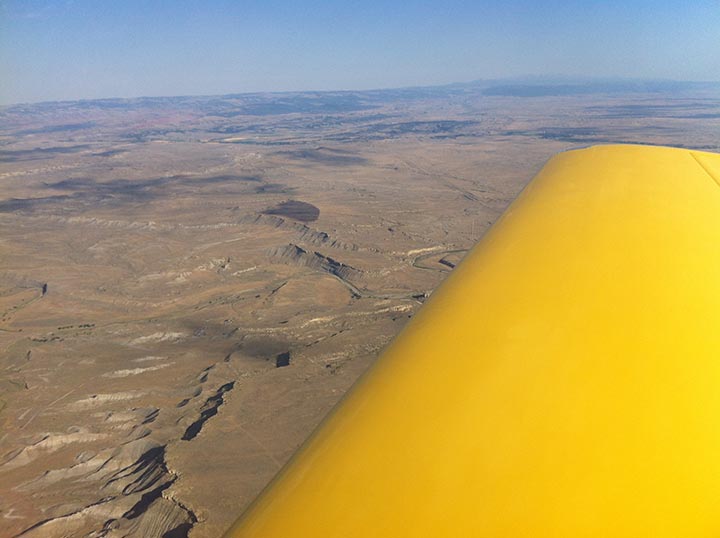 Nevada desert
I confess to not enjoying the desert flying. We both were certainly more on edge. Duane had told us that rather than water, you're better off with a .45 when flying over the desert. "Just how long to you want to prolong it?" (paraphrased -- expletive deleted!).
As we approached the LA basin we shuffled for a frequency to get a clearance into the Class C. We got shunted around a few frequencies until we finally ended up being directed back to our first choice. They are busy. I can only assume the controller didn't hear me and thought we were somewhere else. Anyhow, someone finally acknowledged us which, unlike New Zealand's procedures, is the equivalent of a clearance into the C. In reality a clearance isn't required, but you do need to have two-way comms. So if a controller doesn't want you, he just ignores you. They are extremely helpful for the level of traffic they have to deal with.
Before we knew it we were cleared to land on Chino's runway 26L and just like that, the adventure was over.
After parking I found myself slightly emotional again but I was keen to move on. I was off to find my FedEx box of clothes. I sure was sick of the ones I had!
I returned home with the aeroplane still sitting abandoned (only by me) in Chino awaiting its return ride from Chino. Early indications were not good for a smooth recovery but that would play out in the weeks to follow. So I found I used my idle time reflecting on my adventure of a lifetime.
The trip we made to OSH in 2010 had always felt like a missed opportunity. I really had no idea what to expect so I mismanaged my time. I really met nobody. Even the Falco folk who were there remained largely a mystery. I really wanted to change things this time. I wanted to make the Oshkosh experience more socially focused and about people.
I think people who know me well would say that I'm not really a hugely social person. They would probably be right. I don't enjoy small talk, I can't see the point, and I don't do it well. I don't have a wide selection of friends. I prefer a couple of good friends rather than a lot of fake ones but with all that said, it doesn't mean I don't enjoy meeting people, particularly if they have similar interests.
This trip for me was to meet people interested in aeroplanes as well as getting more of a feel for the American people along the way.
Being a flying trip it was, of course, always going to provide experiences that are rare for a New Zealand aviation enthusiast. Aviation was certainly a large part of the focus too, along with all the things that go with it. Anyone who flies light planes will tell you that you will see things flying small planes that you will never see any other way. It's the nature of the beast, and it's part of why we love doing what we do so much. Only an aviator can understand it.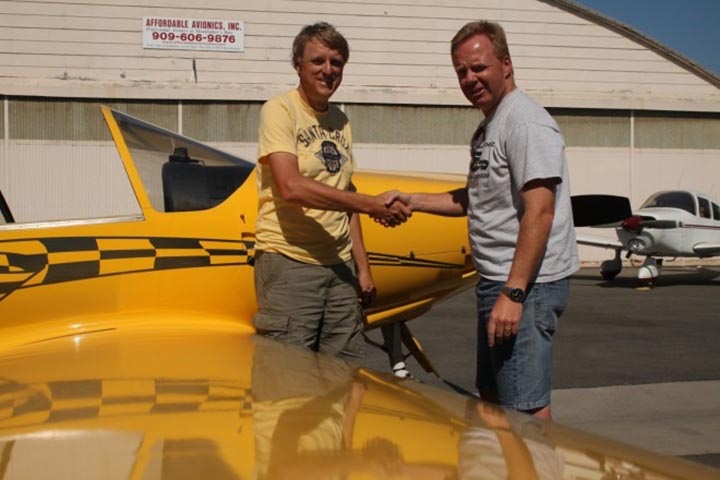 Adventure successfully completed
The experience was everything we hoped and more. As I now settle back into normal life I consider how I could match it. I don't know that I can.
Certainly when I first saw the advert of the Falco in Kitplanes all those years ago I never thought it would be set to take me on such a life's adventure.
Thanks to Alfred and the whole Falco family for making this possible.

Go back to George Richards