| | | |
| --- | --- | --- |
| | Cecil's Big Adventure | |
by Cecil Rives
This article appeared in the September 1997 Falco Builders Letter.
Karen and I had been indecisive about attending the Eighth Annual West Coast Fly-In in Calistoga, California, this year. We had not made the previous two; one in Coeur D'Alene, Idaho and the other in Mendicino, California, and really wanted to renew our friendships with the fine people that make up the Falco fanatics on the West Coast. Then came a call from Lena and Per Burholm in La Jolla, inviting us to come there first, spend the night and fly up to Calistoga together the next day. Well, that cinched it.
We departed West Houston Airport about 9 a.m. on Tuesday, September 16th. I contacted Houston Approach, requested flight following, received a transponder code and headed west.
Our first fuel stop was in San Angelo, Texas, where the area known as 'West Texas' begins. We had just left behind the beautiful limestone streams and huge cypress trees of the 'Hill Country' of the Edwards Plateau.
West of San Angelo the land is flat to gently rolling with rather sparse vegetation, mostly suited to cattle, sheep and goats. Human population thins dramatically and stays that way until you reach the valleys of California. The vast emptiness of this land can only be fully appreciated from the air.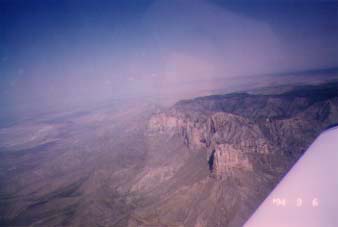 El Capitan and Guadalupe Peak--at 8700 ft, it's the highest point in Texas.
A few miles west of San Angelo we could see the small town of Pecos. Somewhere down there was the track of an ancestor. A family legend holds that back in the 1800's one of my great-great-grandfathers boarded the Texas and Pacific train, got off at the end of the line in Pecos, and set out on foot for New Mexico Territory. On the way he was captured by Comanche Native Americans (Indians). Somehow he managed to get a horse and made good his escape. He finally made it to Silver City, NM, where he established a saw mill.
Our next stop was Las Cruces, New Mexico. Karen had gone into the FBO office while I attended to the refueling. She told me later, that while she was sitting there a guy came in and exclaimed to a man behind the counter "Joe, you ought to see that little old fiberglass plane out there. It's got everything but the kitchen sink in it". Well, there is a plumbing fixture that would be nice to have in 63KC, but it's not the kitchen sink!
With Karen and me, full fuel, 80 pounds of baggage, airport elevation of 4450' and an OAT of 85 degrees, leaning of the mixture during run-up was definitely in order. We departed Las Cruces on our final leg of the day to Tucson, Arizona. All along this route there are numerous restricted areas and MOA's. Flight following relieves the pilot of constantly referring to charts and calling FSS to determine whether or not these areas are active.
We landed at Tucson International without incident after a beautiful day of flying. Tucson is a very busy Class C airspace, primarily because of the Arizona Air National Guard activity. There seems to be constant take-offs and landings of Guard aircraft, mostly F-15's , I think.
After a restful night we departed Tucson on Wednesday morning on our final leg to La Jolla. Per Burholm keeps his Falco at Gillespie Airport which lies within the northern portion of the San Diego airspace. Again, we were in contact with flight following and as we approached the San Diego area, traffic really began to pick up. In addition to the traffic, terrain requires constant vigilance. Those damn little hills seemed to pop up everywhere for no apparent reason. San Diego Approach was extremely busy and had given me about four traffic advisories to look for, then handed me off to Gillespie Tower.
Earlier in the day I had instructed Karen (in the most tactful, charming manner) to shut up when I was talking to controllers, so she had remained very quiet all this time. When Approach handed me off to the Tower, I had expected it would be some four to five miles out. So, turning away from looking for traffic, I spied an airport about that distance away. Tower instructed me to make a right turn at my discretion and enter a left downwind for Runway 26R.
I thought, 'No problem, plenty of time'. After a few seconds, Gillespie Tower advised that I should start my turn immediately! I replied that if I did so, I would be on a left base for 26R. She countered with "You're headed for the wrong airport. That's Montgomery! Reverse your course and enter a right downwind for 26R". I complied and sure enough, there was Gillespie.
I looked at Karen and said, "How could I have missed it?" She replied, "When Approach handed you off to the Tower, we were right over the airport, but you told me to be quiet." Well, you can't win, but what the heck, if Continental can land at the wrong airport, why can't I?
A right downwind to 26R at Gillespie is most entertaining. There is high terrain just before you turn base and as you turn on the base leg, the runway is completely hidden by that terrain. Only as you turn onto final does the runway become visible again.
After we landed and I switched to Ground Control, I asked for directions to Per's hangar. With the help (I didn't need much) of Ground Control, I became temporarily uncertain of my geographical position on the airport-not lost, dammit! Karen said she saw someone waving his arms wildly at the end of a long taxiway. I figured that it had to be Per, or an FAA ramp check. It turned out to be the former, so we were spared further embarrassment.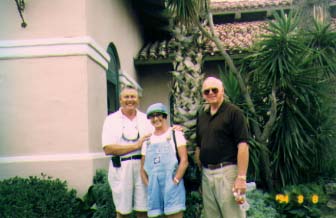 Per and Lena Burholm, and Cecil Rives
Lena and Per are most gracious hosts. In addition to providing shelter, sustenance and a hangar for 63KC, they took us on a tour of some of the more interesting sites in the San Diego area. Their home offers a fine view of the Pacific Ocean.
Thursday morning, Falcos 772SF and 63KC departed Gillespie and followed a northerly course out of the San Diego airspace. We stayed well to the east of the Los Angeles area and generally followed Interstate 5 to Harris Ranch where we stopped for fuel and lunch at the excellent restaurant there.
About 45 minutes after leaving Harris Ranch we could see San Francisco off to our left and the Golden Gate Bridge in the distance. Another 20 minutes and we began our descent into Angwin Airport, site of the Fly-In.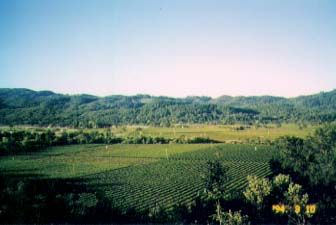 Napa Valley vineyards--anal-retentives, please note that
Cecil's camera is three and a half years behind time
Angwin Airport is part of Pacific Union College and perches on top of a ridge in the Mayacmas Mountains. It has a rather long displaced threshold on runway 34, the purpose of which is to ensure that you clear the tall trees that guard that end of the runway.
Upon landing, we discovered that three Falcos had arrived earlier; Larry Black's, John Harns' and Dave McMurray's. Others had been expected but five turned out to be the final tally. The lack of Falcos, though, was compensated by the enthusiasm of old builders, new builders and those with gleams in their eyes.
Blake Jessen and his friend Sandy Schuster are to be complimented on the fine job they did in putting the Fly-In together. Blake is an Air Force reserve pilot and was pilot-in-command of a C-5B Galaxy that was at the EAA Convention at Oshkosh about three years ago.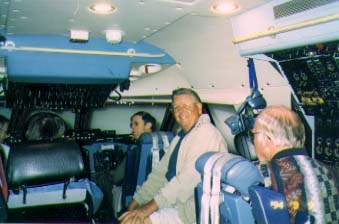 In the C-5B simulator
Friday morning, Blake took those of us who were interested, to Travis Air Force Base for a session in the C-5B simulator. For me, this was one of the highlights of the fly-in. The experience was truly awesome! I managed to land it 200 feet short of the runway, but what's 200 feet for a plane of that size? The sound of the engines are there as well as the 'G' forces. And the view out the windshield, even though it's computer generated, really mesmerizes you.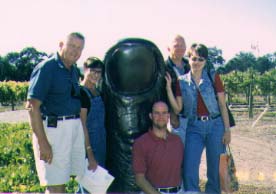 Some people really know how to give you the finger--Per and Lena
Burholm, Cecil Rives, Chris and Denise Rives and brown thumb
A fly-in breakfast at Lamson Airport was scheduled for Saturday. Lamson serves the small town of Lakeport, which rests on the west shore of Clear Lake (I wonder how many "Clear Lakes" there are in the world) about 30 miles northwest of Angwin. The food was well prepared and a wide choice was available as long as it was some form of eggs.
Upon our return to Angwin, the wind and turbulence that had plagued us on Friday had returned and dampened any desire for more flying. We all went to Calistoga's English Pub and indulged ourselves with more food and adult beverages.
That evening, we congregated at the Calistoga Inn for the banquet. Again, good food and hangar flying was the order of the day. Afterwards, we said our goodbyes in anticipation of our departure for home the following morning.
The weather Sunday morning was perfect, and we departed about 9 a.m. As we climbed out, Karen, no doubt echoing the early settlers, asked "Well, how many mountains do we have to cross?" Mountains seem to be her nemesis, and she becomes painfully silent when they appear.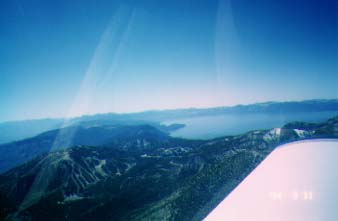 Lake Tahoe and Sierra Nevada Mountains
Our initial waypoint was Reno, Nevada, where Karen had lived briefly as a small child. Crossing the San Joaquin Valley just north of Sacramento, we joined Interstate 80 which traverses the Sierra Nevada Range and goes on into Reno. On the way, we flew over Donner Pass, elevation about 7,000 feet. Some of you may recall that during the immigration west in the 1800's, a party of immigrants arrived very late in the year at Donner Pass (named for one of its members) and were trapped there by winter storms. The survivors were rescued the following spring, but only after some had apparently resorted to cannibalism.
Speaking of cannibalism, further east in southwest Colorado, lies the small town of Lake City. This is the site where a party of prospectors were trapped for the winter in the late 1800's. About four or five years ago, local authorities exhumed the remains of the men who had been buried there and confirmed that the forensic evidence provided by the bones was consistent with cannibalism.
The culprit was one Alfred Scott-oops, sorry, Alfred Packer. The trial judge, who left no doubt as to his political party association, scolded Packer after the sentencing, saying "Packer, you son-of-a-bitch! There were only seven Democrats in the whole county and you ate three of them!"
Changing course to the southeast, we left Reno behind and after two more hours of flying over the emptiness of the Great Basin, arrived at the small town of Tonopah, Nevada. The FBO there inquired if we knew a Falco owner from McCall, Idaho, named Jim Slaton. Seems this is Jim's regular fuel stop on his trips back and forth to California.
Leaving Tonopah, we set our course for the Grand Canyon, Mecca to all geologists. The FAA has designated several "corridors" for flights over the canyon, and we selected the "Tuckup Corridor". (Is this a weak attempt at humor by the FAA-because when flying over this area there is absolutely no place to land?) It is, however, a rather narrow 'waist' of the canyon which takes only a few minutes to cross. The southbound altitude is a mandatory 10,500 feet. This provides for about 4,000 feet AGL and affords a spectacular view, both east and west, of this wonder of nature. Rocks that range in age from 200 million to over 2 billion years are exposed here.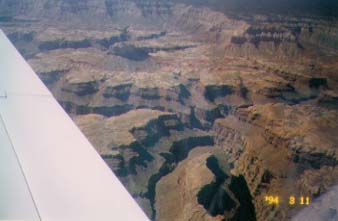 After crossing the canyon, we dialed in the frequency for Grand Canyon Airport and were greeted by what has to be the fastest-talking controller in the entire world-bar none! Fortunately, by the time I had to contact him, traffic had abated, and he slowed down enough for me to understand him. After landing and refueling we departed for Albuquerque, New Mexico, our next overnight stop.
Some 100 miles out of Albuquerque we encountered a rather extensive area of showers and lowering ceilings. There were numerous breaks in the rain and good visibility, so we picked a large break and flew on through with no problems. We continued on to our destination and after contacting Approach, then Tower, we were cleared to land. On final, about 500 feet above touch-down, we had our first NGULE (that's a Near Gear Up Landing Experience).
It seems that on a few occasions during our flight, the gear actuator circuit breaker would pop after gear retraction-not every time but fairly often. Until Albuquerque, I had caught it on my instrument scan. This time I hadn't. I had selected gear-down on the gear switch and thought I heard and felt the vibrations of the gear going down. I had gone through GUMP a couple of times, but the lack of the green light escaped me while listening to the tower.
Anyway, Karen suddenly shouted "The gear light isn't on!" I glanced down, confirmed her observation, and then went over to the circuit breaker, whose tongue was sticking out at me. A quick jab and the noise of the gear coming down greeted us. From now on, I don't care how much she talks, interrupts the controllers, frets over the amount of fuel left, worries about the mountains or tempts me to scud-run. She has proven herself to be one helluva co-pilot!
Our departure the following morning was amidst reports of deteriorating weather toward Houston. It seems that two systems, one in eastern New Mexico and the other in central and eastern Texas, were conspiring to make this day very challenging.
Flight Service discouraged us from attempting a direct flight to San Angelo so we tried an end run via Fort Stockton, as it was reporting a broken ceiling of 2,000 feet and 10 miles visibility. We never made it. After encountering rain showers and a lowering ceiling, we retreated to Carlsbad, New Mexico, where we landed and waited a couple of hours for the weather to improve toward San Angelo. By three o'clock, FSS reported a broken ceiling at 2,000 feet with five miles visibility all the way to San Angelo.
We decided to go for it. Thirty miles out of San Angelo I dialed in the ATIS and was greeted with the news that a heavy thunderstorm with lots of lightning was in progress directly over the airport. Well, nothing left to do but find another airport and spend the night. We turned south toward better weather and landed at the small town of Sonora, deep in the heart of the vast emptiness I mentioned earlier. The airport manager was kind enough to see that we had a hangar for the Falco, then transported us to a nearby motel.
Small airports can be interesting-you never know what you'll find. I recall flying back from Oshkosh with a friend in a Cessna 182 (that was also the year that I bought the plans for the Falco). We were over a fairly remote area of western Arkansas and decided to make a fuel stop at a small airport. It was about mid-afternoon on a hot August day. We landed and taxied up to the fuel pump, cut the engine and got out. Not a soul was in sight and everything was deathly still.
After standing there for a few minutes, we suddenly heard a voice say "Wut chew boys wont?" We turned and in the doorway of a shed stood a huge man dressed in bib overalls, a red bandanna hanging out of one pocket, a cut of chewing tobacco in one cheek, five days growth of beard, hair strangely imprisoned by an old leather cap and a malevolent look in his eyes.
My friend and I both later said that our first reaction was the movie "Deliverance" flashing through our minds. We told him that we'd like to get some fuel. He replied "Well, yer sittin' there next to the gas pump, hep yerself" and disappeared back into the shed. After we topped the tanks, I found the guy again and asked him about a restroom. He told me to follow the garden hose through the hangar. Sure enough, the other end was attached to the lavatory in the restroom to carry away the waste water. That was his only concession to sanitation. A large bush in the woods would have been a better choice. We paid him and left, thankful for our deliverance by the 182.
Morning in Sonora brought a cool north wind and good visibility. A check with Flight Service indicated a scattered-to-broken ceiling of about 1500 feet pretty much all the way home. However, from about 100 miles west of Houston to Lake Charles, Louisiana, a wide area of thunderstorms was predicted for later in the day. We raced back to the airport, loaded up 63KC and took off. Ceilings and visibilitys were about as forecast until we reached a point about 20 miles west of Houston.
Things began to go downhill pretty rapidly. I called West Houston Unicom for an advisory, and they informed me that a heavy thunderstorm with lots of lightning was in progress directly over the airport (where had I heard that before?). We backtracked to Brenham Municipal, landed, called our son, Kelly, who picked us up and drove us back to Houston. Two days later the weather cleared, and I was able to fly 63KC back to her roost. She now awaits an investigation of the popping circuit breaker.
We covered 3475 nm in 21.7 hours for an average speed of 160 knots. All in all, a great trip!

Cecil and Karen Rives