First Flight:
Cecil Rives
by Alfred Scott
This article appeared in the December 1993 Falco Builders Letter.
The latest happy Falco builder to see his bird pop into the air is Cecil Rives, of Houston, Texas. The first flight took place on October 5 with the capable hands of Frank Strickler at the controls. Frank, as many of you know, imports SF.260s and is primarily responsible for the large numbers of Iron Falcos in the U.S.
Frank put about 30 minutes on the plane and landed to report, "It's wonderful. The workmanship is exemplary. It runs great and flies better-absolutely a superb aircraft." Frank has been known to exaggerate, but after Cecil and two expert pilots have put 26 hours on the Falco, Cecil is prepared to believe that, in this case, Frank is 100% objective.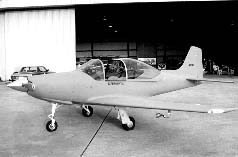 Indeed, Cecil has been on a real high ever since the Falco's first flight, and he keeps saying things like, "I can't believe I built it". After the first flight by Frank Strickler, the flight testing was turned over to Jim Pohoski, a Delta Airlines pilot and F-16 instructor in the Texas Air National Guard, and Sam Kliewer, ATP, CFI and air traffic controller at Houston Center.
Jim Pohoski flutter-tested the Falco to 213 knots and pulled it through 6-g turns, then performed loops, rolls, stalls, spins, Immelmans, chandelles, lazy eights and Cuban eights. He reported a stall speed of 57 kts clean, and 51 kts with 20° of flaps and gear down. A complete roll takes about 5 seconds at 130 kts, so that's about 70° per second.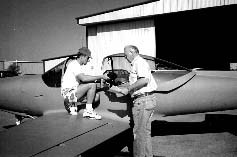 Jim Pohoshi and Cecil Rives
Everyone raves about the handling of the Falco, but the speeds have been exceptional, despite the fact that the 180 hp IO-360-B1E has 2,040 hours on it. Several pilots have said they've never felt a smoother engine/airframe combination. In level flight at 2500', Jim Pohoski reported 163 knots indicated at '25 squared' and 173 kts at full power. The really remarkable thing is that those speeds are for a standard-canopy Falco that's painted in primer and which doesn't have any gear doors, control hinge fairings or any of the other 'go-fast' additions that Karl Hansen and others have used. Perhaps all this is due to the slick air they have in Texas.
Sam Kliewer conducted speed and altitude tests in late October. He recorded data at one-thousand-foot intervals from 1500' to 17,500'. Sam reported that the Falco was still climbing at 500 fpm at 100 knots indicated at 17,500'. The best airspeed was 178 knots true at 2500' with 20.7/2500 and 12° C.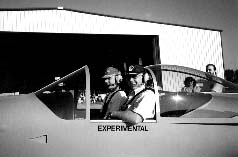 Cecil after his first flight in the Falco.
Cecil is now in the process of installing gear doors, control hinge fairings, stiffening the engine baffling seals, closing up the gap between spinner and cowling, and sealing off the starter ring from the upper deck engine cooling air. His first speed run with these installed produced 165 KIAS at 6500', 13° C, full throttle and 2650 rpm. That works out to 184 kts (212 mph) true airspeed.
Cecil began construction on the Falco in September 1988 and did most of the construction in his two-car garage at home. Cecil is a petroleum geologist and, with the slump in the oil business, that's a subject he'd rather not talk about. However, the slack times at the office did provide ample opportunity to work on the Falco, and for much of that time Cecil worked on the Falco full time, and he used all of the kits available.
In June 1993, he moved the Falco to a hangar at the Hooks Airport for final assembly. In this hangar, there are about 12 RV-4 and RV-6 projects, and all this draws a considerable amount of traffic consisting of other pilots, homebuilders, weekend sightseers and other assorted airport riff-raff. Cecil reports that most assume the Falco is either aluminum or composite. "Their reactions vary from shock to total disbelief when told that it is built of spruce and plywood. One guy wanted to know if it was 1/4" or 1/2" plywood!"
The constant attention can, at times, be annoying, and Cecil reported that one guy kept hanging over him forcing Cecil to finally just take a walk down the runway in hopes the man would leave. He did. On the other hand, he still admits it's tremendously gratifying to hear people say, over and over, "Wow, what a beautiful airplane!"-considering it's still only in olive drab primer. "The Falco is truly a classic design", says Cecil.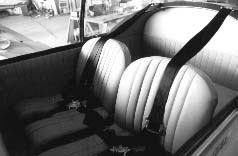 "Now that the required 25 hours have been flown off and others have flown in the Falco, the universal opinion is that of Frank Strickler's after the first flight: 'It is, simply, a superb airplane'. My opinion is that it is far more than I hoped for or expected, but I guess I've never met a Falco I didn't like. It is a delight to fly as other builders have said about their Falcos, but you really have to experience that for yourself.
"To other builders who have not completed their Falco, I would like to say that the effort, time, frustrations, blood, sweat and tears that go into the construction of a Falco are well worth it. And the feeling that you get when your creation takes off into the wild blue for the first time is just indescribable. In my opinion, if you follow the plans closely you don't have to worry about a great flying Falco.
"Last, I can only echo Alfred with regard to the first flight and test phase: If you're not a current, high-time pilot in an aircraft similar to the Falco, try to find someone, as I did, to do it for you. Believe me, it shouldn't be hard to do. I could have had six more test pilots with no trouble.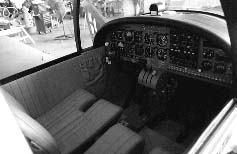 "Like Larry Black, I built my Falco in an attached garage and like Larry I would be remiss if I didn't acknowledge my wife's patience and understanding during the construction phase. The dust is incredible. Karen earned the 'K' in N63KC."
Cecil's Falco came in at 1,305 lbs empty. The panel includes two KX-165, one with glideslope, KT-79A transponder, and Northstar 600 GPS. Cecil is in love with the GPS and has the antenna installed under the windshield directly in front of the magnetic compass. He says it works perfectly there.
The interior is fitted out with light grey leather on the seats and side panels, dark Navy blue leather on the glareshield and turtledeck, and with a light grey cut pile carpet on the floor and baggage area. Now with the required time flown off and with all of the speed mods installed, the next step will be to get the plane painted.
Congratulations, Cecil, on getting Sequoia Falco number 38 into the air. Many happy landings..