First Flight:
Joel Shankle
by Alfred Scott
This article appeared in the September 1989 Falco Builders Letter.
"Thor! How many times do I have to tell you? Don't... eat... the SPRUCE!"
Thor is a large Doberman who for the past nine years has been Joel Shankle's constant companion while he builds his Falco. Thor is an impossibly gentle soul, and he has never understood why certain types of wood hold such importance for Joel. And for Joel this adds a degree of risk that one day he might come home to find that his dog ate his aileron.
Joel Shankle first appeared on the Falco scene back in 1980, not long after we had started selling plans for the Falco. Joel flies for American Airlines and lives on a private grass strip in Culpeper, Virginia. It's one of those little out-of-the-way spots where airline pilots live, within commuting distance of a major airport. Houses, hangars and a grass strip-the necessities of life. Joel already had built a house and a hangar, in which he kept the old Ford tractor to mow the strip and "Darrel Stinson," an old Stinson Station Wagon that Joel uses for puttering around the countryside.
Joel started construction in October 1980 and made his first parts, the smallest fin and rudder ribs, sitting at the kitchen table. He even posed for a picture and Carolyn Shankle quietly slipped the photo from Joel's Falco album so that we could include it here. She sent along a note that said, "It doesn't seem possible that such a beautiful aircraft could begin with such a small, insignificant part. But just think, nine years later we're still friends and talking to each other and, of course, I'm mightly proud of Joel for his perserverance, his creative talents and above all his patience."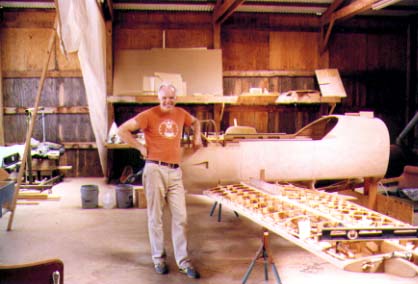 Joel Shankle
Throughout the first winter, Joel busied himself making wood parts in the basement and kitchen, and then in the spring he moved the Falco building operation down to the hangar. Son Mike made a giant sign-"Welcome to Falco Country, Completion Date 2000"-that hung prominently on the hangar wall. I was mystified at why Joel would make all of his wood parts when there were kits available, but Joel used to explain that he had always wanted to build an airplane, that he was only going to build one airplane in his life, and he wanted to make all of the parts.
That was also before I came to realize that people do not always build airplanes to get an airplane. For many it is a mountain to climb. Many times, I'd ask Joel why he didn't just whip together a little thing-a-ma-jig, stick it in there and get this trap in the air. Joel would say, "but this is a project!" as if finishing is not a goal. This guy is worse than Wilkinson when it comes to prolonging to the very end the process of building the Falco. And even as he broke ground for the first time this morning, I can report that the painting is not yet finished. The upholstery still has to be done. And then there are the avionics. These things could easily require another four or five years!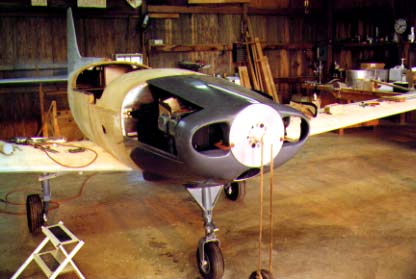 Joel's progress through the Falco almost exactly mirrors the progress I was making at this end. It seems that whenever I was working on some part of the design, Joel was into that part of the plane, too. He has been an enormous help to me and since he is the closest Falco to me-a 25-minute hop in my Falco-I've watched the construction from the beginning in the kitchen. And over the years, Joel has been a gracious host to innumerable Falco builders and builders-to-be.
One of the least desirable parts of flying for an airline is the time away from home. For Joel, a motel in a strange city became a place to plan his next step in the construction. While others watched television or read magazines, Joel would spend the time mentally stepping through the sequence of building the plane. It's a good thing we didn't have a construction manual available at that time. It would have taken all the fun out of it for Joel.
Joel installed a 160 hp IO-320-B1A engine and used a Nustrini canopy, even though he is 6' 5" tall-Joel's quick to add that he has long legs. Joel just liked the looks of the Nustrini canopy, and he came up with a scheme to lift the canopy an inch-and-a-half. This is the "high Nustrini" installation that Pawel Kwiecinski used, and it is very difficult to tell from a distance that there is anything different about the plane.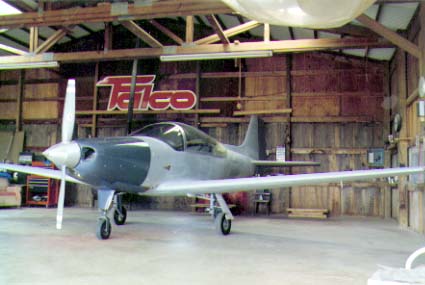 The Falco weighed in at 1160-1170 lbs in primer and the final inspection was on September 13. Joel decided that he didn't want to fly on the 13th, so he waited until the following day to fly the plane. One problem that Joel had with the first flight was that his engine had fresh chrome cylinders. Chrome cylinders require a break-in procedure which doesn't mesh very well with the normal requirements of flight testing a homebuilt. You're supposed to start the engine a couple of times, run the engine until it gets warm, and then you are supposed to take off and fly the plane for a half-hour or so at a high power setting and with the cylinder temperatures very close to red line. If you don't do it that way, there is a possiblity that your engine will be an oil burner.
Joel managed to squeeze some high-speed taxi tests into the initial engine runs, and then on the first flight he just took off with the unusual mission of getting his engine hot. I should mention that Joel flew A4D Skyhawks in the Navy and flies regularly with American so he's completely qualified to handle the bird. There was a low overcast, and Joel found he needed to raise the gear. He just selected gear up, which worked nicely the first time, and then he watched as the airspeed climbed to 160 knots indicated.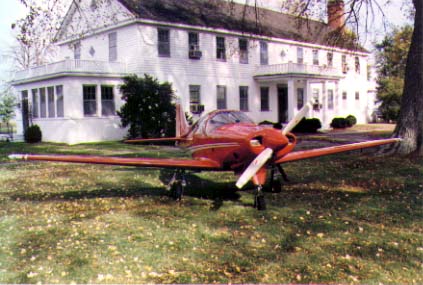 The plane "goes like a bat," and for the next half hour, Joel screamed around the skies over the strip, and never strayed far from the field. How did he like it? "Oh, it'll run, boy, I'm telling you. That was the biggest problem-to keep it reined in." He reports that the airplane flies hands-off from the first-from the beginning it is in perfect trim.
There were a number of little glitches. The manifold pressure gauge didn't work. He had erratic readings on the front fuel tank gauge. And then when he brought it down for the first landing, just as he pulled the engine to idle over the fence, the engine quit. Joel isn't exactly sure when it happened because the prop continued to windmill and only after his wheels touched down did he see the propeller stop. He couldn't get it started again, and Joel thinks it was flooded, since it had been running rich at idle. He has since discovered that it was way too rich and has been flying it with the mixture leaned.
For the registration number, Joel tried to get "J03L" (get it?) but had to settle for N703L, although he may take liberties with the bottom of the seven. Joel says he actually fits under the canopy and finds it snug but liveable. Even if he didn't fit, I'm not sure Joel would change it-the canopy screws, he says, "almost made me lose my religion."