| | | |
| --- | --- | --- |
| | Andrea Tremolada | |
Falcophiles may want to pick up the August 3, 1999 issue of the National Enquirer, a memorial issue dedicated to John F. Kennedy Jr.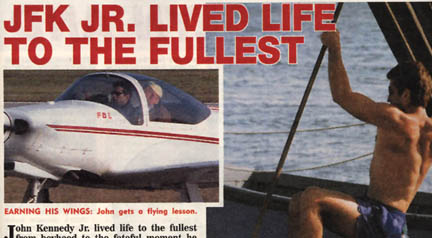 On page 27, there's a photo of John in a Falco, I-SAMA, which is Andrea Tremolada's old production Falco. John and Andrea were friends and I asked him if this was his Falco. Andrea replied:
Yes, in fact, we have flown many times together, four years ago he had the first ride in the Falco over Lake Como. And then we have been flying other times. He enjoyed also some aerobatics. He really loved flying. I'm really sorry about what happened.

The same picture has been reproduced in many newspapers here in Italy.

Ciao
Andrea
So if you want to see your favorite airplane in print, pick up a copy of the supermarket scandal sheet now. It's on the newstands right now.
Alfred Scott