| | | |
| --- | --- | --- |
| | Andrea Tremolada | |
One Man's High-Flying Fantasy
by Peter Galvin
This article appeared in the February 2001 issue of Interview magazine.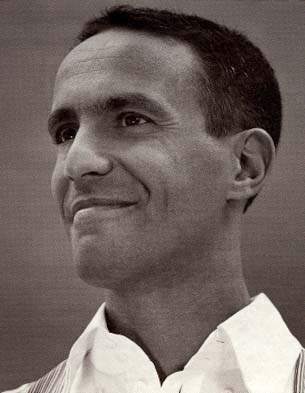 Andrea Tremolada
If any man should have been born with wings, it is Andrea Tremolada. To hear him tell it, his heart is as much in the sky as it is down here with the rest of us on terra firma. The head of advertising for Versace since 1994, Tremolada has been obsessed with flight since he was a young boy. For a time in his late teens, he lived in the air -- he possessed a standby air pass, an unlimited plane ticket that gave him a cheap place to sleep while criss-crossing the U.S. at night (dinner and breakfast included). Over the past couple of years, while working at Versace, Tremolada has fulfilled a lifelong dream, one that was also very close to his late father's heart: building his own plane -- his beloved Falco -- and flying it across the Atlantic. Sound terrifying? Not for this fearless dreamer. Here is his story.
PETER GALVIN: When did you first feel the passion for airplanes and for flying?

ANDREA TREMOLADA: When I was 4 or 5 years old. I lived with my family in a suburb of Milano in a small three-story house. One day I decided to jump out the window of one of our first floor rooms using some bags from the supermarket as a parachute. [laughs] I broke my leg, of course, but after about a month, I explained to my brother that I hadn't had enough space to let the bags -- the parachute -- open since I'd only jumped from the first floor, and I convinced him to jump from the third floor. As I was standing in the garden saying, "Come on Roberto! Jump! Jump!" my grandmother arrived, and she realized that he was going to kill himself.
PG: Oh, my God. So she saved him?
AT: Yes. I was punished for two weeks. [laughs]
PG: Your father also loved flying.
AT: Yes, my father was a doctor, but he had his pilot's license and he built model airplanes, so I grew up with planes. On Sundays he used to bring me and my brother to the country to fly. My brother was not so interested, and eventually he didn't come anymore, so it was just me and my father. That was our deep connection. He used to tell me that I had to keep another job to support my passion for flying, because when you fly for a big airline, you are doing it for somebody else. If you can do it on your own, it's much more fun.
PG: Have you always wanted to build your own plane?
AT: Oh, yes. When I was 12 years old, my father brought home an American flying magazine with a story about how an American had bought the rights to sell the blueprints and construction kit for the Falco plane, which was originally designed by an Italian engineer in the '50s, and is very famous. I asked my father if we could buy the plans, and he said, "When you start working, you will buy them yourself." And I did!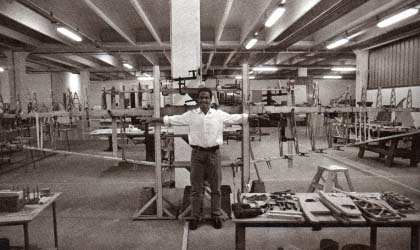 PG: Did you build it yourself?
AT: Yes. I began with my father, in our garage. We started in March, 1986, but by the end of September, we'd only finished the tail. That was when I realized that I couldn't be a professional pilot and make enough money to finish my plane, so I went back to studying communications and marketing at university, and working at a newspaper as a journalist to save more money.
PG: So the plane took many years to finish?

AT: Fourteen years. But my father died in 1990, and between '90 and '94, I didn't touch the plane at all. I finally finished it on June 30, 1999, and we threw a big party. My mom died one month later.
PG: When did you start working for Versace?
AT: 1994.
PG: When you told Gianni about your dream, your flying, what did he say?
AT: He thought I was crazy. But he liked people with dreams. So do Donatella and Santo: They were very supportive when I told them about my wish to fulfill my dream.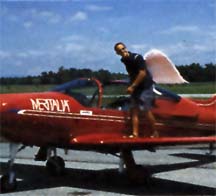 PG: Is there any affinity between your passion for flying and fashion advertising?
AT: When I get bored of something I immediately move on; I like fashion because every six months you throw away everything and you look always forward.
PG: Just like flying. Tell me about the first time you crossed the Atlantic in your plane.
AT: I went from Italy to Brazil in the summer of '99. I'd done quite a few short flights, but the flight to Brazil was a very long one, so l did it in three segments. The last leg was over water at maximum weight, and during the first four or five hours, my plane was not very balanced because I was carrying all that extra fuel on board.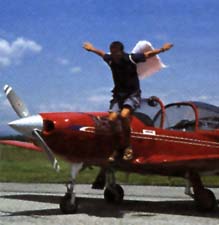 PG: How did it feel to finally touch ground when you reached Brazil?
AT: I was very happy because I landed on July 30, exactly one year after my mother died. It was very important to me to be flying that day. I was really emotional.
PG: You recently crashed your plane, though, right?
AT: Yes, last November in Italy. I was supposed to fly to Brazil again. It crashed about 500 feet from the runway, about three minutes after takeoff.
PG: What was the problem?
AT: We're still investigating, but it was probably the fuel line.
PG: What were your injuries?
AT: Almost nothing, though I destroyed the landing gear and some other parts of the plane. But I'm trying to fix it.
PG: Can you describe how you feel when you're up in the air -- the essence of what it feels like to fly?
AT: [Sighs] Ahh, I love flying over the water, because the blue of the water and the blue of the sky come together, and you don't have a horizon line. You are part of something so huge.