| | | |
| --- | --- | --- |
| | Andrea Plows Field for Farmer | |
by Andrea Tremolada
This article appeared in the December 2000 issue of the Falco Builders Letter.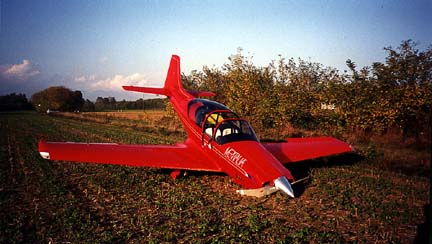 One day before the anniversary of the first flight of his Falco, this happened to Andrea.
November 1 was a sunny Wednesday. The next day would have be my Falco's birthday.
I had flown back from the U.S. the previous morning, and I still was feeling jet lag from an active week spent between busy days of business.
On the way, I spent half the flight watching the North Atlantic landscape and dreaming of flying over it with I-BARO.
As soon as I woke up I saw the sun, and I immediately decided to go flying. I drove to the airport, and there my Falco was waiting to be flown. Such a beautiful day.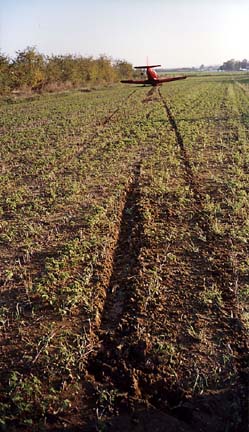 I was excited also to think that "one day tomorrow will be her birthday"!
After the usual check and refuelling the plane, I took off from Milano to Biella.
I didn't fly my usual route. Instead, I went north to the mountain. I played a little bit close to the mountains, and then I descended toward Biella. Everything was going well up to the moment I switched to the front tank and prepared for landing.
Three miles out, and at 1500 feet, the engine quit. I immediately headed direct to the airport. I tried a restart, switched to the aft tank, leaned the fuel, and tried a different throttle position. I switched again to the front tank and prepared for an emergency landing. The propeller kept turning.
The plane was flying very well and proved that the efficiency is high. The landing strip was arriving fast.
I prepared for the landing. I was still hoping to make the runway, if only I had 500 feet more. At an altitude of 200 feet, I lowered the gear, and I landed 400 feet short of the runway.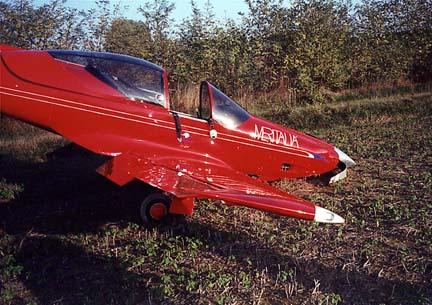 The nose gear collapsed after a few seconds in the wet mud, and I stopped in 100 feet. I opened the canopy. I was unhurt, but I couldn't understand what happened. The sun was shining, and my plane was broken.
Nobody was around. The airport was closed. For 30 years there's a been notam and the airport is closed.
There's a legend that 30 years ago, a plane crashed and the pilot died. Next year the same thing happened. They kept saying that nobody should fly in or out from Biella on Nov 1.
Ten years ago, one airport manager laughed about this and opened the field. Another plane crashed, and two pilots died. They decided to keep the airport closed on November 1 forever. I was unaware of all this. I would have not flown.
A few days later, we found the fuel vents were clogged.