First Flight:
Jan Waldahl
by Alfred Scott
This article appeared in the September 1992 issue of the Falco Builders Letter.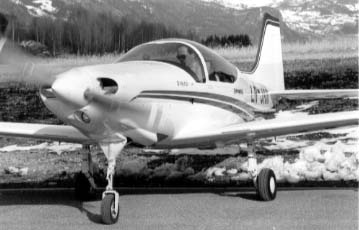 The latest Falco to break wind did it in far-away Norway. This one belongs to Jan Waldahl, who admits that he's always been an airplane-freak. "I had my first ride in a Cornell at the age of six, and I have been bitten by the bug ever since. My childhood was dominated by model airplanes of all sorts. Later when I should have joined the air force, I was too old, and I joined the Navy, and did my service in a submarine, of all things!"
While in the Navy, Jan started taking flying lessons, and then after leaving the service, he went to Sweden to study at the Scandinavian Academy of Aeronautics. While he was there, Jan did a lot of flying between Sweden and Norway, flying other students home for the weekends, and built up a lot of flight time.
During this time in Sweden, Jan took a two-week trip to the U.S. to get his instrument and commercial ratings at a cram course at American Flyers on Long Island. After finishing the school in Sweden, Jan started flying seaplanes for a company on the west coast of Norway, and he has been there until last year.
Jan tells of his first sighting of a Frati airplane: "In the early seventies, I saw for the first time the SF.260. That one really hit me hard, but I did not have the money then. It is funny to think that the price of the SF.260 then was less than what's in front of my Falco's firewall today! I did not know about the Falco, until I saw your advertisement in Sport Aviation in 1979. Building my own airplane has always been one of my dreams, so when you came up with the Falco, I knew that's it!"
Jan ordered the plans in 1980, and began ordering spruce from California and plywood from Finland. And then he started building jigs. Lots of jigs. "I threw out the bed in my bedroom and made it into a workshop! Sometimes it's nice to be single."
Two years went by building wooden and metal parts. Jan's employer allowed him to build an insulated Falco hangar inside the seaplane hangar. "At this time, I came to know Björn Eriksen who was just starting his own Falcomania in northern Norway. We have been working very closely ever since. Happily, Tony Bingelis started building his Falco at that time, and his articles in Sport Aviation helped me a lot. We did not have the complete builders-manual the builders today can enjoy."
"The years went by without too many problems. It was actually very educational, but if I had to do it once more, I would not have made the metal parts myself. It is too time-consuming, especially the landing gear. In Norway, we can't buy any prelaminated wooden parts, as the CAA will not approve it.
"More years went by, and the Falco started taking shape. The most interesting part was installing the electrical system. After years of wood and metal, it was something different.
"As I'm using the IO-360-B1E, I had quite a problem locating that engine. I finally made a deal with T. W. Smith in Ohio. The cowling needed a lot of work to house that engine. I spent almost two years installing the engine and the rest of the bits and pieces. During those years, I built a hangar at the local airport, and moved it there for final assembly.
"Finally in March of this year, I could call the CAA and have the man do the final inspection. He had nothing to complain about. The Falco was ready for roll-out.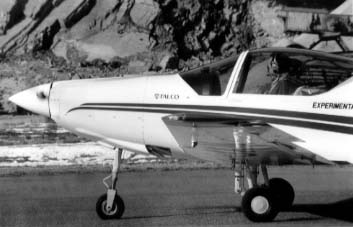 "The weather did not cooperate until late April, and then I could start the taxi-testing. it was not easy to do much high-speed taxiing, as the runway is only 2,600 feet long and both ends of the runway end in a fjord. It was like operating on an aircraft carrier. My only problem has been leaking shock absorbers. Every day I had been out taxiing, they had to be refilled." Jan traced this to a problem with one of the pistons, and we replaced it. This is a problem, unfortunately, that has been fairly common, and we have replaced the pistons for many other builders.
"One day the weather was perfect, and the Falco and I were ready to take to the air. The local newspaper was there, a friend with a video camera, and the usual crowd. After a very careful inspection, I started the engine and taxied out for the first flight."
"There I was, at the end of the runway after close to 9,000 hours of work and 11 years. Well, there was only one thing to do to find out if it was the well-flying airplane it should be -- fly it! Björn Eriksen flew his Falco before me, so he gave me a lot of good advice and combined with a very good flight-manual, I felt ready for the big moment. This moment has been described by so many, so I'm not going to repeat it. It flew beautifully."
"For every flight I have done since, I appreciate this aircraft more and more. You are right in every aspect, this aircraft is something special. I have been to another airport only once, and every mechanic on the field came out to have a look. When the Falco is sitting there on the ramp with its sleek lines, it is impossible to take your eyes from it. Thank you, Stelio Frati, for designing this wonder, and thank you, Alfred, for making it available to homebuilders."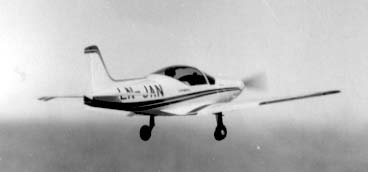 After getting his Falco into the air, Jan had to put it aside almost immediately. He started his own seaplane operation at a new location in Norway this spring. After 14 years of flying airplanes for another company, it was time to start on his own. That has kept him busy for most of the year, and as of now Jan only has about 10 hours on the Falco, so he says he doesn't have much to report. He says it seems to be doing about 170 knots at 65% power at 8,000' without nose gear doors.
Jan's Falco has the 180 hp IO-360-B1E engine and a constant-speed prop. The plane weighs 1,247 lbs empty with a red leather interior under a Nustrini canopy. As he mentioned, Jan's Falco is largely scratch-built, but there were also many kits that he purchased. It was a long process, and at one point in the construction Jan paid a visit on us here in Richmond. He was spending all of his spare time working on the Falco, and he couldn't remember what he did with his time before the Falco.
Congratulations, Jan, on a beautiful Falco. Many happy landings.