First Flight:
Jerry Walker
by Alfred Scott
This article appeared in the December 1994 Falco Builders Letter.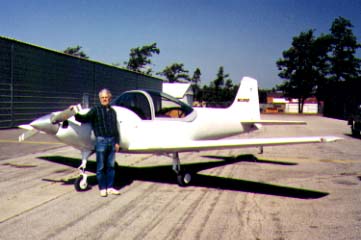 Jerry Walker and his Falco.
Just when you think that Larry Black has set the never-to-be-topped longest start-to-finish time, along comes someone like Jerry Walker who blows him out of the water. Jerry started his Falco back in the early months of 1982. That's just after Jim DeAngelo started and right before the Chilean Air Force began their Falco.
Jerry got his Falco into the air in October, so by my count, that makes it about a twelve-and-a-half year project.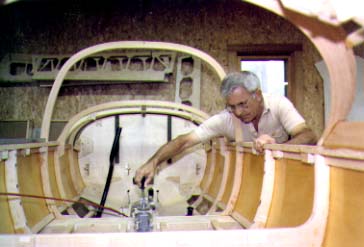 Jerry Walker is a petroleum geologist who lives in Traverse City, Michigan. Michigan has a lot of oil and gas, a bit of trivia few people know, and Jerry had an active business until the oil and gas business began to slow down in the mid-eighties. Jerry worked on the Falco in his spare time, in a large shop he built behind his house on Long Lake, a large lake big enough to land a float plane on. Jerry did just that, and kept his Cessna 185 on floats moored off the pier. When he wasn't building his Falco, Jerry took a lot of goose hunting trips to Canada in the 185.
Sometime well into the project, Jerry phased out of the business and retired to a life of hunting, golf and Falco building. Each fall, Jerry and his wife, Kathy, would head down to Palm Springs, California, and would return to Michigan in the spring.
So absolutely nothing happened to the Falco during those winter months in California, but each summer Jerry would get back to work on the Falco, and finally this past summer he got all the final bits and pieces done and on October 5 he got the Falco in the air.
The first flight lasted .9 hours and was done stiff-legged, and on the second flight the next day, Jerry retracted the gear. I asked Jerry what the first flight was like, and he said he was kind of disappointed. After reading about other Falco builders whose planes flew hands-off and perfectly trimmed out from the get-go, Jerry had a picture-perfect first flight in his mind.
It didn't happen for Jerry, instead he found his plane was somewhat out of rig, and had to hold right rudder and right stick on the first flight. As first-flight problems go, this is a minor problem and is easily corrected with a trim tab.
Other than that, everything seemed to work fine except for the front fuel tank gauge. The landing gear retracted normally and, except for the rigging problems, the plane flies like all other Falcos.
This is Sequoia Falco number 44, and it has a 160 hp IO-320-B1A with constant-speed prop. Initially painted in white only, N139SF weighs in at 1,210 lbs empty, thus it's almost exactly on spec for the weight. The panel is well-equipped, with a com, navcom, transponder with encoder, autopilot, Isocom, Fuelgard and a II Morrow 200 GPS hooked up to the Fuelgard and autopilot.
Other than that, I don't have much to report, because shortly after getting the Falco in the air, Jerry and Kathy headed for Palm Springs for a winter of sun and golf. I keep telling Jerry that golf will give you cancer, but he braves the elements anyway.
Congratulations, Jerry, on a beautiful Falco. We're all looking forward to hearing more about it in the spring.