| | | |
| --- | --- | --- |
| | Flight of the Falco | |
by Stephan Wilkinson
This article appeared in the Summer 1993 issue of the Il Quadrifoglio, Alfa Romeo's in-house newsletter.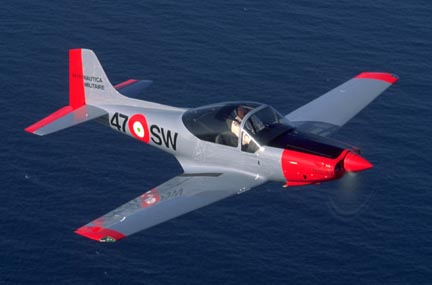 If my airplane were an automobile, it would be an Alfa Romeo. Its accommodations (two seats), engine size (four cylinders, 180hp), performance (superb), racing record (virtually unbeatable in its class) and pedigree (impeccably Italian) suggests that its four-wheel equivalent might well be a Giulia TZ -- the classic Tubolare Zagato.
The Falco F8L was designed by a brilliant aeronautical engineer, Stelio Frati, who is discussed in knowledgeable aviation circles with the reverence reserved by tifosi for Enzo Ferrari. During the late 1950s and '60s, about 100 of these superb all-wooden airplanes were handcrafted in Italy as high-performance aerobatic runabouts for well-to-do European pilots.

Hand-Built and Handy
Mine is a bit different, though. I built it myself, in an often-chilly barn in upstate New York, working from some splendid blueprints and engineering drawings based on the original-and predictably casual -- Italian plans. If it seems that I might have set myself a Sisyphean goal, remember that the people who built the original Falcos were only human. A friend of mine who owns one of those airplanes has affixed a placard to its instrument panel that reads: ''Warning: this airplane was built by Italians who drank wine with lunch and went home at five o'clock."
The task took me more than six years, but every minute was magic, for I knew that I was creating something virtually impossible to obtain in any other fashion. I wanted a flying sports car -- the aerial equivalent of the Giuliettas and XK-120s, the 356 Carrera Speedsters and my beautiful burgundy DB-4, all of which, in an age of Toyotas and Tauruses, I recalled so fondly from my youth.
Mass-produced American lightplanes -- Beechcrafts, Cessnas, Pipers, Mooneys, and as an aviation-magazine writer I've flown them all -- are the Toyotas and Tauruses of the air. (Oh, all right, some of them are Cadillacs.) They're reliable, safe, some even close to foolproof, and too often have the handling qualities of an economy car.
Many European airplanes, however, were designed to have more nervous, challenging and exciting stability, control forces and flying qualities. The Falco is one. It has, in fact, been called the best-handling airplane ever to fly, and its aerobatic capabilities are extensive.
The first time I flew mine, late one balmy, summer-still afternoon in June, it reminded me of my first ride, as a 14-year-old, in an MG TC with the top down, the tiny tailpipe blatting and my elbow inches from the asphalt. Piloting any of the thousands of Cessnas or Pipers that dot the ramps at lightplane airports all over the country has its delights, to be sure, but it's often about as exciting as sitting in a sedan with too few windows.
The Falco, however, offers a panorama otherwise available only to fighter pilots: 360 degrees of clear vision through a comfortable, fully enclosed bubble canopy. The airplane is also so compact that it's like sitting atop a full-sized radio-controlled model; the wingtips seem little more than an arm's length away, compared with the ponderous wings of many other lightplanes.
| | | |
| --- | --- | --- |
| | A friend of mine who owns one of those airplanes has affixed a placard to its instrument panel that reads: ''Warning: this airplane was built by Italians who drank wine with lunch and went home at five o'clock." | |
Why Build Your Own?
It's things like this -- and the fact that the Falco is faster than just about any store-bought single-engined airplane without a turbocharger -- that lead thousands of U.S. pilots to build their own airplanes. Many of them are made of fiberglass, some are aluminum, and a few, such as the Falco, are made of wood. They run the gamut of shapes from Piper Cub simple to open cockpit biplanes to odd, tail]ess creations that -- to my eye at least -- have more in common with lawn darts than they do lightplanes.
Some homebuilders literally roll their own: They start with a set of plans and a shopping list and create a flying machine out of bits and pieces, blood and sweat. Some even design their own machines. The results range from fatally flawed crudity to a phenomenal aluminum two-seater called Melmoth, designed by Peter Garrison, a California writer and computer hacker with no engineering background. He went on to fly his plane across both the Atlantic and the Pacific and much of the length of South America. (Melmoth was destroyed several years ago in a ground collision with a runaway Cessna and Garrison is currently completing construction of his second self-designed homebuilt, a four-seat Melmoth II molded of carbon fiber-reinforced, vacuum-molded fiberglass. Don't be surprised if he takes it around the world.)
Other builders -- me included -- take the easy course and assemble a commercially available kit. There are perhaps half a dozen different lightplane kits of acceptable quality and reliability on the market. (It's a market not unlike the one for kit Cobras and replicars, served by a few reputable suppliers and dozens of basement entrepreneurs flogging shoddy wares.) Some kitplanes pop together almost like life-sized plastic P-15 Mustangs. Others require far more work. The Falco is one, and though I have no idea how many actual hours of cutting, drilling, sanding, clamping and gluing it consumed, I do know that it took six and a half years to go from workbench to runway.
Born of an Obsession
The Falco became a kitplane when an obsessed young Richmond, Va., pilot named Alfred Scott decided that it would not only be fun but profitable to offer for sale the plans for that airplane, about which he'd read, though he'd never actually seen one. (Scott was later to buy an elderly factory-built Falco.) The reclusive designer, Stelio Frati, to everyone's surprise replied to Scott's out-of-the-blue entreaty and mailed to Richmond the tattered, much modified, frequently updated, all-in-Italian blueprints, and Scott suddenly realized he'd bitten off a large chunk of calamare.
His first step was to hire a U.S. aeronautical engineer to redesign and rationalize many of the Falco's internal systems. For example, the original Falco flap-actuating mechanism had 52 parts-an array of bellcranks, rods, ballend joints and pivots that resembled the throttle linkage of a Ferrari with six Webers. The redesigned system has three major components and makes use of an ingenious jackscrew-and-torque-tube mechanism.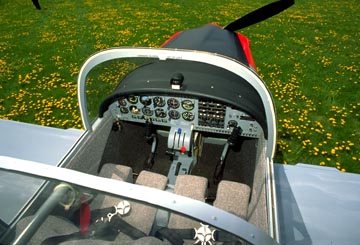 Scott then taught himself engineering drafting and re-drew the plans -- 150 pages of blueprints and 400 engineering drawings. Fortunately, he had the help of an invaluable acquaintance: Don Black, Alfa Romeo's chief engineer in the U.S., who was able to translate for Scott the arcane Italian engineering symbology and measurements.
Before long, Scott also figured out that while there might be a small market for the $400 blueprints, there was a considerably more interesting market for the plans plus $76,000 worth of parts with which to assemble it. You'll probably spend another $30,000 for a used engine -- a 160- or 180-hp Lycoming -- radios and miscellaneous building materials I've installed an IO-360-B1E, 180-hp Lycoming with a controllable-pitch propeller. Many other builders choose the more fuelefficient, but less powerful Lycoming IO-320, 160hp, also with a controllable-pitch prop.)
So he first hired subcontractors and then ultimately undertook much of the manufacture of major components in-house. Today, if you buy a complete Falco kit, what arrives on your doorstep is an enormous one-piece wing spar; all of the wing ribs that shape the airfoil; the complex, circular, laminated frames that form the basic fuselage structure; major components such as the cockpit canopy, engine mount and landing gear; all of the terminals, connectors and hundreds of cut-tolength and color-coded wires with which to fabricate the airplane's extensive electrical system; and thousands of carefully bagged and marked nuts, bolts, screws, washers, clevises, turnbuckles and myriad other tiny parts.
The Perfect Recreational Vehicle
Now that I have my flying sports car, what do I do with it? It's surprisingly useful and economical for business trips to destinations from 150 to about 700 miles from my Hudson Valley home -- too far to drive conveniently, yet a time-consuming, change-planes, hub-and-spoke trip by airliner. (The Falco is outfitted with a full complement of instrument-flying avionics and systems.) Also, my 14-year-old daughter -- who may someday soon be flying it herself -- finds the Falco the perfect summer-vacation airtaxi in which to go visiting far-flung friends and cousins.
But frankly, like any true motorsport enthusiast, I spend as much time under the hood as I do behind the wheel (Actually we call it the "engine compartment" and the "joystick.") There's always an upgrade to make -- my wife gave me an autopilot for my birthday, so that's the next project I'll install -- or a system to refine.
My next experiment? A change in the Falco's baggage-area bulkhead to make room for a pair of high-quality, lightweight folding bicycles. My wife's and my sport of choice is not flying, but road bicycling, and the little Falco's ultimate mission will be to stand at the ready while we debate the burning question: "Where do you want to go and ride this weekend? Nova Scotia, Montauk or Vermont?"


About That Paint Job
No, the Falco never was a fighter, even in the days of iron men and wooden airplanes. However, Stelio Frati's most successful design is an airplane that has been used all over the world as a fighter-trainer and even as a counterinsurgency attack plane, by Third World nations that wished they had F4 Phantoms but couldn't afford them.

The plane is called the SIAI-Marchetti SF.260, and it is nothing more than a Falco with a slightly larger fuselage, a considerably more powerful engine (260 hp), tip tanks and a swept tail, all manufactured of aluminum rather than birch plywood and spruce.

So I decided to honor the Falco's big brother and painted N747SW in an approximation of a 1960s Italian Air Force color scheme. It is an article of faith among Falco enthusiasts that any such plane must be painted red -- a sentiment not unknown among Alfa Romeo owners -- and this was one way to avoid such sameness while remaining faithful to the design's patrimony.

My one mistake, since corrected but evident in these photographs, was point out to me by a young Italian pilot who saw the airplane at an air show. He quietly took me aside, too kind to embarrass me in front of admiring bystanders, and said "No i in 'Militare.' You have the French, 'Militaire.'"