| | | |
| --- | --- | --- |
| | Building an airplane teaches valuable life lessons | |
Builder teaches himself, and his daughter, that nothing is impossible
by Janice Wood
This article appeared in the August 5, 2002 issue of the General Aviation News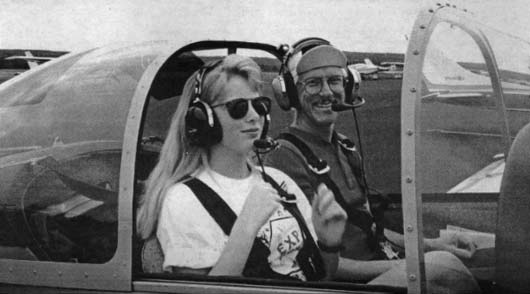 TIME TO TAKE A RIDE: Stephan Wilkinson and daughter,
Brook, in the cockpit of the Falco they built together behind their house.
When Stephan Wilkinson first decided to build his own Falco aircraft, it never entered his mind that it would teach him -- and his daughter -- so many important life lessons.
For six years, from 1985 to 1991, Mr. Wilkinson built his Falco in the barn behind his house in Cornwall-on-Hudson, N.Y.
A former editor of Flying magazine, aswell as Car & Driver, Mr. Wilkinson works as a freelance aviation and automobile writer from his home office.
Building the airplane in between assignments -- or whenever the desire hit him -- Mr. Wilkinson admits that at times the airplane consumed him. Then there would be a few weeks when he wouldn't work on it at all. But he never gave up on the dream, one of the most important lessons he taught his daughter.
"She was able to see, from about 5 to l2 years old, that her father -- an ordinary human being -- was able to undertake a task that some people think is impossible -- and he did it routinely," Mr. Wilkinson says. "She grew up having no fear of the impossible."
Over the six years that the Falco took shape, he taught his daughter a philosophy you can only teach by action, never with words, says his wife, Susan Crandell, editor-in-chief of More magazine. Writing in the magazine's July/August 2002 edition, Ms. Crandell notes that her husband taught their daughter, Brook, "that perseverance is every bit as important as intelligence, and that you should never, ever think small," she says.
"The Falco is the ultimate education experience for our daughter," Ms. Crandell noted in an article written during the Falco's construction. "Imagine watching an entire airplane take shape in back of your house, built by your father. Nobody's ever lectured her about the import of this experience. ('Now dear, you know when people want something and work hard, no matter how difficult, it can happen.') The Falco is simply there -- an extraordinary undertaking that we pretty much take for granted day-to-day. I hope she'll take for granted that such things can occur."
Tackling the project was something he always wanted to do. But he didn't start until he received a special Christmas present from his wife: Permission to build his own airplane. "She knew I'd wanted to do it for a very long time," he says. His hero, and long time friend, Peter Garrison, had not only built, but also designed his own aircraft, a Melmoth. The Melmoth flew across both the Atlantic and the Pacific oceans before being destroyed in a ground accident. Mr. Garrison is now about to fly his next generation aircraft, the Melmoth II.
"Peter taught me that the longest journey is simply a series of individual steps," Mr. Wilkinson remembers. "You don't look at the end -- and how much there is to do -- but take it one step at a time."
The first step was choosing which aircraft to build. A pilot since 1967, and an aviation writer and editor, Mr. Wilkinson was familiar with many homebuilt models, where the cornpany takes the new owner's deposit and uses that to make the parts for the airplane. So he was impressed when he stopped in Richmond, Virginia, at the Sequoia Aircraft Corporation, distributor of the Falco, to visit with President Alfred Scott.
"They had a warehouse full of Falco parts," Mr. Wilkinson says, remembering there was probably enough parts in the warehouse to build 50 Falcos. "It was a class act. I never considered any other aircraft."
Although the aircraft is complex, the kit is very user-friendly. It comes in a series of several dozen subkits. The first is the tail. "It's small, but it embodies everything you have to do with the rest of the aircraft," Mr. Wilkinson says. "You start slow, but once you build the tail, you say to yourself 'wow, I can do this,' then you move on."

He acknowledges that many people who tackle the gargantuan task of building their own aircraft get discouraged and quit. "But most people who build a Falco don't do it on a whim," he says. "There's a lot of thought that goes into it."
There's also a lot of support. Mr. Wilkinson remembers receiving answers to a question faxed to the Sequoia headquarters within 20 minutes -- on a Sunday afternoon. There's a newsletter for Falco owners, as well as a website, seqair.com, that gives owners tons of information.
Mr. Wilkinson's trials and triumphs in building his Falco are well-documented on the site. He estimates he wrote more than a million words on the endeavor. So many people were surprised when Mr. Wilkinson did not make the first flight in the Falco. But that was another well-learned lesson, this time on safety.
"The accident record on the first flight of homebuilts is incredible," Mr. Wilkinson says. "A lot of people made fun of me, but a lot of intelligent people said that's the way to do it."
It is estimated that 10% of all fatalities suffered in homebuilt aircraft occur on the first night. This is partly due to pilots who are not current -- they've been busy building their aircraft rather than flying; as well as unknown handling qualities. Mr. Wilkinson asked his friend, Mark Reichin, a professional test pilot, to take the first flight.
"I have 2,700 hours and 130 different aircraft types logged over the last 25 years, so I have no doubt that I could have made it around the pattern, but I have very little time during the past two years," Mr. Wilkinson wrote at the time in the Falco newsletter. "And I really believe that currency, not total time, is the heart of proficiency. Reichin is a 4,000 hour singles-and-twins pilot who probably does 500 hours a year and flies his Mooney (and a variety of other types) with the familiarity of a commuter driving his station hack."
The Falco's second flight, however, belonged to Mr. Wilkinson. "It was pretty invigorating," he recalls. "It was like my first solo in a sense. It was more exciting than seeing the airplane fly the first time."
And while the aircraft was officially "done," the project continued on for much of the next decade. "It was a work in progress," Mr. Wilkinson says. "There's always more to do -- something to add to it, something to fix. You're never totally finished with an airplane."
Mr. Wilkinson's Falco, N747SW was the 31st Sequoia Falco to fly. He estimates he spent about $80,000 building the airplane. He eventually painted it with a 1960's Italian Air Force fighter paint scheme: Grey overall with black on the top of the cowling, redwhite-and-green rondelles and red elevator and rudder. He flew the aircraft, mostly on business trips, for the next eight years.
In 1999, realizing he wasn't flying the aircraft enough, he decided to sell it. "I really wasn't current enough," he says.

"And I think you should either do it right or don't do it at all."
He advertised the Falco for sale, and even got an inquiry from a U.S. Senator about buying the aircraft. But he decided to sell it to Bob Hendry, an Australian marketer and one-time semi-pro football player who worked for an Internet company in Portland, Ore. Once negotiations were complete, he delivered the Falco to Mr. Hendry in Portland, savoring that last cross-country flight. When he landed in Portland, he handed over the Falco to Mr. Hendry, closed the hangar doors and walked away -- with no regrets.
"I was thinking of my next project," Mr. Wilkinson says. "I was rebuilding a Porsche."
Mr. Wilkinson's daughter, now 23 and an editor at Popular Science magazine, drives the Porsche on a racetrack. He continues to tinker with it, but is also busy hatching other projects.
"I always have some kind of project going," he says, noting that if he were still flying he'd "absolutey" build his own airplane again. "I'd love to do it again and do it better," he says. "It was all fun. There were difficult things and discouraging times, but everything was great fun.
There is nothing I regretted."
Where Is It Now?

The Falco that Stephan Wilkinson sold to Bob Hendry is now in Australia, flown there by a German ferry pilot.

The journey, which began April 7, spanned 14,000 miles. Before the journey, a 56-gallon ferry tank was installed in Spokane, Wash. The last stop before flying over the Atlantic was Goose Bay. "Sunday from Goose Bay, I went to Reykjavic 7.5 h 1350 nm and yesterday from Iceland to Wick and direct to France, again 1400 nm," the pilot wrote in an email posted on the Sequoia Aircraft Company website.

The next leg of the trip took the Falco to Dubrovkik, then El Arish (1,083 nm); El Arish to Bahrain (1,120 nm); Bahrain to Muscat (450 nm); Muscat to Ahmadabad (806 nm); and Almadabad to Calcutta (890 nm). He landed in India May 7.

The next leg on the trip was Calcutta to Rayong (956 nm); Rayong to Subang (624 nm); Subang to Den Pasar (1,093 nm); Den Pasar to Darwin, Australia (959 nm); Darwin to Alice Springs (706 nm); and finally Alice Springs to Melbourne (1,016 nm).

The Falco touched down on Australian soil May 13 at 4:45 p.m. CST. "Plane has performed flawlessly, flown IFR from France at 13,000," Mr. Hendry wrote in an email. The next day, at 3 p.m, the plane arrived in Melbourne.

The constant communication from Mr. Hendry about the flight to Australia was, of course, very interesting to Mr. Wilkinson. It was also very gratifying.

"I was delighted to hear from him," Mr. Wilkinson says. "And to hear that the plane never missed a beat."

Janice Wood