| | | |
| --- | --- | --- |
| | Guido Zuccoli | |
This article in the March 1997 issue of the Falco Builders Letter.
Dear Alfred,
It has fallen my sad lot to inform you that Guido Zuccoli was killed in an airplane accident in Australia on March 6. Wayne Milburn called me at 8:30 this morning which was 1:30 tomorrow morning there, and so the date of the incident may be recorded as today's date even though it happened yesterday on our time...
The airplane was a T-6. There was some kind of engine or mechanical failure on take-off. The passenger was not seriously injured.
Anyway, it is a terribly sad thing for me. The month that I spent in Australia in 1993, most of which was spent with Guido, Lynette and Wayne, was one of the most enjoyable and memorable experiences in my life. I had always thought that someday we would get together again either in Australia or here.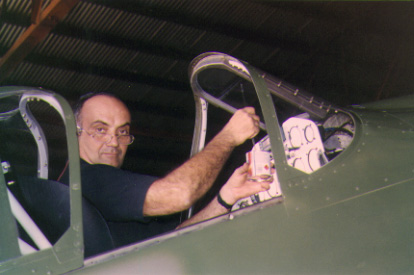 Guido Zuccoli
You will remember that I introduced you to Guido at Oshkosh '88. Guido and Dennis Sanders were rooming with me because they had shown up at Oshkosh without any room reservations, and I was glad to share with them. I had not met Guido before. The Sanders had restored a WWII Fiat fighter plane for Guido, and they won a major Warbird award with it.
Guido was a consummate flyer. His first airplane was a Chipmunk in which he first learned aerobatics. He had imported the first Pitts S-1 into Australia in 1976 and was on the Australian National Aerobatics Team. He competed at the World Aerobatics Championships in the Soviet Union in 1976 and in Czechoslovakia in 1978.
He has owned a number of Warbirds including a Sea Fury, a P-51, Fiat WWII fighter which he raced at Reno, a T-6, T-28 and others. He later had the only flying Boomerang in the world, and he had other airplanes such as Pitts, J-3 Cub, Tiger Moth and so on.

Guido's hangar and a few of his birds.
I asked him if he had any interest in homebuilts, and he said that he had not seen one that interested him. I said, "Well, I am going to show you one that you will be interested in because it is not only Italian but also the prettiest airplane ever designed". And so, I introduced him to you, and as they say, the rest is history.
His was the first Falco to be built in Australia. I was privileged to fly it the 2000-mile round trip to Mangalore in '93 where it won an award. Guido flew the Sea Fury and Wayne flew the recently completed Boomerang to the show.
Because I was flying the only two-place plane of the lot, Lynette rode with me. I kidded Guido that he was a trusting soul. Not only did he let me fly his airplane, but he let his wife ride with me! He just smiled. He had checked me out with Frank Sanders, and he had also checked me out in the airplane. I was the pilot, Lynette was the passenger, and we called ourselves "Driving Miss Daisy".
Guido was as accomplished a pilot as I have ever known. He seemed to be equally at home in any airplane from the Cub on up, or down, as the following story will illustrate. I am enclosing a picture of Guido in one of the most interesting airplanes I ever saw. He and Lynette drove me approximately 40 miles through rolling farm country to a village of ten houses or so where a fellow had this homebuilt. The builder was an older man in a slouch hat. The airplane was tied to a tree out in a pasture as if it were a fractious horse.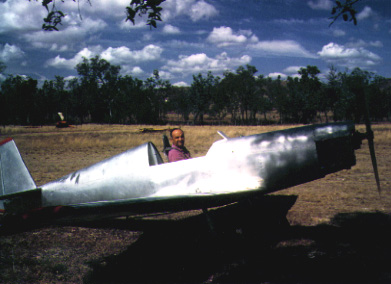 Guido in the microlight.
It was the most rudimentary airplane that I had ever seen and my first impression was that you didn't want to stand too close to it. It was made entirely of .016 aluminum, with typical 'oil canning' plus the rash that you would expect from that environment. It had only one electrical wire with one switch, the "kill" switch and only one instrument, the airspeed indicator. But at the same time, it was designed as a fairly high performance airplane. In talking to the builder, we found that he was really quite sophisticated, a retired engineer, very knowledgeable and quite impressive. He had designed and built the airplane on a minimal budget.
The point of this story is that Guido flew the airplane, gave us a high-speed pass and a wing-over, and did his usual perfect landing. He could fly anything.
Guido had survived two incidents in the Pitts S-1. In one, he was doing an airshow and was making an inverted turn back to the runway when he realized he was low. He caught some wires with the wing and cartwheeled into an inverted crash. He was not injured and credited the structural integrity of the Pitts for saving his life. The other incident was the result of an engine out. He landed on the soft edges of a river dam and once again ended upside down, and again with no serious injuries. He also had an engine failure in a Sea Fury which resulted in an uneventful wheels-up landing, and an engine-out while racing a T-28, this time landing without any damage. He knew the risks.
Guido was a quiet man and a modest man. When the awards were presented at Mangalore '93, he stayed in the background. Lynette was given the Falco award because it was her airplane. Wayne accepted the Boomerang award.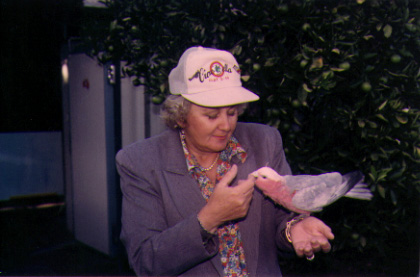 Lynette Zuccoli and a more affordable bird.
His good friend Dr. Hilton Selvey, who first flew competition with Guido 25 years ago, tells me that he "never heard Guido use any dubious language, not even a 'damn'," and that "his outstanding characteristic was his generosity and kindness. I never heard anyone express anything but admiration for him". Having known Guido for a much shorter time, I would concur with all of this.
Hilton also said "he was very circumspect in his criticism of others, and the harshest word I ever heard him utter was to refer to someone as a 'nitwit'".
He also had other interests outside of flying. He loved to make Italian sausage, owned a share of a vineyard and traveled to Italy every year to visit his mother and brothers and to enjoy skiing. The world is a poorer place for his passing. There will never be another Guido.
My heart goes out to Lynette, their daughter AnnaMaria and her husband Matt, and to Wayne Millburn. Wayne was like family to them, and they were all like family to me.
We are all diminished by the loss of someone like Guido Zuccoli.
Dean Hall
Ft. Collins, Colorado
What terrible news, and what a loss. If you'd like to write Lynette Zuccoli, her address is: Gray Gums-MS 617, Toowoomba, Q. 4352, Australia.-Alfred Scott