A Classic That Flies
in a Class by Itself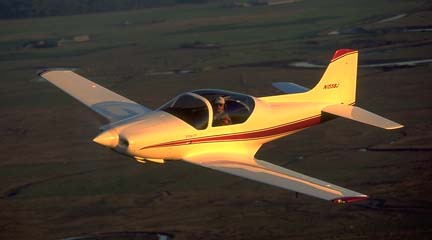 The F.8L Falco is a two-seat aircraft with comfortable side-by-side seating for two large adults and provisions for adding a third seat for a 90-pound child in the luggage compartment behind the pilot and passenger's seats. The modern instrument panel provides for a complete IFR installation.
A true dual-purpose aircraft, the Falco offers an unbeatable combination of high-speed cross-country travel with complete aerobatic capability.
Powered with a fuel-injected 160 hp Lycoming, an engine of legendary reliability, the Falco will cruise at 190 mph. The fuel-injected 180 hp Lycoming may also be used, providing a cruise of 198 mph and a dramatically higher rate of climb.
Forty-gallon tanks provide an ultimate range of about 1,000 miles. All that speed means fuel efficiency-specifically about 25 miles per gallon.
Normal landings and takeoffs require only 1,150 feet to clear a 50-foot barrier. The flaps are very effective and allow for steep approaches. The landing gear is very rugged and is suitable for rough-field operation. The maximum permissible speed in a dive is 240 mph.
The gross weight of 1,880 pounds provides a useful load of 668 pounds, ample for two people, full fuel and luggage. The aerobatic weight provides for the ability to carry two people, one hour of fuel and parachutes.
The Falco is much stronger than a normal airplane, and this added strength means it is capable of taking loads far in excess of those that a normal aircraft could stand. Operational limits are +6 g's and ­3 g's at aerobatic weight. The ultimate load factor is 7.8 g's at full gross-9 g's at aerobatic weight. The ultimate load factors provide a margin of safety of 50% over the normal operational load factors.
With a power-to-weight ratio that is lower than most singles, the Falco accelerates quickly on takeoff. At 1,150 feet per minute, the rate of climb is brisk. You'll be able to climb rapidly through weather to smooth clear air on top.