Flying as you always
dreamed it would be.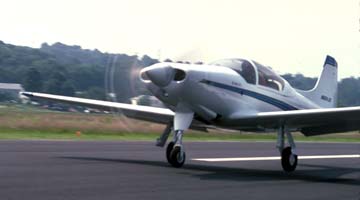 The tricycle landing gear is retractable. Retraction time is approximately 7 seconds, and a hand crank between the seats is provided for emergency operation. The trailing-link landing gear absorbs energy well. You really have to work at it to make a bad landing in a Falco.
The sliding bubble canopy provides easy entry and the unlimited visibility of the fighter pilot. The comfortable cabin has plenty of headroom. The ride in turbulence is smooth, and the vibration level is very low. The seats are adjustable and an optional rear seat may be fitted for a child. Dual control sticks are provided, and the stick on the right is removable to allow freedom of movement for the passenger. Exceptional visibility gives the cockpit an open and spacious feeling.
A timeless beauty and a masterpiece of design. This is no ordinary aircraft. It is a classic European gran tourismo sex-on-wings design that has an elegance of design and a purity of form and function not found in other aircraft. The Falco's speed, aerobatic agility and smooth, jet-like handling puts it in a class completely to itself.
Whatever your needs--aerobatics, cross-country flying or both--you will find that the Falco will add a new dimension of enjoyment. It will give a new meaning to flying, and put the joy of flying back where it should be. The Falco is flying as you always dreamed it would be.