| | | |
| --- | --- | --- |
| | Al Dubiak's Bronze Lindy | |
by Alfred Scott
This article appeared in the September 2003 issue of the Falco Builders Letter.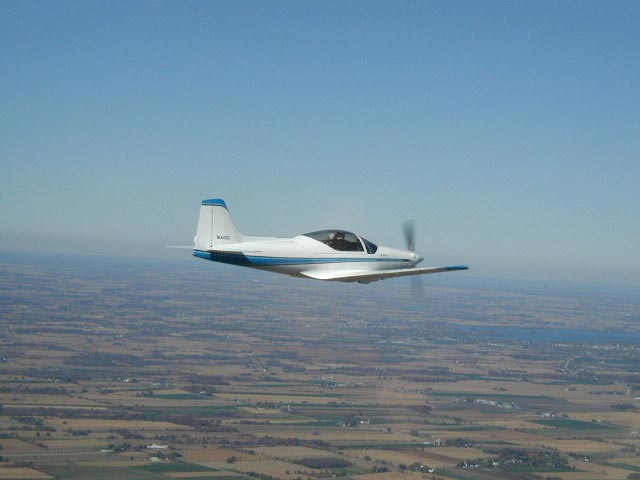 When someone is building a Falco, it's always been pretty obvious to me when the builder is turning out a great machine. Karl Hansen used to go on and on about how he had worked very hard on something and how it came out just right. There was real pleasure in his voice when he described all this.
And from the time Al Dubiak started working on his Falco, it has been equally obvious that he would build a near-perfect machine. It's hard to imagine a more careful workman, more interested in getting everything exactly right, and looking 'right'.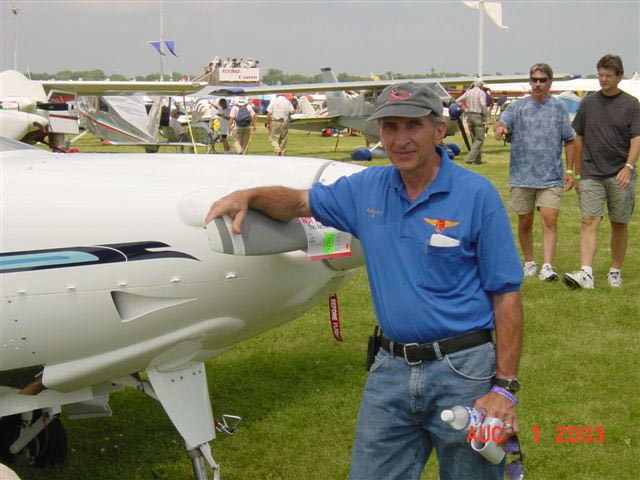 | | | |
| --- | --- | --- |
| | Al Dubiak at Oshkosh 2003 | |
So when Al got his Falco flying in March 2000, I've been curious how the airplane would show at Oshkosh, which is just 'up the road' from his Chicago home base. But Al is a quiet sort and never seeks public exposure, and a few years have passed.
Even this year, Al did not plan to go to Oshkosh, and he really wasn't interested in going at all, but then one week before Oshkosh, someone out of the blue prompted him to go. Even today, he can't quite explain what pushed him to do it. One thing was that with three years on the airplane, it was starting to accumulate some hangar rash, and if he waited any longer, the age would start to show. Al was also skeptical about his ability to handle the traffic into the airport, but a friend in the EAA chapter offered to fly with him in the right seat and help him. Having someone to go with him made a big difference, particularly since his friend had flown there a number of times.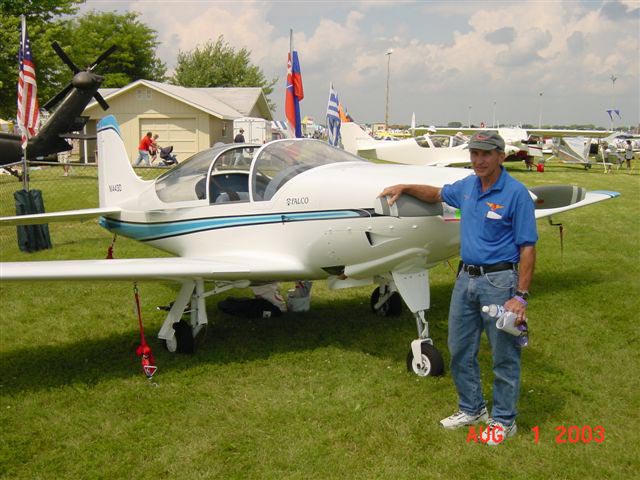 And, he thought, if I don't do it now, I'll never do it.
So Al lined up a spot in the campground for his tent, and arrived on Tuesday morning. There were only two spaces left in the homebuilt section, and they parked him between two rows at the end, over next to the fence.
Then Al went over to register, and they asked him if he wanted to be judged. I guess so. So he got his judge-me sticker and put it on the airplane. Bill Russell, Cecil Rives and Dave Nason were already at Oshkosh, and Dave's Falco was in a special Grand Champion circle for previous winners, since he effectively came in second in judging one year. Dave explained to Al that the more signatures you get on the judge-me sticker, the better it was. At the end of the first day, Al counted four signatures, and then there were five more on the second day. By the end of the show, he had 14 signatures in all.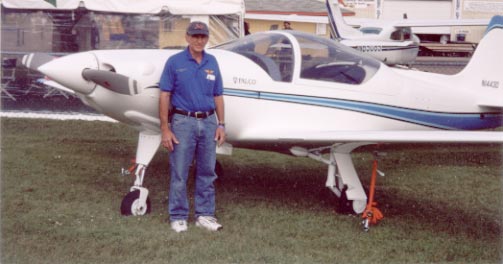 Go back to Al Dubiak