The only aircraft failure we had was that of the power unit for the strobe lights. Ardmore is a very very busy general aviation airport with no tower and a very mixed bag of aircraft from warbirds to helicopters, singles twins and ultra lights. There is no tower, but there is an efficient unicom. I would have liked the strobes to be operating.
Giovanni loaned us a car, and we traveled to near central Auckland, a distance of around 25 kilometers to a motel in Parnell. This is a pleasant area and is home to numerous excellent restaurants which we appreciated. There was a bit of a mix-up about the motel bookings so we moved down the street in the morning, and were able to do some washing at last.
Friday was spent quietly. We hired a car in downtown Auckland and in the afternoon drove out to Ardmore with the hire car and Giovanni's Fiat (naturally). We had dinner that night with George and Vicki.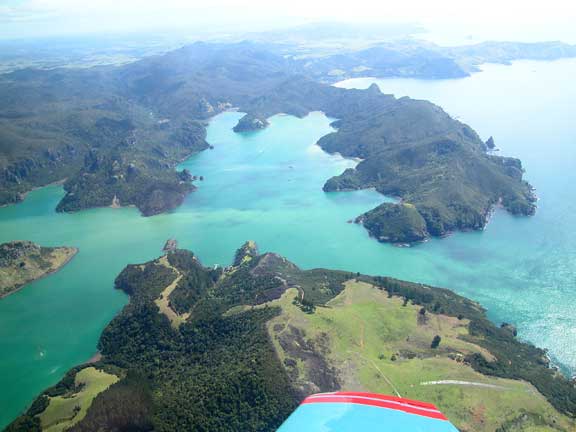 Whangaroa Bay and Harbour, in North Islands, New Zealand.
Out to the aerodrome in the morning for the meeting proper where we met Drew and Judy Done, Stephen and Annie Friend, Neil and Gwen Aitkenhead and Graham Lean all from Australia. From New Zealand there were George and Giovanni, of course, together with Troy Tiller, and Matthew McCarty and his sister, interested New Zealanders. The latter has now begun to build.
Two Falcos (George had not flown off the probationary period); a Tecnam and a Cessna were used to ferry the people to Whitianga on the Coromandel peninsula for lunch. A very pleasant expedition blessed by beautiful weather. Giovanni did several trips exhibiting a spirited circuit technique each time.
Ardmore is a very interesting aerodrome, home to many warbirds and ultra lights as well as the usual mix of GA aircraft. With only one major active runway, apart from a parallel very short strip suitable mainly for ultra lights, it is very busy. I missed my strobes.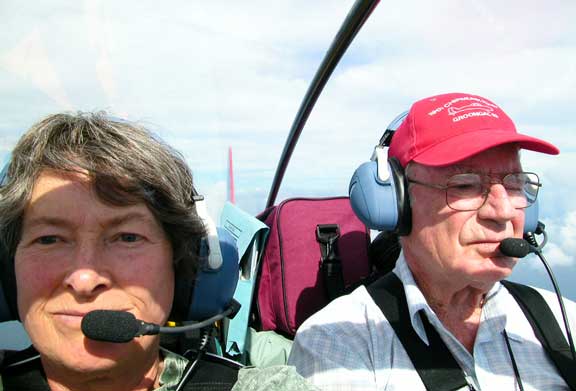 On Sunday we went late to Ardmore. Giovanni showed us a film of Luciano preparing for and flying in a race in the early days. No wonder he won so many races. His preparation and execution of his plans was meticulous. Lunch was a Nustrini special pizza—delicious.
In the afternoon the Friends and the Dones went off to see something of New Zealand. The others departed for home.
The following day Juliet and I visited Ardmore again. George and Giovanni flew YBN, and Juliet and I had some experience flying a Tecnam Golf. Certainly a well mannered and capable small aeroplane, classified as an ultralight. One of the models is actually being used for towing gliders.