| | | |
| --- | --- | --- |
| | To Work in a Falco | |
by Ian Ferguson
This article appeared in the June 2001 issue of Falco Builders Letter.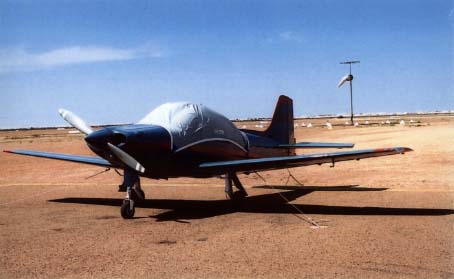 The Falco sleeping at Coober Pedy
Juliet has a thirst for adventurous situations. She took a job for a month as doctor to an aboriginal settlement in the remote Kimberly region of Australia. This region is situated on the continent diagonally opposite to where we have our home.
Juliet was due to start work on the January 4, so we decided to leave home on Sunday December 30 so as to have a leisurely trip and short holiday.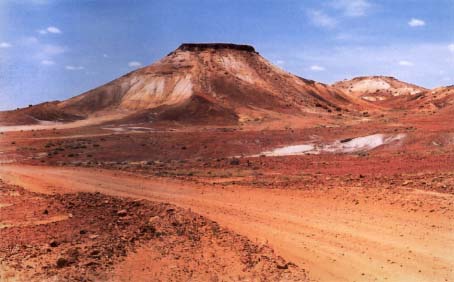 The Breakaways near Coober Pedy
We left home on a warm day at around 10:00 under broken cumulus passing over a patch-work of dry yellow, and green irrigated paddocks heading for the mining town of Broken Hill where we refueled. Past Broken Hill the country became desert with sand hills and low scrubby vegetation, cruising at around 8,500 feet with an indicated air speed of 160 knots (close to 180 knots TAS).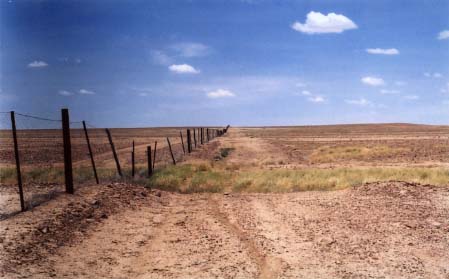 The dog fence constructed to keep dingoes out.
We saw the New Year in Coober Pedy. This is an old opal mining town where many people live under ground due to the heat -- 44°C (111°F) on our arrival. Initially, we checked into an extremely poor lodging with very basic facilities. The hostess was taken aback when we asked for a couple of glasses. "There is already a cup in your room," she said. Other appurtenances of the room were of a like quality. Needless to say we found something much better the next day in a motel called The Mud Hut because of the structure of its walls.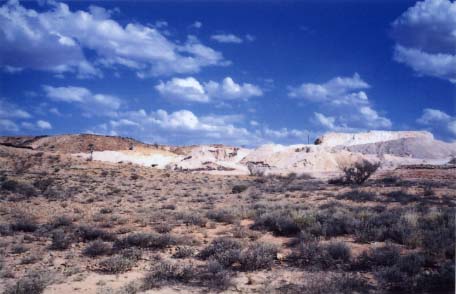 Mullock Hills from opal mining -- Coober Pedy
We were able to hire a vehicle and travel about a bit the day after our arrival, viewing a range of stark hills called The Breakaways and returning to town along a section of the dog fence, probably the longest continuous fence in the world. It extends across the states of South Australia and Queensland for a distance of thousands of miles. It was built with the aim of keeping the dingos (wild dogs) of the Northern cattle country out of the more closely settled sheep country of the South. The fence was only partially successful as might have been expected.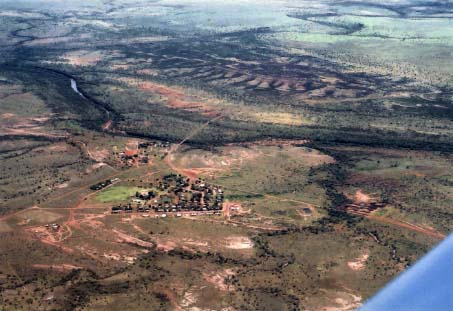 Kilkarindji between the Kimberley and the Tanami Desert

Go back to Ian Ferguson