| | | |
| --- | --- | --- |
| | To Work in a Falco | |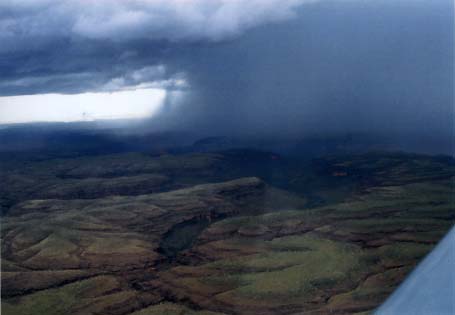 Storm over gorges in Fitzroy Mountains
Off again on Tuesday January 1 for Alice Springs and Tennant Creek, refueling at the Alice. (There is an Australian habit of substituting the for one word in a two-word name, eg. 'The Towers' for Charters Towers, 'The Mount' for Mount Morgan.) We departed the Alice around five minutes after a Cessna 210 who was heading for Tennent Creek at 10,000 feet. We were at the bowser filling up when he arrived at Tennent Creek. Distance 249 nautical miles. He made no comment!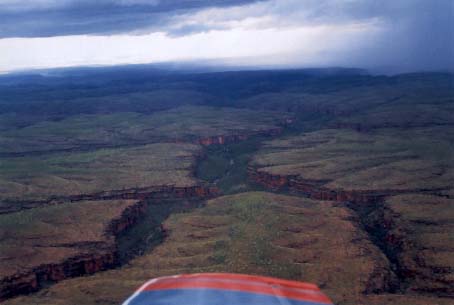 Gorges Fitzroy Mountains
While at the aerodrome a brightly painted C150 arrived en route Geelong in Victoria to London and return. The pilot was sponsored by the Lions Club to raise money for disabled children. I have since heard that he made the trip successfully. He was equipped with three GPS's, and two of everything else. Getting lost was not going to be a problem.
After a night at Tennent Creek, we traveled over the Tanami desert on to Kalkerindji, an aboriginal settlement. This used to be the headquarters of Wave Hill station, a very large cattle property also known as the place where aborigines went on strike for the first time. Prior to that, they worked for tucker (food) and keep only. Now they buy their tucker and tend to drink away what money is left. Just north of here is Victoria River Downs, said to be the largest privately owned property in the world.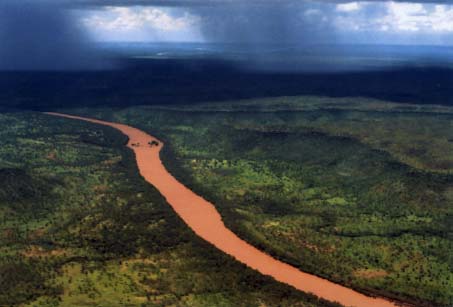 Victoria River at Timber Creek
After a day at Kalkarindji, it was out to the airstrip for my return home, this time via Tennent Creek, Birdsville and Broken Hill, a distance of 1465 nautical miles. Overnight at Birdsville where I paid $1.38 per liter for fuel -- it seemed a lot at the time, but I've paid more since. The only other event of interest was meeting a few old gliding friends at Broken Hill where they had been held up by poor gliding weather in the course of a cross country gliding safari. No photographs on this leg as Juliet had the cameras at Kalkarindji.
Total distance covered 3027 nautical miles flown mostly between eight and ten thousand feet.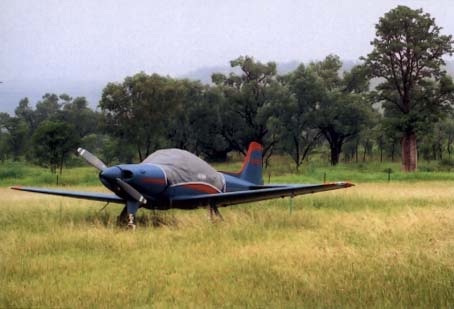 Tie down with Sentinel Boab -- Timber Creek
Go back to Ian Ferguson