A Family Affair,
the Nustrinis and the Falco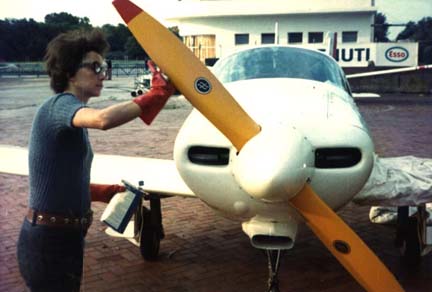 | | | |
| --- | --- | --- |
| | Giuliana Nustrini polishing I-ERNA. Note wooden prop and early cowling mods. | |
Always in the very depths of my mind, I had a dream to one day, own my very own Falco, because I knew that Dad would never let me fly his Falco on my own (ERNA was truly a tricky machine I remember that one day he asked a friend of his, Romano Loli, to fly ERNA from somewhere back to Florence -- Romano was a F104 Starfighter instructor He did land successfully, but after taxing to the hangar where Dad was waiting, even before he hopped out of the plane he handed the keys to Dad and said "Luciano, do not ever ask me to fly your plane again.").
I remember that one day that dream came to the foremost of my mind when I went on my first solo in 1983 with the Auckland Aeroclub, because I knew the only plane to fly was a Falco.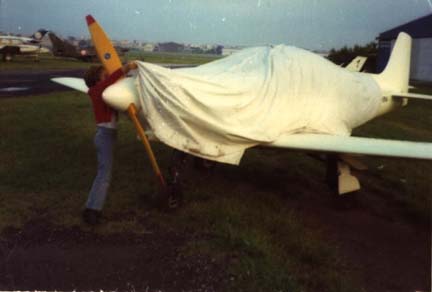 | | | |
| --- | --- | --- |
| | Giovanni covering the Falco. | |
As with any passion I worked hard toward my goal, taking over Dad's dream to show people a completely new and exciting way of aviation, with Tecnam. Every hour of experience I gained in the Tecnam's I knew would be valuable for when I would be flying my own Falco. And so it was.
It did not take long for my ears to hear of a Falco lying idle in a lonely hangar in the remote South Island of New Zealand. Being such a small country it did not take long to track down the owner and arrange a meeting with him, not to ask him to sell his beloved Falco, but just to see the machine (well that was my excuse anyway!). I had not seen a Falco since Mum and Dad very sadly died in ERNA on the 6th of February 1999 in an accident that still today unfortunately leaves a lot of questions unanswered.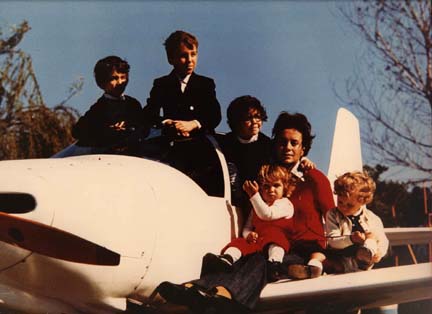 | | | |
| --- | --- | --- |
| | Francesca, Giovanni, Stefania, Giuliana with Lapo, Barbara and Luciano behind the camera. | |
It was an emotional moment to see the familiar passionate lines of Frati's hand. The owner offered for me to sit in it, and although he was very protective of it, I could instantly feel this Falco was in desperate need of some care, who better than I, I thought! Apart from George Richard's Falco in my hanger not yet ready to fly but very, very close, TBD was the only flying one in the country, and I wanted him and even more I wanted to fly him!
As he pulled the doors shut, I knew I would be back soon to collect this lonely Falco from its isolation.
The birth of this Falco was in May 1980, just before we moved to NZ together with ERNA. Syd Jensen put many years of work into his machine, with his friend, Mr. Zeger van Klij. They worked 12 hours a day, six days a week until they ran out of parts and had to wait for Sequoia to produce the next steps of the kit set.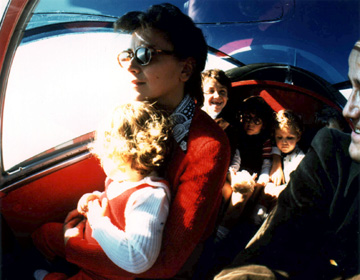 Seven in the Falco. Note the crack in the canopy Giovanni mentions in the article.
That's Giovanni in the back seat a-grinning.
In the end it took Syd eight years to finish this wonderful machine. Unfortunately due to poor health Syd was unable to realise his dream of flying his Falco and therefore entrusted TBD to Graham Hodge in Christchurch, where it had a relatively relaxed eight years in his care.
Syd's love of speed had travelled through his hands as he built TBD. I believe TBD is one of the lightest Falcos ever built.
He was the first person to register a home built plane in NZ because of the price of flying in this country meant it was out of reach for most. He had time in the airforce and was also part of the NZ motor racing team.
Although Graham had flown the Falco, I knew deep down that he had to keep his promise to Syd, the creator, and who could fly it with more enthusiastic frequency than me? After all, I was born in a Falco and have some sort of 'imprinting' -- when I see one I start following it!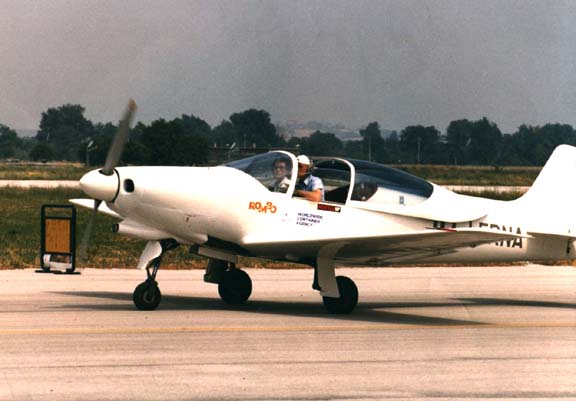 Go back to Giovanni Nustrini